As I edge ever closer to old age, I've noticed all manner of ache and pain invade my life, slowly creeping in to make even mundane activities sometimes unbearable. It seems an odd paradox, really, but one of the most inert actions is starting to cause me great pain. Prolonged bouts of idleness -just sitting- and it feels like an army of diminutive construction workers armed with pneumatic drills is jackhammering away at my coccyx.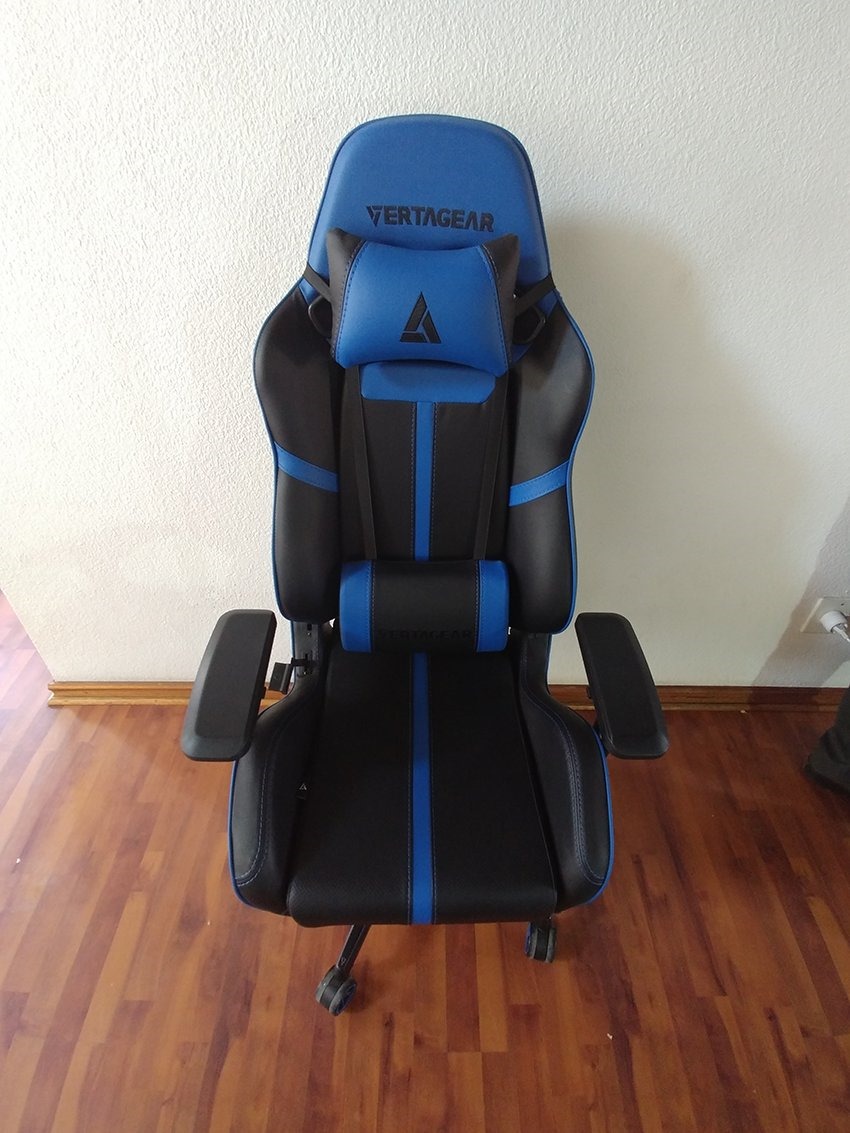 As you might imagine, it sometimes makes my job – and my life – a living hell. When I'm not sat at my desk writing, I'm sat on my couch playing video games. Inevitably, when it's time to stand up, the jolt of pain that runs through my vertebrae is enough to bring me to tears. It turns out it's not the act of sitting that has been causing me grief but rather, it's what I'm sitting on.
The folks at Evetech sent me along a Vertagear SL5000 Gaming Chair to review. I've always thumbed my nose at these sorts of things, as needlessly expensive accessories for people with more expendable income than sense. My derision has mostly dissipated since then. While I still think that gaming chairs of this ilk are bulky, gaudy and for people who aren't me, they certainly have a place and they've made me seriously consider spending a small fortune on something to sit on. Just not something that looks like it was yanked out of a racecar.
The SL5000 is part of the Vertagear racing series, so it has racing car-esque bucket seats. The colour combination I received was mostly black, though it is adorned with go-faster racing stripes in a rich blue. Even though it's not my style at all, it's definitely attractive enough. Bedecked in a stain and water-resistant PVC leather that has been incredibly well stitched together, the chair is durable and will happily hold up to 150Kgs (Editor's note: Exactly two metric Geoffs). The five-star base is made out of an aluminium metal alloy, and the quintet of caster wheels are made out of a heavy plastic that are coated with a softer polyurethane layer that makes them able to glide around easily. I easily carted the chair around my ageing laminate flooring, without leaving so much as a mark on the surface.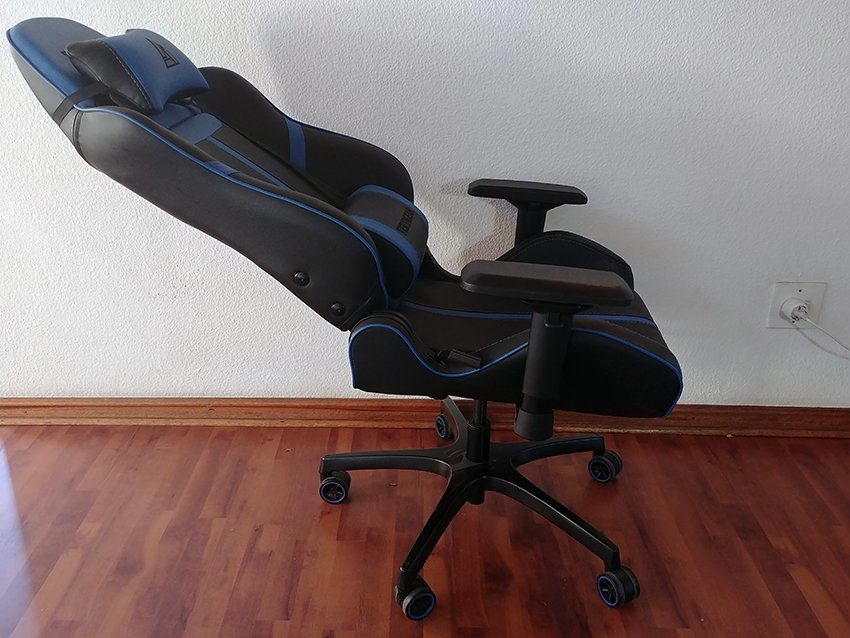 The chair's padding is a made of a high-density mould-shaping foam, so the more you sit on the chair, the more it contorts to your own body shape – but without degenerating too much over its lifetime.  As with all of these sorts of gaming chairs, it's readily and easily adjustable. I genuinely expected more knobs, buttons and levers in an expensive gaming chair – but I suppose all the fundamentals are adequately covered. Thanks to a pneumatic lift, the chair's height is easily adjusted, extending from 1305mm (including the base) to 1405 mm. The wide backrest (530mm at the lumbar region, and slightly narrower at 510mm at the shoulder area) is also adjustable, capable of tilting between a hunchback inducing 80 degrees, and an "I'd like to nap now" 140 degrees.
The armrests are also adjustable, able to be pulled in closer or moved further out. They're also height adjustable and can pivot laterally. Covered with a polyurethane material, the armrests aren't especially soft or comfortable, a bit rickety and lean towards feeling a little on the cheap side. Given its relatively affordable price when compared with the DXRacer and other manufacturer's premium (and pricier) models, it's an acceptable concession.
The Vertagear SL5000 can also tilt and rock, with the same lever used for controlling height also being used to lock the tilting mechanism. Because I have a disdain for instruction manuals, it's something that took me ages to figure out, and for a while, I thought the chair was stupid as it bucked forward every time I sat down.
The chair also comes with optional cushions: A headrest sits at the top of the chair, with little but an elastic band to keep it in place. There's also a lumbar support cushion that straps and buckles in, but I found both of them uncomfortable and preferred to use the chair without them.
And, despite weighing nearly 30Kg, it's an unbelievably easy chair to put together. Vertagear supplies all of the tools necessary (really, just one Allen key), and it's simpy a case of screwing the base in the seat, popping the casters into the base, and then sliding the chairback onto the seat and screwing it in. What I expected to be an hours-long process took fifteen minutes. I'm functionally inept with tools and building things, so that's saying something.
Truth be told, it's not the most immediately comfortable chair to sit in – but it's not meant to be. It's meant to offer ergonomics and lumbar support. It took me a day or two to feel comfortable in the SL5000, but – and this is important – the crippling pain I've had for a while has disappeared. Furthermore, it's fantastic for its primary use: gaming. Where I usually start getting fidgety and anxious when sitting for too long playing a game, I was happy to slink back in the SL5000 and forget that I needed to stand back up at some point. If you're going to spend hours sitting, you may as well do it in comfort.
Would I spend the R4299 asking price though? I'm not sure. The aesthetic of the chair isn't for me, and I'd much prefer something similar that was a little smaller, a little more reserved. That said, if you like your chairs to look like racing seats and want something that's a good balance between premium features and pricing, then the Vertagear SL5000 is definitely worth looking at.
Last Updated: September 28, 2017