By the time you're reading this, I'm probably already on my way home from Taipei, prematurely leaving Computex where I've spent the past day or two swarmed by technology. I've already told you how when it comes to your favourite hardware makers, they all seem to be banking big on two things: small cases set to overtake your living room and Virtual Reality.
Computex has also, for those who've had the manpower to scour its halls, been about wearables, the internet of things, connectivity and great big, new ideas. There's even an entire hall dedicated to startups looking for funding that you could take a whole day to talk to. That same hall played host to some big industry players too, showing off their new great big ideas. Even HTC and its already crowd-pleasing Vive had some new ideas to show.
I ran up their booth in the early morning when I was able to squeeze a bit of time away from the main exhibition hall located a thirty minute bus ride away, asking if I could try something, anything from the handful of experimental experiences they were going to be demonstrating. On the screen at the front, there was somebody playing some sort of virtual reality war game; their actions within a green screen room captured and blended with the virtual reality they were seeing – showing those outside what it must be like.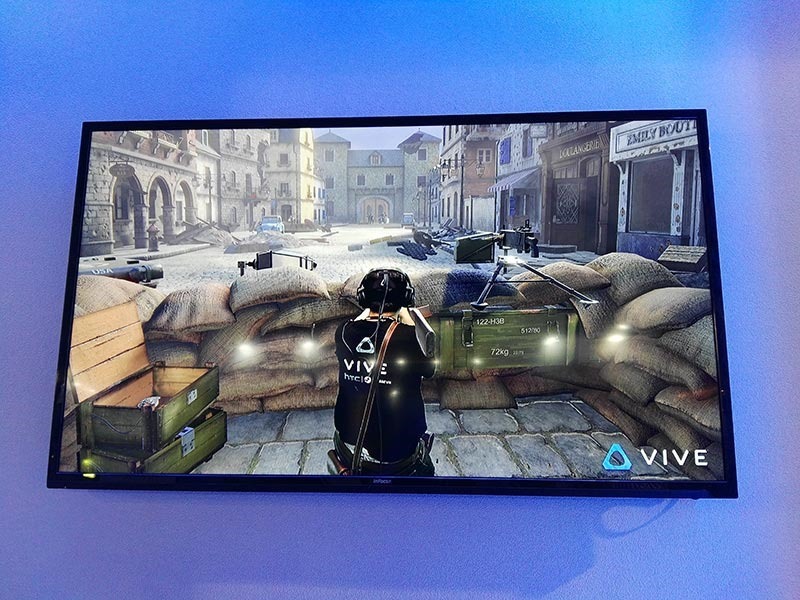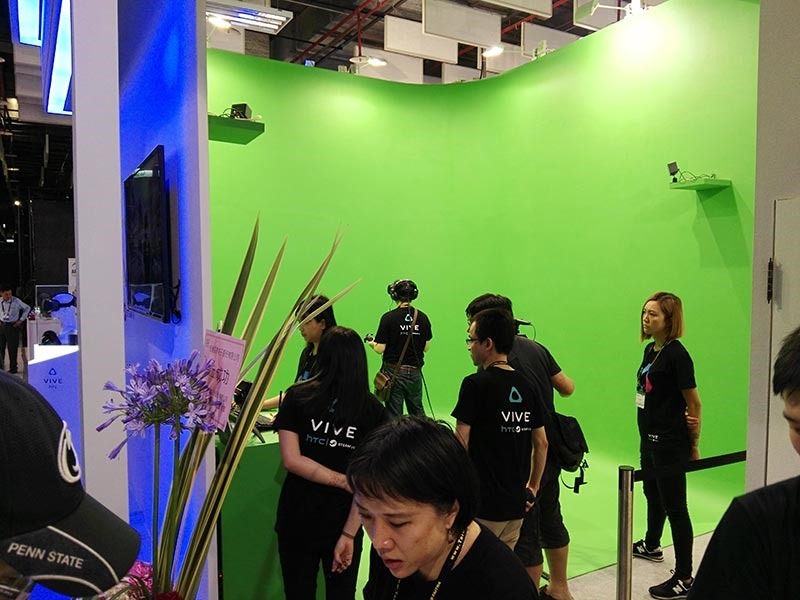 How cool does THAT look?
After my experiences with the Vive and VR the day before, I knew I had to have a little more of that. The lady manning (womanning? Is that a thing?) the counter told me, in her broken Asian English, that I'd have to book a time for one of the upcoming appointments, stabbing her finger at what seemed like a thousand sprinted spreadsheets.
The bastards make me exercise.
"I'll take whichever one is available next!" I exclaimed, scribbling my name in to a time slot and gratefully accepting the card before being led to the back of the booth. Where I got strapped in to a rowing machine, had a Vive slapped over my head and made to row. Called Holodia, this Virtual Reality exercise system promises to take the boredom out of exercise, and I can sort of see their angle.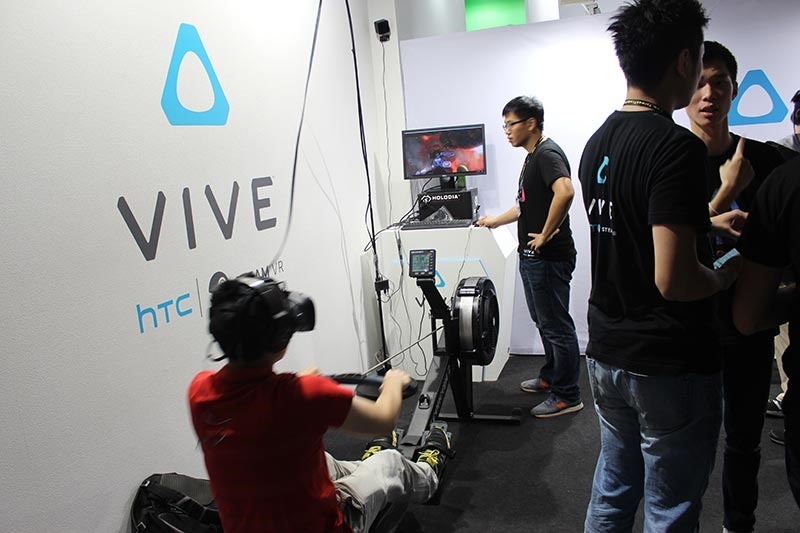 I know, that even though it was 39 and a half thousand degrees Celsius and the bastards made me exercise, that I kind of wanted to carry on doing it – mostly so that I could explore Saturn as I worked my deltoids, quads and whatever muscles work when you're rowing (feel free to gooi in your corrections here, gym boets). With each pull, the vehicle I was in moved along the pre-set path in my chosen scenario; first, a trip through an asteroid field near Saturn. I rowed as I looked around at the celestial debris and detritus. I rowed as I watched comets crashing in the red and fiery space around me. I rowed as I remembered that I thought I signed up to shoot solider in a Virtual Reality battlefield.
I tried a different scenario too; a tropical excursion that saw me rowing abreast a great big VR hippopotamus. I rowed towards a herd of Zebra on the bank of the rover, and I rowed until my body remembered how bloody hot it was and my face started pretending it was a waterfall. There were more virtual places I could row, if that had been my wont; a frozen Tundra, beaches and other appealing places.
If it weren't so hot and humid in Taipei I might have been tempted to carry on rowing – and I think that's the hook, right there. It is, however, just a little out of the reach of the average plump consumer. The Holodia computer and the requisite equipment will set you back about $13500.
Last Updated: January 4, 2017