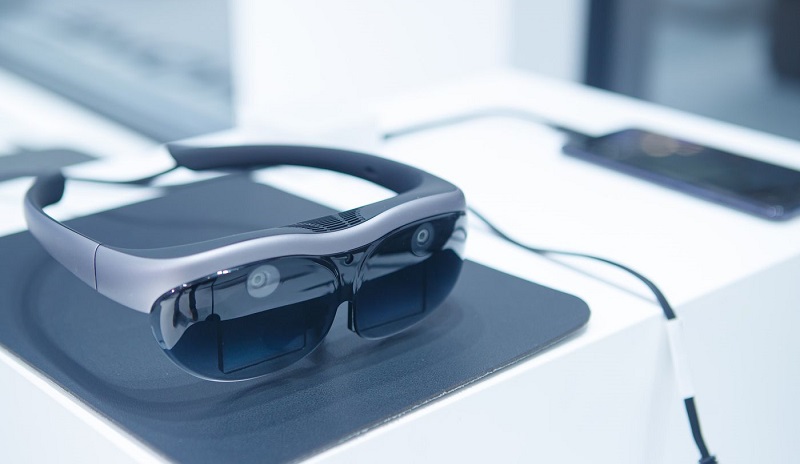 The next generation big trend appears to be a battle between Virtual Reality and Augmented Reality as companies each put out different technologies and applications for either, trying to convince users that there is a need for them in their life. While I personally can see Virtual Reality capturing the entertainment market the big business market (where the real money) will likely find more application in Augmented Reality.
Vivo, the Chinese phone manufacturer, will place their bets in the AR space, as the company has announced their first set of AR glasses at MWC Shanghai (via The Verge). The prototype product called the Vivo AR Glass is a relatively lightweight headset with two transparent displays and 6DoF tracking. The real processing juice behind the glasses lies in what they connect it to though and that connection will be an as-yet-unnamed 5G smartphone which the company is developing.
The company is hoping to use the technology for a multitude of applications from gaming, office work, "5G theatre," facial recognition, and object recognition, hoping that it can provide users with a host of unique ways to interact with the world and others, as they share in a brief video below:
These are definitely bold ideas which the company is showing off, though they probably just detail more about the potential of the device itself rather than providing any actual use-case which will convince people to want to get it.
The Vivo AR Glass doesn't have any planned release date or pricing details just yet but definitely looks capable enough to make a dent in what is becoming a highly competitive AR market. With it likely requiring a high-end phone to operate optimally, the combo of new phone and glasses though is unlikely to be cheap, or even affordable at this rate.
Last Updated: June 27, 2019