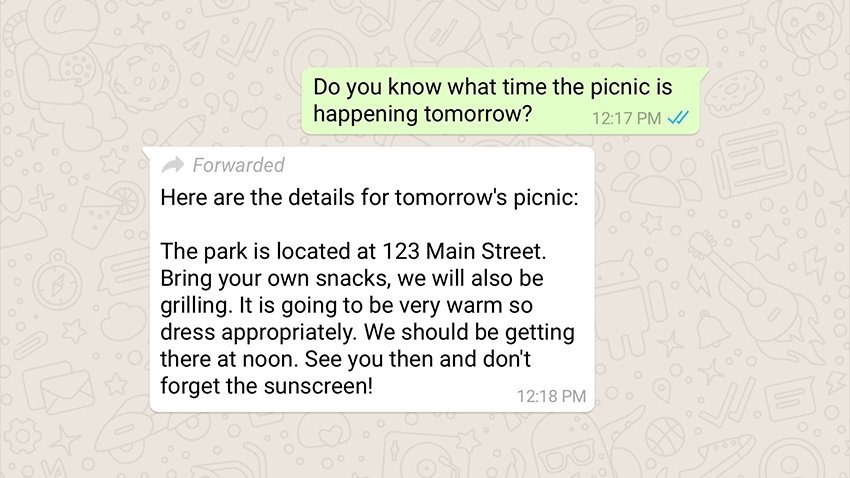 If you use WhatsApp at all – whether in groups or for one-on-one conversation – you've probably been forwarded messages. More often than not, they're harmless jokes and memes, but sometimes they're deliberate misinformation, hoaxes and utter nonsense; a modern evolution of chain letters meant to spread fear, uncertainty and doubt.
Now, to help curb the spread of fake news, WhatsApp will label messages that have been forwarded.
"Starting today, WhatsApp will indicate which messages you receive have been forwarded to you. This extra context will help make one-on-one and group chats easier to follow. It also helps you determine if your friend or relative wrote the message they sent or if it originally came from someone else. To see this new forwarded label, you need to have the latest supported version of WhatsApp on your phone.

WhatsApp cares deeply about your safety. We encourage you to think before sharing messages that were forwarded."
It's part of a wider attempt to crack down of the spread of misinformation, particularly in countries like India and Brazil where deliberate hoaxes have led to violence and even death. In India – which is now WhatsApp's biggest market with over 200 million users – mobs of angry people killed five innocent people over rumours they were involved in child abduction. The problems with lynchings have become so severe that India's information and technology ministry pushed for WhatsApp to have some sort of accountability.
"[WhatsApp] cannot evade accountability and responsibility specially when good technological inventions are abused by some miscreants who resort to provocative messages which lead to spread of violence," the ministry's statement said.

"The Government has also conveyed in no uncertain terms that WhatsApp must take immediate action to end this menace and ensure that their platform is not used for such malafide activities."
In response the Facebook-owned messaging service said that they can't work alone to fight fake news.
"We believe that false news, misinformation and the spread of hoaxes are issues best tackled collectively: by government, civil society and technology companies working together," the letter says.
Of course, policing anything on WhatsApp is a challenge, given that communication is encrypted end-to-end. Locally, if this means that a racist uncle thinks twice before sending on that bit of propaganda, then I'm all for it.
Last Updated: July 11, 2018