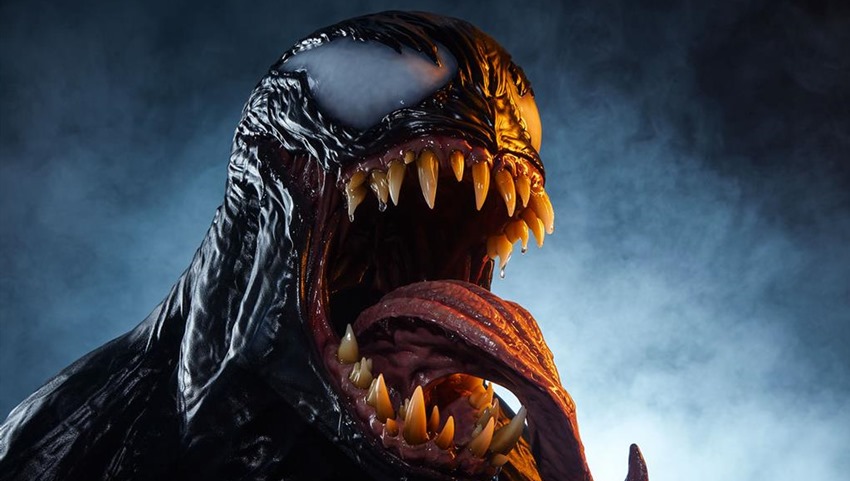 Eyes of pure malice, a tongue that could reach the inside of your colon and teeth sharper than Lee Mack's witty retorts on an episode of Would I Lie To You? on the BBC. Enough about your mom though, let's talk about Venom! The OG anti-hero has had a gangbuster year, thanks not only to the most metal comic book series ever created but also a film that did surprisingly well at the box office.
Venom is pretty much, hot stuff again. Which means that a ton of merchandise which is on the verge of a Gene Simmons lawsuit for infringing on his tongue gimmick, is on the way. Here's one rather cool piece of symbiote action from Sideshow Collectibles: A full-size replica bust of the comic book icon that measures in at stupidly massive size:
Sideshow is proud to present the Venom Life-Size Bust, putting the ultimate symbiote on your shelf in epic 1:1 scale.

The Venom Life-Size Bust measures 27.5" tall, bringing Eddie Brock and his symbiote straight from the Marvel universe to your collection. Venom's massive maw features jagged fangs and his iconic, terrifying tongue on full display. Clear resin drool glistens from his teeth and tongue, giving the Venom Life-Size Bust an added degree of disgusting realism!

The fiberglass Venom Life-Size Bust has been sculpted with painstaking detail to capture his monstrous presence. His muscular shoulders are detailed with dynamic black symbiote textures, providing a stark contrast to his glossy white eyes and the raised spider-symbols on his chest and back. A sleek, simple black base puts the focus on Venom's terrifying silhouette, while complimenting the other Marvel Life-Size collectibles from Sideshow.
That's a whole lot of Symbiote that will of course, cost a whole lot of cash: $1195, and probably almost as much to ship it. It's a hell of a replica though, crawling with all manner of gorgeous details and textures. Heck, that tongue is pretty impressive as well, and I love the added drool on the teeth. So…anyone want to buy me a nice Christmas present?
Last Updated: November 8, 2018