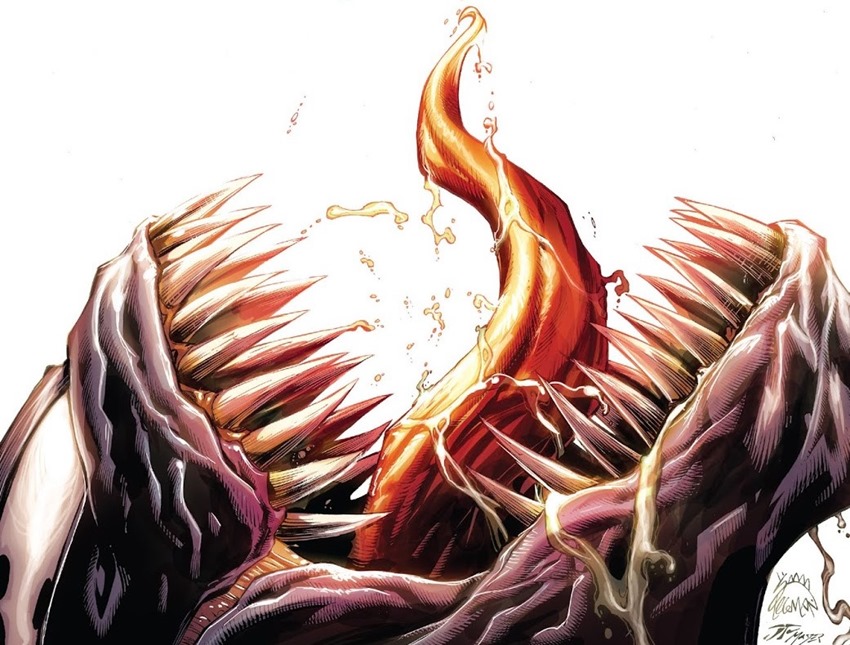 Venom. Lethal protector, a best friend who is closer to you than your own skin and a mystery in symbiotic form. Whatever the incarnation, Marvel's resident anti-hero has always been seen as a dark reflection of Spider-Man. Power without responsibility, an organism that desires to dominate and bond with a host for all eternity.
That on it's own is a great character right there, but Venom has always deserved better. Venom's story has become needlessly complex over the years, with tours of duty across the cosmos as the symbiote found itself bonded to everyone from Mac "The Scorpion" Gargan to Flash Thompson. What Venom really needed, was a fresh start, and he got just that a few months ago with a series that can only be described in two words:
F***ing metal.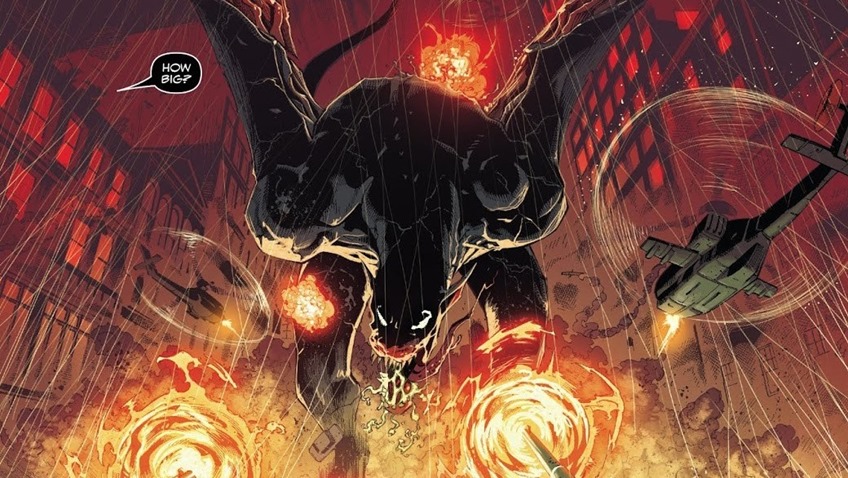 What writer Donnie Cates, Ryan Stegman, JP Mayer and Frank Martin have done is not only clean the board of who Venom is, they've gone and given the character a mythology that rivals that of the Celestials or any other character in Marvel that was built on a concept that defies common mortal understanding. I could wax lyrical about how the new new origin of the Symbiote race feels like the climax of a Megadeth cover art album orgy, but honestly?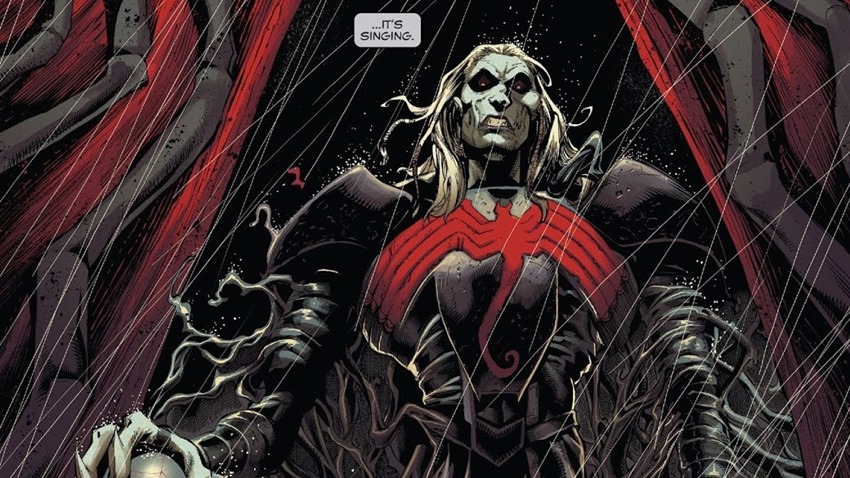 There's only one way to do so without giving away any spoilers and staying true to the kickass nature of one of the best ongoing series over at Marvel. By instantaneously growing my hair, slipping on a spiked denim battle jacket and busting out the heaviest of metal guitars that I have:
(For reference, play this track while you read this)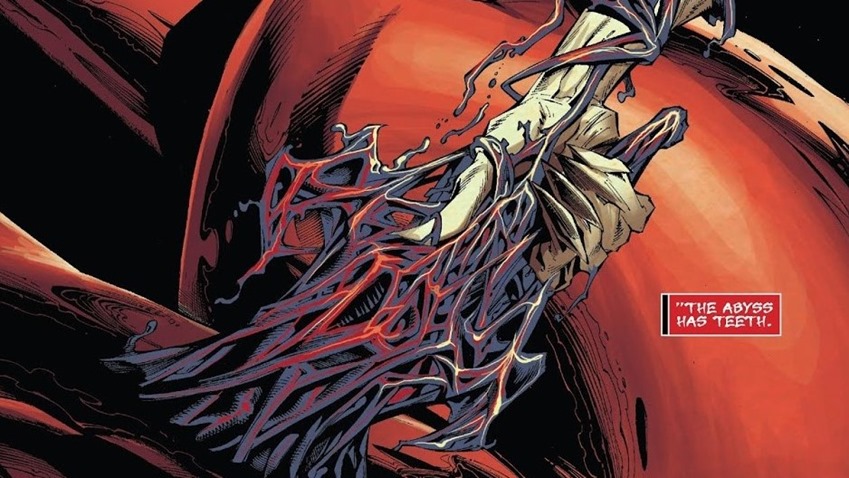 VENOM!

WHERE THERE WAS DARKNESS THERE WAS LIFE!

VENOM!

GODS OF OLD BEGAN A WAR AGAINST A BEING MADE OF OBSIDIAN KNIVES!

AN ABYSS TAKEN, A REVENGE FORSAKEN!

VENOM!

THE FATHER OF DEMONS, HIS HATE UNENDING

BIDING HIS TIME, HIS KNEE UNBENDING!

VENOM!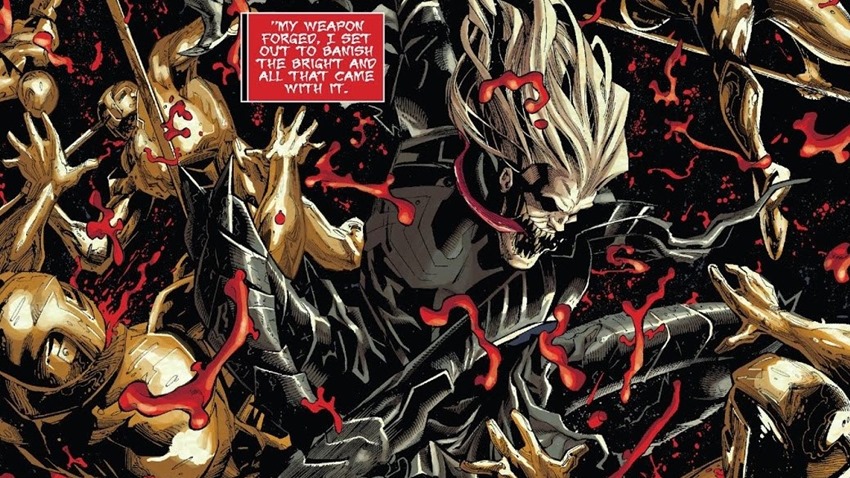 A HOST DECEIVED AND GIVEN PURPOSE

IN THE SHADOWS WATCHING A RELIGION RISE FROM THE HABEUS CORPUS

VENOM!

FACE TO FACE WITH A GODSLAYER, THE SYMBIOTE ROSE TO GREET THE DIVINE OF HATE

HOT DAMN DOES THIS SERIES HAVE A GREAT SCRIPT FROM DONNIE CATES!

VENOM!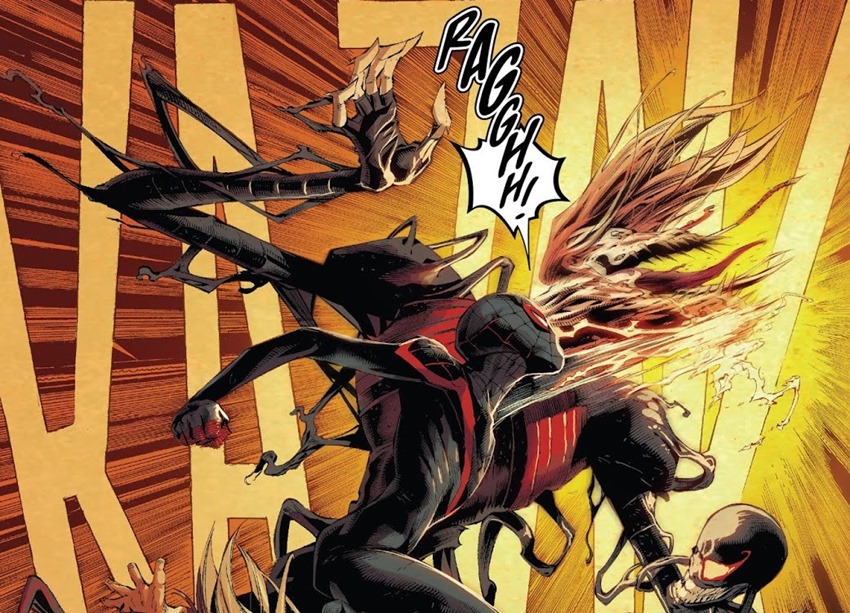 AND THEN THERE'S THE ART OF RYAN STEGMAN

I CAN'T THINK OF ANYTHING THAT RHYMES WITH STEGMAN

VENOM!

SO I'LL WORSHIP HIS ART THAT MAKES THE VENOM SERIES TRANSCENDENT

PENCILS THAT ARE RESPLENDENTAND INKS ASCENDANT

AND TREASURE EVERY PAGE OF GODS DYING AND HEROES FACING ODDS THAT ARE MOST HORRIFYING

MAYER'S LINES, AN INFINITY OF BLACKNESS THAT ESCAPE A PEN MOST FINE

VENOM!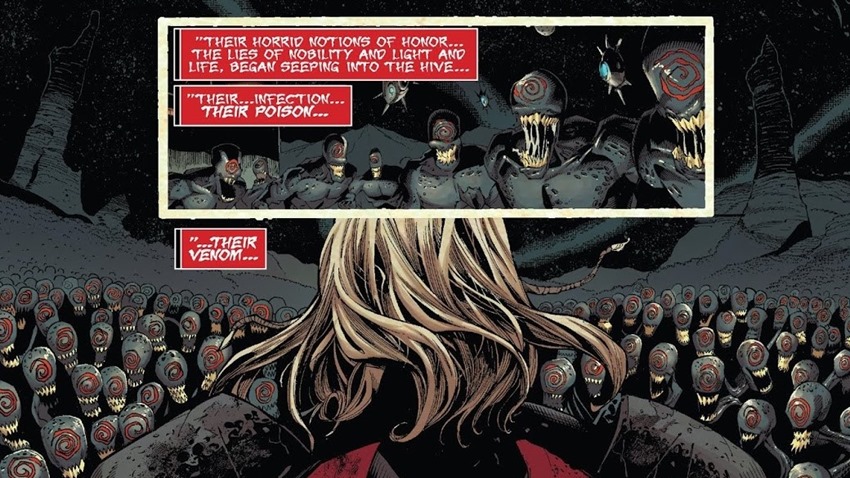 AN ABYSS OF DARKNESS, GIVEN CRIMSON LIFE BY THE COLOURIST NAMED FRANK MARTIN

WHO VISUALISES WITH HIS HEART…EN

VENOM! VENOM! VENOM! VENOM!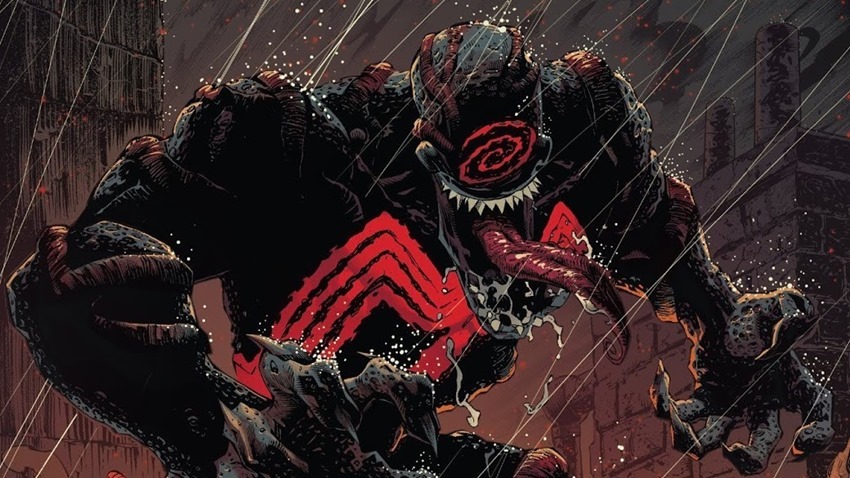 Basically, if you're looking for a heavy metal odyssey that explores the dark underside of the Marvel universe, features art which is dripping with cosmic horror and builds a new mythology in the process, then you should really be reading Venom. VENOM!
Last Updated: September 20, 2018