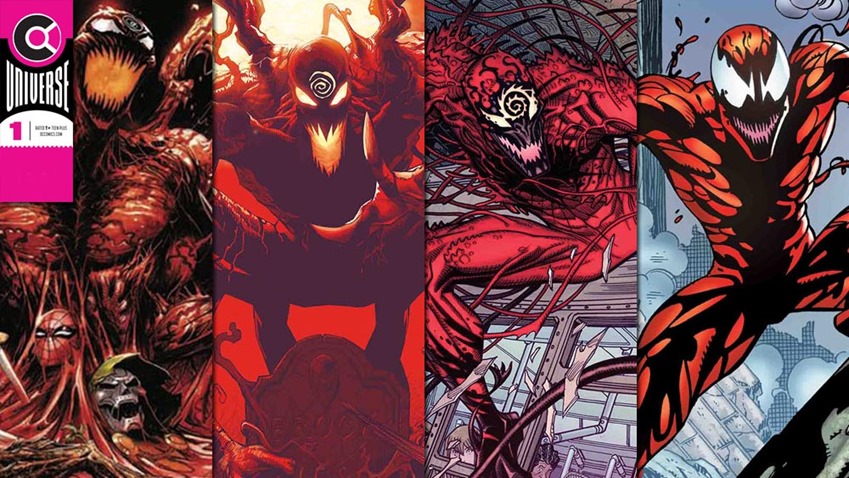 If HR Geiger were still alive, he'd probably take a break from painting nightmare fuel penis monsters so that he could appreciate the horrific beauty of the upcoming Absolute Carnage comic book mini-series. Cletus Kassady is back, having survived atmospheric entry on his return to Earth and the serial killer is stronger than ever thanks to a new mission in life that has every character who ever bonded with a symbiote directly in his crosshairs.
Absolute Carnage is name of the event, maximum chaos is the goal and not even an entire Spider-verse of heroes may be capable of stopping Carnage as he embarks on his latest rampage that'll probably feature enough oozing tentacle action to count as a hentai festival. While the core series will be written by Donny Cates and visualised by Ryan Stegman's metal artwork, the first issue alone is going to have a ton of amazing comic book covers attached to it.
Which is probably awesome news for lovers of fine art and terrible news for anyone with OCD comic book collecting habits. Don't just take my word for it though, feast your eyes on the art that features some of the hottest talent in the industry painting the town red with Carnage's talent for violence:
All that art above? You can thank the following masters for it:
Ryan Stegman
Stanley "Artgerm" Lau
Donny Cates and Megan Hutchison
John Tyler Christopher
David Nakayama
Ron Lim
Nick Bradshaw
Adi Granov
Kyle Hotz
Gabriele Dell'Otto
Mark Bagley
Mike Deodato Jr.
Mico Suayan
Rodolfo Migliari
Tyler Kirkham
InHyuk Lee
If you're still wondering just what the heck is going on, don't forget to check out our feature on the road to Absolute Carnage that details everything that you need to know about the Spidey-centric event. August is going to be mental for Spider-Man fans, I'll tell you that much.
Last Updated: July 31, 2019