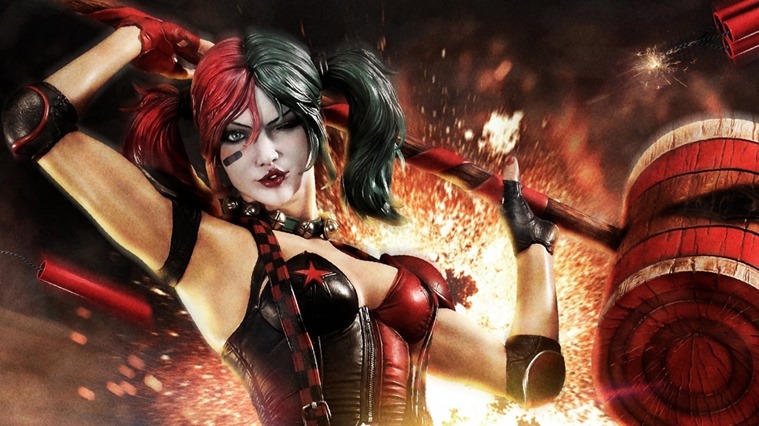 Fun fact: The first appearance of Harley Quinn doesn't come from comic books, but rather from TV. Back when Batman's animated series was doing all the numbers, the Joker would often turn up with his favourite gal in tow. Harleen Quinzell may have been stripped of her doctorate after she helped the clown prince of crime bust out of the Gotham City nuthouse, but she was a hit with viewers.
A slice of crazy that was instantly charming, memorable and in many ways, more popular than the Joker himself. It wasn't long before Harley Quinn was starring in her own comic books, with the last couple of years creating a new status quo for DC's favourite fun-loving anti-hero. There's a metric ton of merchandise available for Harley Quinn as well, toys that range from all ages acceptable to ludicrously-priced high end art.
And if I had to win the Powerball tonight? I'd kinda be willing to add this adorable and amazing work of art to my collection. Like, right in the middle of my shelf. With an armed response team on standby should anyone even think of touching it:
Prime 1 Studio is proud to introduce the bubbly supervillain, MMDC-36DX: Harley Quinn Deluxe version from DC Comics. All the essential details of the character have branded with the Comic taste in this MMDC-36DX: Harley Quinn. The Deluxe version included a variety of parts to give the chance to display at variation of pose. A total of four (4) alternative portraits with three (3) headstand to be included in this Deluxe version.

You will be able to display Harley Quinn holding both hand a revolver with an alternate empty holster. Not to mention that her gag-themed weaponry such as her well known mallet in her hands and dynamite all over the base with LED illumination. Her iconic blonde hair portrait and a variation of red and green hair colour portrait based on the comics which fit perfectly with her costume. Don't miss this chance to add the must-have lovely supervillain statue on Valentine's day.
Specifications
Statue Size approx. 33 inches tall with revolver [(H):82.6cm (W):56.7cm (D):67cm]
Statue Size approx. 36 inches tall with mallet [(H):90.6cm (W):56.7cm (D):53.4cm]
One (1) designed theme base
LED light up function on base
Four (4) alternate portraits
Three (3) headstand
Two (2) interchangeable revolver holster with and without revolver
One (1) interchangeable pair of hands holding revolver
So that price I mentioned above? An eye-watering $1349 for the deluxe edition, while the regular version that ditches the extra hands and heads will set you back only $1099. Prime 1 is only making 500 of these, with a release date for around April 2020. Which should give you enough time to save up. Or come up with a plan to rob a bank.
Last Updated: February 15, 2019