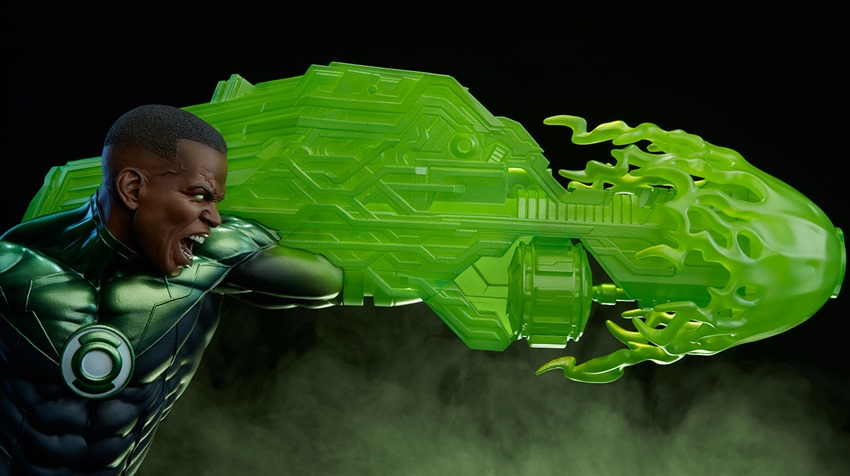 Fun fact about Green Lanterns: Because of the willpower needed to wield their signature rings and the imagination needed to create their constructs, every Lantern has a unique energy signature that erupts from their weapons whenever they use them. A Lantern like Hal Jordan, is a down to basics ring-slinger whose constructs may not be overly imaginative, but are still as solid as his iron will.
A Green Lantern like Kyle Rayner, who has a background in graphic design and comic books, can create hard light images that are immensely imaginative and versatile thanks to his overflowing spark of creativity. Then there's Guy Gardener, whose obstinate and stubborn personality has given birth to a ring that is always sparking with emerald energy, as if to demonstrate how his will can barely be contained.
I've always liked the approach that John Stewart's ring has taken in the comic books. Calm, methodical and surgical in its application, Stewart may have been a soldier early on his life but it's his career as an architect that defines his ability to create constructs when he dons his Green Lantern ring and uniform.
With Stewart, you get a Lantern whose ring creations are fully realised inside and out, resulting in wonderfully detailed constructs. He doesn't get enough love these days, but I've always had a soft spot for one of the finest Green Lanterns to ever walk the space sector 2814. Unfortunately, I can't will cold hard cash into existence no matter how hard I try, otherwise I'd be all over this fantastic collectible from Sideshow Toys:
Sideshow is proud to present the Green Lantern John Stewart Premium Format™ Figure, joining the universe of DC collectibles.

In brightest day, the Green Lantern Premium Format™ Figure captures the indomitable will and strength of John Stewart as a member of the Green Lantern Corps. He measures 20.5" tall atop a detailed meteorite base, conjuring a hard-light construct weapon from his Green Lantern ring. The vibrant translucent base element is composed of solid, geometric shapes, reflecting John's levelheaded and serious attitude.

The polystone Green Lantern John Stewart Premium Format™ Figure has a muscular physique and portrait with green pupils inspired by his appearance in DC Comics. John Stewart's Green Lantern uniform is entirely sculpted, featuring detailed piping and metallic green shoulders, gauntlets, and boots. The Green Lantern symbol is emblazoned on his chest, with the iconic green ring on his right hand.

The Exclusive Edition of the Green Lantern Premium Format™ Figure includes an alternate portrait featuring an angered expression. John Stewart's eyes are overtaken with green energy as he channels his willpower into a concentrated attack with his construct weapon.

No evil shall escape his sight! Master your willpower and add the Green Lantern John Stewart Premium Format™ Figure to your DC Comics collection today.
Dammit, this figure may be a little out of my price range, as the vanilla edition will set you back an easy $580. If you do grab one, you could consider me green with envy at your ability to spend large sums of cash on stuff that I want.
Last Updated: October 11, 2018