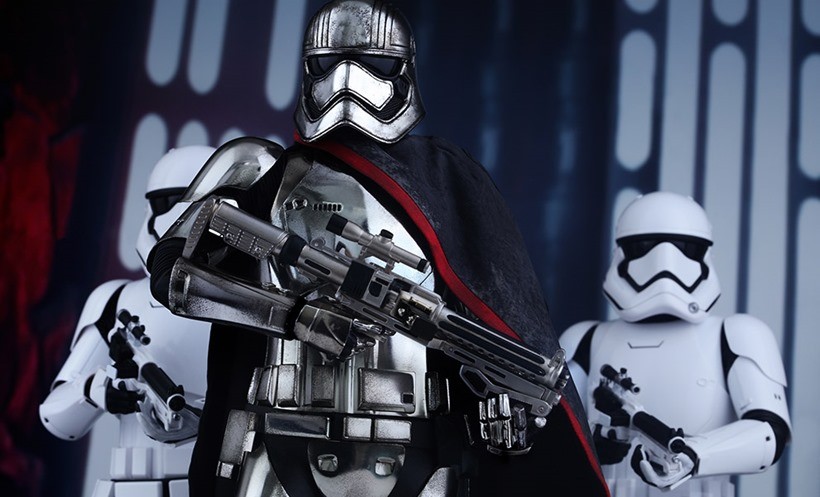 Stormtrooper armour is kind of rubbish, innit? You're supposed to be the tip of the Imperial spear, a galactic strike force that brings down entire solar systems through your mere presence, and instead you're reduced to a joke. After Return of the Jedi, the Stormtroopers were a laughing stock.
Oh, but times have changed. Now they're sleeker, fanatical and look like they were designed by the vengeful ghost of Steve Jobs and his unaccredited department that he stole glory from. Stormtroopers look the business, yo. But Captain Phasma? She's not only the field commander of a new generation of troopers: She's the boss who's taking names and kicking ass.
And I'm saying this with all manner of confidence, even though the film isn't even out yet. I'll eat a Stormtrooper helmet if I'm wrong next month.
As the release date of Star Wars: The Force Awakens nears, the anticipation for this long awaited installment of the saga grows stronger every day! Sideshow Collectibles and Hot Toys are very excited to officially introduce the sixth scale collectible figure of commander Captain Phasma – clad in distinctive metallic armor, following the reveal of the First Order legions of troopers.
What's in the box?
The Captain Phasma Sixth Scale Collectible Figure specially features:
Authentic and detailed likeness of Captain Phasma in Star Wars: The Force Awakens
Approximately 33 cm tall
Specially applied multiple layers of metallic paint on armour with weathering effects
Newly developed body with over 25 points of articulation
Ten (10) pieces of interchangeable chrome armoured palms including:
One (1) pair of fists
One (1) pair of relaxed palms
One (1) pair of palms for aiming weapon
Two (2) pairs of palms for holding weapon in different styles
Costume:
One (1) Captain Phasma's distinctive chrome coloured armor with weathering effects
One (1) black and red coloured cape
One (1) black under-suit
One (1) belt with pouches
One (1) pair of silver boots
Weapon:
One (1) light golden coloured blaster rifle with extended stock
Accessory:
First Order emblem hexagonal figure stand with Captain Phasma nameplate and Star Wars logo
So shiny, so chrome and a not so mediocre price at $249.99 for the cape-wearing Stormtrooper when she goes on sale next year May.
Last Updated: November 10, 2015