Dark Nights Metal didn't just break the very foundation of the DC Comics Universe. It introduced a new concept, a new multiverse born from all negative emotions in existence that had resulted in a churning ocean of worlds where every choice was a bad decision and entire planets were consumed in the process.
The Dark Multiverse may have given birth to a team of Batmen who embodied all of Bruce Wayne's regrets and fears, but the perversion of that character wasn't the only by-product of that twisted reality. In the upcoming Sideways Annual, more of DC's Silver Age classics will get twisted and warped into monstrous new forms when they rise up from the Dark Multiverse, as DC Nation #4 detailed below. Here's the skinny on them, with details from artist Kenneth Rockafort: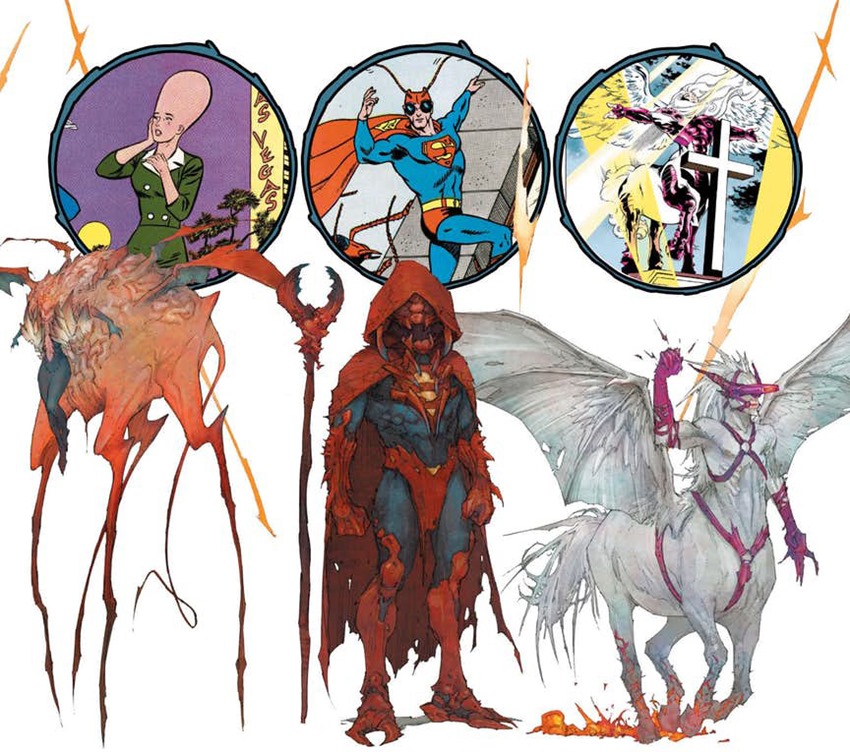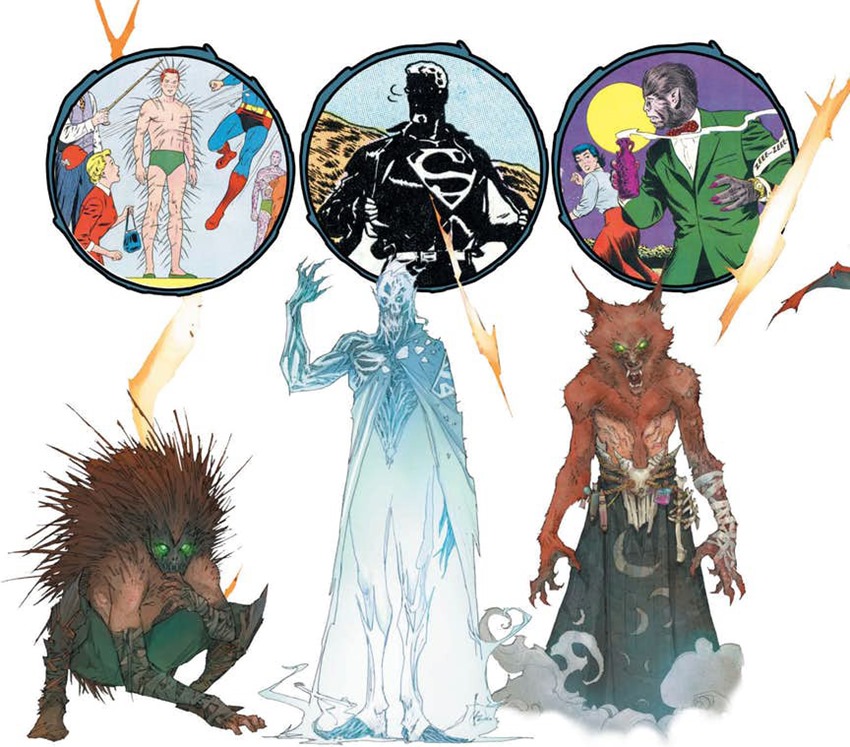 Porcupine Jimmy Olsen – Superman's Pal, Jimmy Olsen #65, 1962
In this case, the automatic defense system – the spikes (on Jimmy's back) – covers up an unreachable core of mental conflicts.
Negative Superman – World's Finest Comics #126, 1962
Since Superman gives us a sense of security, hope and refuge, this is the total opposite. More than just negative colours, Negative Superman's body composition is also unstable. And the inverted S symbol symbolises a blasphemous act against what Superman is all about.
Werewolf Jimmy Olsen – Superman's Pal, Jimmy Olsen #44, 1960
We remember him in the "Glabro" (Wolf-Man) stage, but now we need something more aggressive, getting to the "Crinos" (War-Wolf) stage of losing his humanity.
Super Brain Lois Lane – Superman's Girl Friend, Lois Lane #27, 1961
I'm going for a huge twist of proportions here. Lois body is only a small aspect of an abominable, aberrant brain creature.
Red Ant Superman – Action Comics #296, 1963
I let the red Kryptonite consume Superman in the Dark Multiverse. The result is an evil incarnation with a "buzz buzz" attitude.
Comet Centaur – Adventure Comics #293, 1962
For this concept, I chose to divert attention away from Greek mythology to get at something more grotesque and terrifying, while still using the colours of the original Comet centaur.
The nightmare fuel above will debut in the Sideways Annual later this year, which also features Grant Morrison on co-writing duties. "I'm about to push Sideways into the Dark Multiverse," DiDio revealed during the New Age of DC Heroes panel via CBR.
This book has lots of ties to Metal, so we slide into the Dark Multiverse…in Sideways we're going to see the dark version of Superman characters. What's the dark version of Porcupine Jimmy Olson or Lori Lemaris?
Silver age characters, Morrison and a license to twist them into hideous mistakes from another reality? This is going to be a weird book.
Last Updated: September 12, 2018