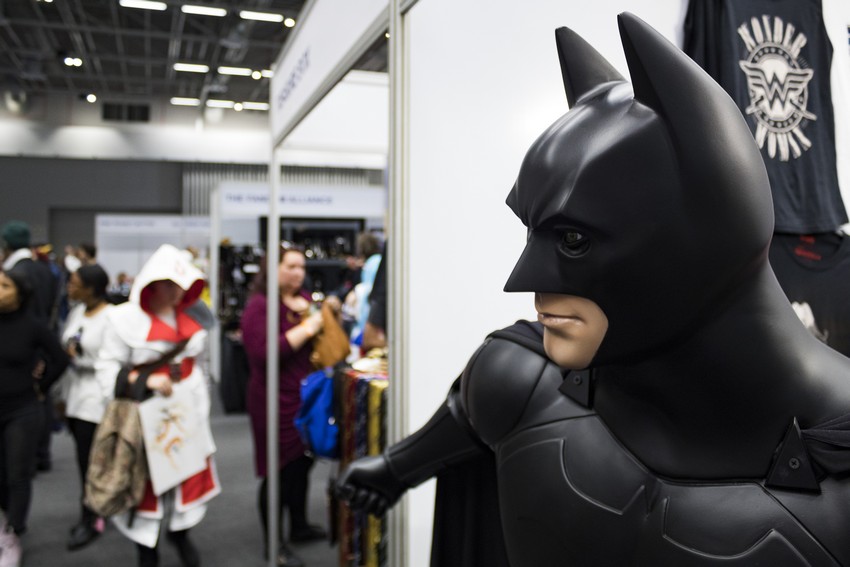 If you happened to be around Cape Town's International Convention Centre during the Freedom Day weekend in April, you may have noticed a popular superhero such as Superman or Batman, or brightly-coloured figures carrying oversized weapons and props, wandering around. Fear not, for you had not walked into a movie shoot. Rather, the CTICC found itself playing host to the 2018 FanCon. A pop culture event styled on the likes of an American-style Comic Con, complete with hourly panel events, celebrity signings, quizzes, stall market, and a Cosplay dress-up competition that even this writer participated in (I was the chap sporting a red bow tie and braces, leaning back against a big, blue police call box).
A coming together of these fan and geek communities in the form of events such as FanCon, while though only representing a select demographic of the population and the culture, are an important shift in how we perceive this community and potentially, how it is normalised within the context of South Africa.
Even within a global context, geek culture, and the consumption and readership of comic books specifically, has previously been defined and regarded as somewhat counter-cultural or non-mainstream. The word 'geek' broadly defines a socially inept person, someone who would rather spend time with video games or said comic books instead of partying with friends or playing sports. Because of this, the community has been branded as introverted and remains a niche corner of popular culture. For the South African community, one still in its infancy compared to its Western counterparts, certain traits have been inherited thanks to the consumption of the same Western media. The fandoms are predominantly white, predominantly male, and local content is virtually non-existent. That last point is due to a number of reasons.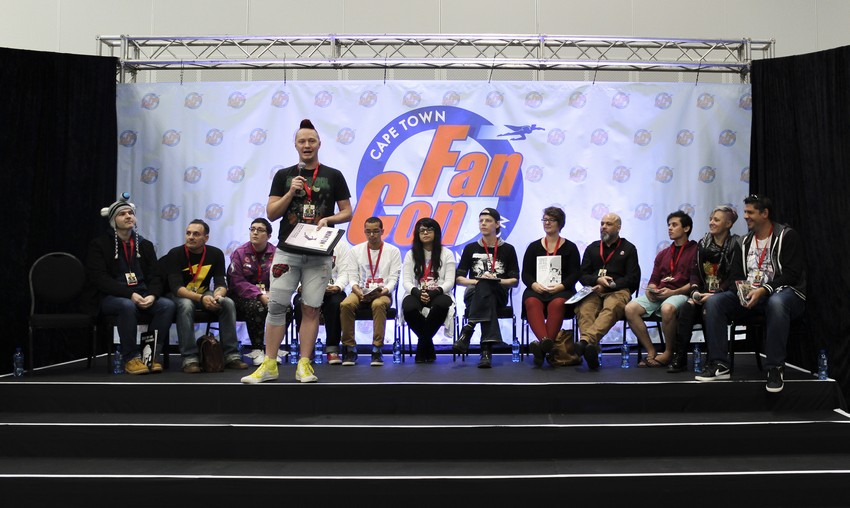 "Number one is funding," explains Ray Witcher, a comic book expert and writer based in Johannesburg, and author of the new release comic book, Wanton. "The thing is it's expensive to make comics. Because it is a low-print run in relative terms, and we don't know if people are going to buy our work. The second thing is that marketing is a very difficult thing for SA comics. People don't like to buy things they don't know. We are desperately trying to get people to look at our stuff, but because there are so few of us doing it, it's hard to get the stuff out and for big media to pick it up."
There are cases of South African comic books achieving popularity and success, the most notable of which being Kwezi, created by Loyiso Mkize, Mohale Mashigo and Clyde Beech, and that tells the story of a 19-year-old man with superhero powers, set against the contemporary South African backdrop. But as Witcher indicates, the medium is still hampered by financial and popular challenges.
This is certainly not the case in the West. Geek culture has become much more popular, and subsequently, much more profitable. Sinking millions of dollars into the televisual mediums, Marvel and DC Comics now reap billions from their cinematic universes, which in turn translates into a greater interest in the comic book medium itself. Fan conventions have also grown. Taking place annually in cities across the world, these get-togethers have become staples of fandom culture with thousands of attendees. Enter FanCon in Cape Town, and later this year Johannesburg will play host to Comic Con Africa, the first event of its scale to be held on the continent.
Fan Con, now in its third year, has grown out of the local popularity of comic books, and also demonstrates a profitable market for the industry.
"It's obviously changing, but it's the acceptance of geek culture, it's now part of popular culture," said Nizar Abrahams, of Readers Den South Africa and a principal organizer of the event. "In 2002, there was an international event called Free Comic Book Day. It wasn't big at the start, but every year it just grew. We added elements every year. The people were excited. Here is a show that packs out every year, and there is a need for a convention."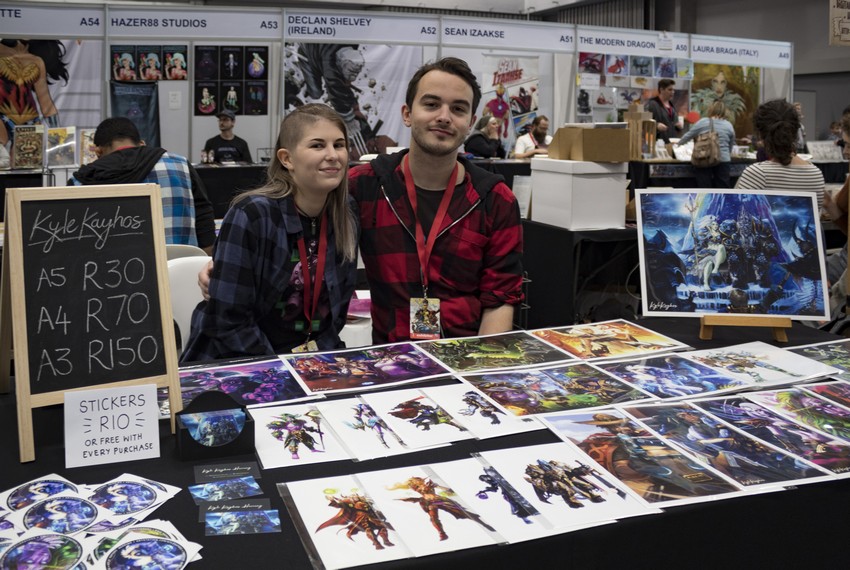 A convention that not only provides a platform for comic book writers to launch and showcase their work, but also the work of other local illustrators and artists. Making up a substantial part of the conventions' market were stalls of original prints and artworks, created and produced by both professionals and hobbyists alike. Illustrator Kyle Kayhos is a local talent who successfully made the transition between the two.
"I have been illustrating since 2013," he explains while presiding over his table. "I have always loved drawing, but when I was in high school I found out that apparently you can't be an illustrator to make a career, so I went into 3-D. But the passion became more and more intense, and I really wanted to do this for a living. I am now an illustrator full-time."
With professionals such as Witcher and Kayhos, and events such as FanCon and Comic Con Africa, South African fans are beginning to show themselves, and the community is slowly becoming normalised in the public eye. But there is something else that is slowly drawing more diverse crowds in, aided by homegrown comics such as Kwezi, and a recent Marvel movie that has broken quite a few box office records.
Black Panther was a milestone for black cinema and black superheroes, and its genius lies in its execution of portraying African-based science fiction for a global audience. The film and comic are a successful illustration of Afrofuturism, a term coined by academic Mark Dery in his 1993 essay "Black to the Future". Afrofuturism is described as the application and reimagining of pop culture in the eyes of previously disenfranchised social groups, and that is infused with African ideas and characteristics to create a new genre. In Dery's words:
Can a community whose past has been deliberately rubbed out, and whose energies have subsequently been consumed by the search for legible traces in history, imagine possible futures? Furthermore, isn't the unreal estate of the future already owned by the technocrats, futurologists, streamliners and set designers—white to the man—who have engineered our collective fantasies?
The success of Black Panther, South African comic books, and events such as FanCon, indicate that the sci-fi and geek genres are ripe for appropriation and a home-grown taste, culminating in a unique artistic identity, and riddance of the stigma that surrounds it.
"People are consuming the superhero culture, they are a lot more accepting of it." Said Witcher. "There has been a paradigmatic shift as well. There isn't really such a thing as geek culture anymore; there are just people who like buying comic books."
The views and opinions expressed in this article are those of the author(s) and do not necessarily reflect the official policy or position of Critical Hit as an organisation.
Last Updated: May 10, 2018