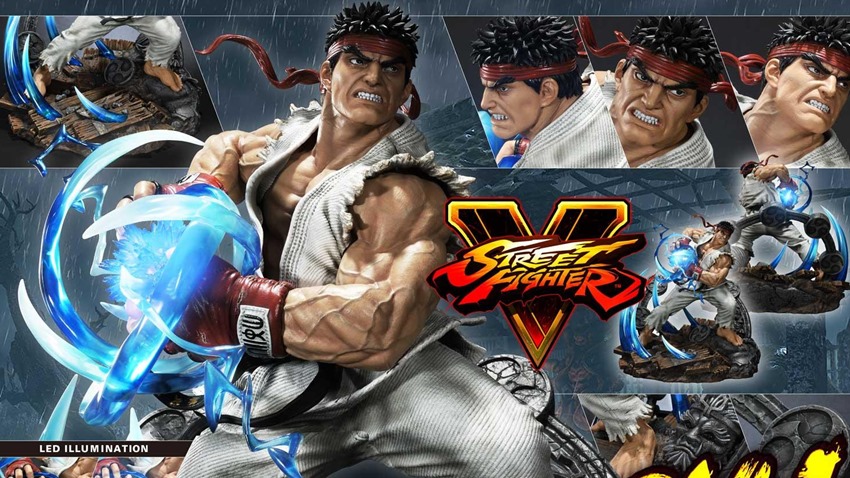 A teacher once told me that the best design is often the simplest. You don't need to add a ton of ornamentation to characters, you don't need to throw every bit of graphic design at a concept. Look at Ryu from Street Fighter for example: Just a wandering warrior, clad in nothing but a white gi and a red headband. Simple, clean and to the point.
It's a design that works amazingly well when the right artist applies their golden touch to a character, and ever since Street Fighter IV Ryu has had an instantly recognisable design that has transformed the fighter into one of gaming's icons. Street Fighter V doubled down on that aesthetic, and it's a look that regular developer of very highly priced and sought after collectible statues manufacturer Prime 1 are looking to capture with a 3D translation of Street Fighter's Hadouken-throwing martial artist.
Provided that you have the cash for it, of course.
Prime 1 say that this statue will have plenty of attention to detail, a whole bunch of light-up features and a bunch of arms that you can swap out to create different poses. Here's a look at the measurements:
Statue Size approximately 21 inches tall
[H:51.8cm W:50.5cm D:41.3cm]
[H:52cm W:50.5cm D:41.3cm (UT Version Pose)]
Bust Size approximately 11 inches tall
[H:27cm W:27.6cm D:24.6cm]
[H:27.1cm W:35.6cm D:21.2cm (UT Version Bust Pose)]
Includes:
One (1) designed theme base from the Temple of Ascension Stage
LED Light-up function: Shinku Hadoken (Vacuum/True Void Surge Fist)
One (1) interchangeable torso (Classic S
The price for all this? A cool $999 for the regular Ryu statue and an eye-watering $1299 for the deluxe version. It'll be out by January 2021 in case you feel like some selling some pound cakes to help fund your dream of owning it.
Last Updated: September 27, 2019