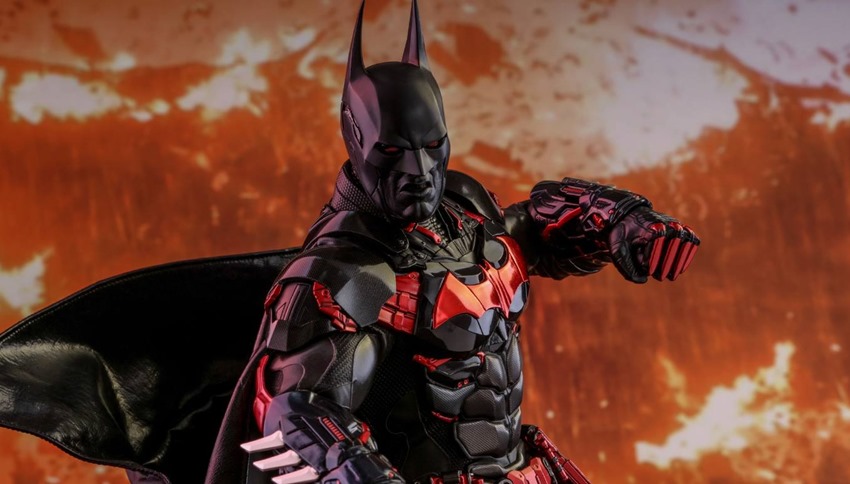 Everyone knows the story of Batman by now. One kid, two parents and a dark alleyway where two bullets were fired. From tragedy, the Batman was born. But I've always felt that the true successor to the cowl of the caped crusader was a more interesting character. Decades into the future, Gotham would be protected from harm by the Tomorrow Knight known as Terry McGinnis.
A new hero for a new time. A vigilante who was literally born to be Batman but never knew his true identity (decade-old spoiler yes sorry moving on). Batman Beyond was ahead of its time, a cartoon series that was equal parts cool and dark while it built a fresh new universe around McGinnis and his supporting cast.
It also created an iconic costume for Batman: Back in black without a cape, a red symbol to let criminals know that he was coming and a more seamless cowl that made the entire outfit look seamless. And probably easier to animate. Still, it's a great look and it's instantly recognisable. It's the costume that Bruce Wayne would briefly wear before one bad night forced him into retirement.
Maybe the Batman of Arkham Knight is onto something then, as Hot Toys is preparing to redo their upcoming video game sixth-scale figure with a more futuristic colour scheme:
Inspired by the stylish Batman Beyond skin in the video game, the 1/6th scale Batman (Futura Knight Version) features a newly painted head sculpt with red eyes and two interchangeable black coloured neutral and fierce expression lower faces, a masterly tailored multi-layer and multi-texture Batsuit with glossy red-coloured electroplated Batman logo on the chest armour as well as glossy black and red coloured armour plating throughout the body, a new Batman Beyond style Batarang, variety of Batman gadgets including grapnel gun, disruptor, REC gun, freeze grenade and many more!
Yup, it is the same figure but with different colours and sweet Darkseid I think my pants may have just exploded. Hot Toys say that this particular figure will be available in "selected markets", so no idea yet if this masterpiece will make it out of Hong Kong and to western shores. Where there's a will however, there is a plan.
Last Updated: October 27, 2017