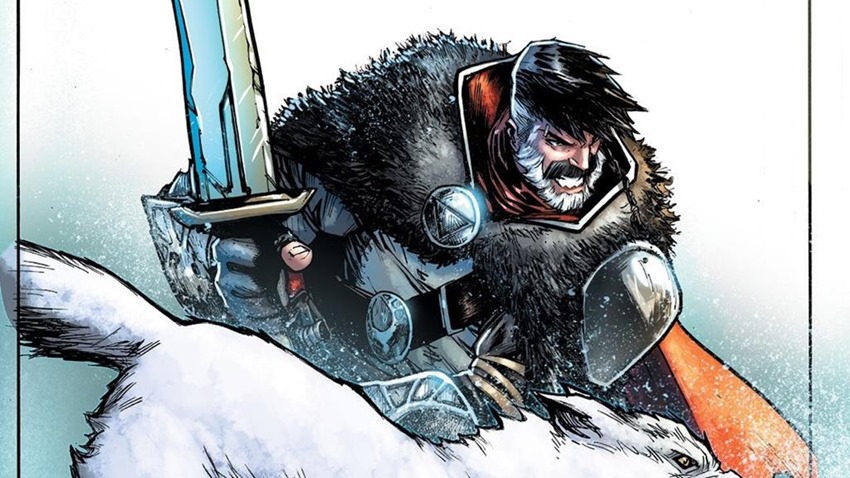 You think of Father Christmas, and you think of a jolly old fat man. Full of mirth, Christmas cheer and several glasses of milk that were left out for him. That ain't my Santa. No, the real harbinger of the holiday season is a warrior born from merry murderous myth, a slayer of demons and other threats to mankind.
You'd know this, if you'd ever picked up any of the graphic novels that BOOM! Studios have been pumping out annually since 2015. From the minds of Grant Morrison and Dan Mora, Klaus has been mankind's last hope against the horrors of the silly season. He's back at it again this year, ready to deck the halls with entrails in Klaus and the Crying Snowman, which sees Kris Kringle take on an entire pantheon of Norse gods so that a frosty pal can be rescued. Sounds kind of familiar.
"Only Grant, Dan, and Ed could bring you this epic addition to the Klaus mythology, with our hero battling giant tree-monsters on Earth and alien invaders on the moons of Saturn, all while making time to unravel the mystery at the heart of the Crying Snowman," Senior Editor at BOOM! Studios Eric Harburn said in a press release.
"And as with every new adventure, Klaus reminds us what lies at the heart of the holiday season: helping those who need it most.
Not good enough for you? Well here's a whole stocking stuffer of images from BOOM! to peruse through:
KLAUS AND THE CRYING SNOWMAN #1 continues the annual holiday tradition of new Klaus comic book releases, dating back to the franchise launch, and features a main cover and a variant cover both illustrated by Mora, as well as a variant by Humberto Ramos. Warrior. Legend. Gift-giver. Klaus is many things to many people worldwide, but this year he is the defender of Earth, alongside a host of other wintery warriors, as a threat of galactic proportions invades the planet and endangers all humans, naughty and nice alike. 
Klaus and the Crying Snowman arrives on shelves in December. If you're curious to see what else the holiday warrior has been up to, now might be a great time to give the other graphic novels in the series a read.
Last Updated: November 15, 2018