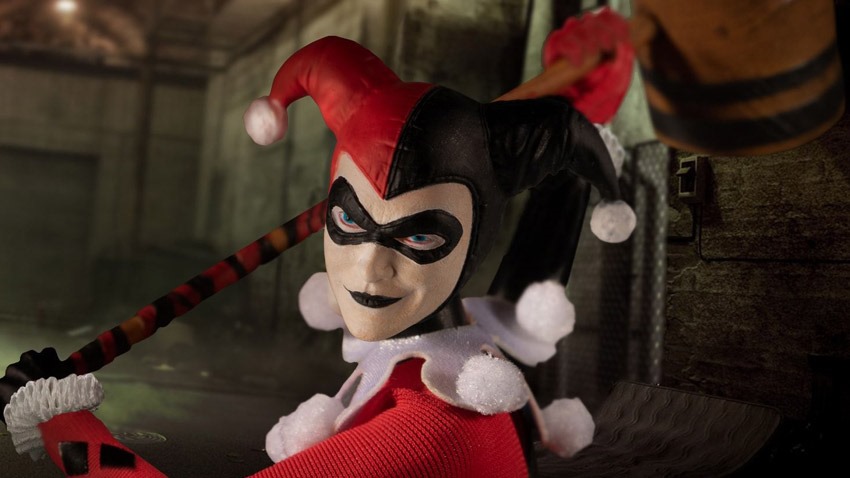 I've got a lot of love for Mezco's range of figures, which I'll never ever buy because that'll be yet another slippery slope that ends with me staring at a shelf of wonderfully crafted toys and an empty bank account. Measuring in at a decent scale, the One:12 Collective has plenty of licenses attached to it and one key feature that sets it apart from many other figures currently available on the market: Some fly threads!
Each toy has a costume that matches their character precisely, whether it be some soft cotton for fabric ensembles or some vinyl to simulate the cloak of justice and serious mental issues that a certain caped crusader wraps himself up in every night when he decides to punch justice into criminal faces. Speaking of Gotham, one other resident loonie from that crime-infested city is also getting the Mezco treatment, one Harleen Quinzell that is.
She'll be popping up in her best costume, her classic jester outfit, later this year. Take a look at the homicidally adorable figure of Harley Quinn for yourself:
The One:12 Collective Harley Quinn wears a fitted jester suit with ruffle detailing around the wrists and pom-pom detailing around the collar. The Cupid of Crime comes complete with three head portraits, portraying her alluring yet utterly insane visage. Harley comes well-equipped to cause chaos in the streets of Gotham with an oversized mallet, a grenade, a bomb, a pop-gun with attached cork, a rocket launcher and rocket, and a Joker doll.

Dr. Harleen Quinzel, better known as Harley Quinn, was a promising psychiatrist assigned to Arkham Asyluym, Gotham's home for the criminally insane. After meeting and falling in love with the Joker, she devoted her life to making him happy and helping him cause mayhem. Captivating yet entirely psychotic, Harley Quinn is the poster girl for chaos.
As usual, the figure comes with a ton of accessories, which you can play around with. I mean delicately pose with her, using surgical gloves like a real collector. This is totally normal for me:
One:12 Collective body with over 30 points of articulation
Three (3) head portraits
Hand painted authentic detailing
Approximately 16cm tall
Eight (8) interchangeable hands including
One (1) pair of fists (L & R)
One (1) pair of mallet holding hands (L & R)
One (1) grenade holding hand (R)
One (1) gun holding hand (R)
One (1) bomb holding hand (L)
One (1) posing hand (L)
COSTUME:
Fitted jester suit with ruffle detailing
Collar with pom-pom detailing
Ankle boots
ACCESSORIES:
One (1) Joker doll
One (1) rocket launcher
One (1) rocket blast FX (fits into rocket launcher)
One (1) oversized mallet
One (1) grenade
One (1) bomb
One (1) pop-gun with cork attached
One (1) One:12 Collective display base with logo
One (1) One:12 Collective adjustable display post
The price? A cool 90$, with a release date of February 2020. That's an alright amount of puddin'!
Last Updated: August 2, 2019