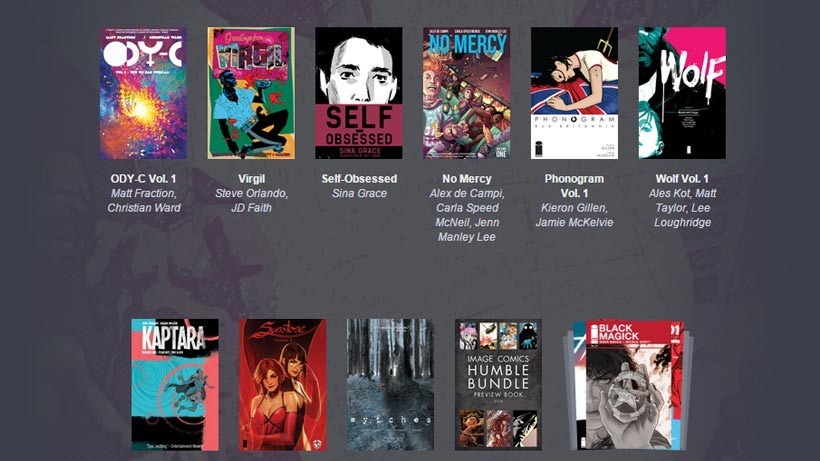 2015 was one of the best years of all time for comic books. Whether you were into superheroes, crime, fantasy or any genre that tickles your pickle, the biggest and smallest publishers around were knocking out some fine entertainment out onto paper. Problem is, getting your hands on those comics can be arduous. As is housing all of those comics, what with the rats wanting to chew on the paper and make little near-mint homes out of them. Just my home? Sweet Grodd, I need to clean this health hazard up.
Anyway, Image Comics was a knockout star for me in 2015. This was the Image Comics of old. A take-no prisoners publisher that was printing fantastical stories that stretched genres and went big with ideas. Comics like Bitch Planet, Invincible and Saga earned critical acclaim, and set new story-telling benchmarks in 2015.
And now you can experience all of that, for cheap. The latest Humble Comics Bundle is live with the following Image comics available, depending on which tier of payment you go for. Pay what you want, and you'll get first volumes of:
ODY-C
Virgil
Self-Obsessed
No Mercy
Phonogram
Wolf
Sunstone
Captara
Wytches
Image Comics Humble Bundle Preview Book
Image Comics New Issues and New Arcs pack
Pay more than the current average of $16 and you'll get all that and:
Injection Volume 1
Saga Volume 4
Just The Tips
Outcast Volume 1
Nowhere Men Volume 1
Jupiter's Circle Volume 1
Trees Volume 1
Rat Queen Special: Braga
More to be revealed
Pay $20, and you'll get the comics above as well as:
Low Volume 1
Bitch Planet Volume 1
Wayward Deluxe Edition Volume 1
Invincible Compendium (Issues 1-47)
Stray Bullets (Issues 1-41)
That is some quality stuff right there. My prime choice will always be Invincible. It's superhero adventure done right and logically, with a refreshing pace and twists that you won't see coming. You've got two weeks until the offer ends. Don't miss out, if you're aching for some solid new reading material for your digital devices.
Quick note: These aren't kiddy comics. Especially Sunstone.
Last Updated: January 14, 2016