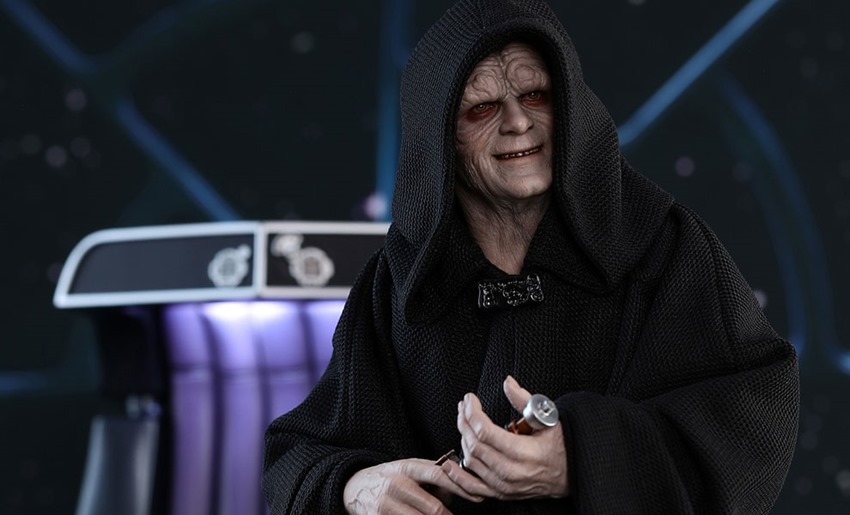 As far as bad guys go, Darth Sidious may just be one of the most successful villains ever seen on the big screen. Rising to power by using the dirty tricks of politics against any who would oppose him? Check. Wiping out the Jedi order with a single order that was years in the making and securing his rule as the Emperor of the Galactic Empire? Double-Check. Getting chucked down a chamber which happens to lead directly into the engine of his own planet-killing engine of destruction?
Erm, maybe leave that one off the record books. Point is, the bad guy won and managed to hold onto power for two decades. In movie villain circles, that's a grand slam of a victory. Also, he had a bitchin' throne. Seriously, I have an odd fascination with furniture in movies, such as the reconditioned chair from Aliens that popped up in the 1989 Batman movie's Batcave.
Palpatine's Death Star chair? Magnificent, regal and the kind of throne that immediately told you who the real boss of the Galactic Empire was. A chair that has been lovingly recreated in sixth-scale form. The Emperor figure ain't too bad either!
WHAT'S IN THE BOX?
The Emperor Palpatine (Deluxe Version) Sixth Scale Collectible Figure specially features:
An authentic and detailed likeness of Emperor Palpatine in Star Wars Episode VI Return of the Jedi
Newly developed head sculpt with movie-accurate facial expression and detailed skin texture on face and neck
Newly developed body with over 30 points of articulation
Approximately 29 cm tall
Six (6) pieces of interchangeable newly sculpted hands including:
Two (2) Force lightning gesture hands
One (1) cane holding right hand
Three (3) gesturing hands
Each head sculpt is specially hand-painted
Costume:
One (1) black coloured hooded robe
One (1) dark grey coloured tunic
One (1) black coloured pants
One (1) pair of brown coloured boots
Accessories:
Two (2) gradient purple coloured Force lightning effects (attachable to the hands)
One (1) black coloured cane
One (1) Luke Skywalker's lightsaber hilt***
One (1) Imperial throne with LED light-up function (white light, battery operated)
Specially designed figure stand with Emperor Palpatine's nameplate and Star Wars logo
You want this, don't you? I can feel your hate for your lacklustre bank account, rising. Take your credit card and strike down your financial ratings! Take your bank card's place at my side! Ahem, anyway the figure looks solid and that chair appears to be made of the finest Bothan leather around. What, you think a bunch of dead Bothan spies wouldn't be put to use, serving the Empire's tuckus?
Sideshow Collectibles say that the figure will be out next year between January and March, for the price of plenty of Space Credits for the Deluxe version. Or $314/ R3865, to be exact.
Last Updated: February 5, 2018