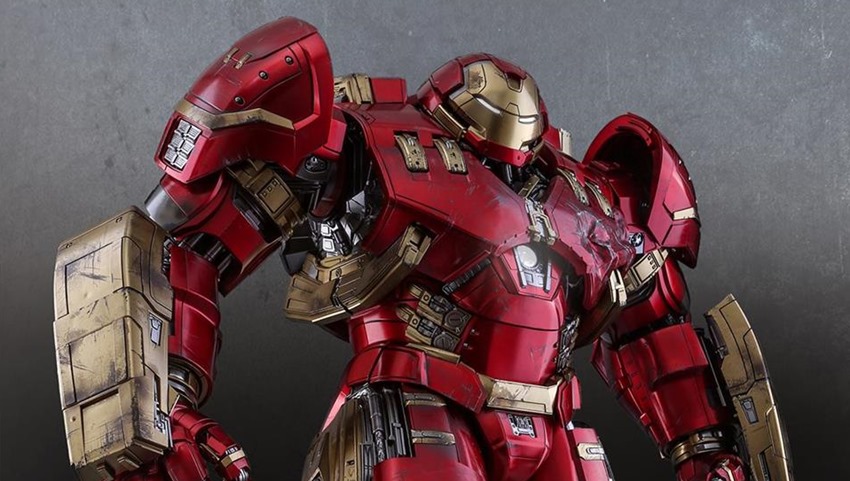 Quality takes time. It's a phrase I've reflected on when it comes to Hot Toys, as the Hong Kong manufacturer of collectible toys likes to play a waiting game with fans. Usually, you're going to wait around 6-12 months for one of their newly-announced figures to release after they've been announced. Which is fine! Once you've got that deposit in, you've got plenty of time to squirrel away some cash until D-day arrives.
How about two years then? Could you wait that long for a figure to arrive? Because if you're the kind of person who happens to have been hungry for the biggest and most detailed Iron Man figure that the company has ever produced to finally make its way out of China, then good news: The wait is finally over.
Back in 2014, Hot Toys revealed the grand kahuna of Iron Man figures: Veronica. Tony Stark's insurance policy against the Hulk (Who ya gonna call?) that popped up in Avengers: Age of Ultron, the Hulkbuster was revealed at the Toy Soul Convention as a 22-inch tall figure that packed plenty of extras such as the standard array of Iron Man LED lights and enough articulation to put your replica Hulk through a sixth-scale skyscraper. Beautiful.
It's an insanely detailed figure, one that has most likely created numerous headaches for Hot Toys to produce on a limited scale while fans kept badgering their Facebook page for an update. That update finally came yesterday, as Hot Toys announced that the Hulkbuster would be out in the US Fall season:
Hot Toys' Hulkbuster is a highly sought-after collectible figure that many fans around the world have high hopes for the final product. Keeping that in mind, Hot Toys' production team has spent tremendous effort and dedication to work on the major revamps and made sure we deliver our figure in the greatest quality.
The Hulkbuster collectible figure is currently in the final stretch of production, fans can expect an awe-inspiring figure featuring supreme quality and gorgeous detailing as seen in these new photos. With all these incredible upgrades, the Hot Toys Hulkbuster will definitely be a powerful collectible figure to place along with your Iron Man collection.
Lastly, we would like to express our deepest gratitude to our dearest fans for your patience and understanding during the waiting period. Please be with us for the upcoming release announcement!
Two points to make: If you've got or had the $825 needed to buy this figure, then I'm jealous as f***. Two, I'm also happy that for several fans, you're going to have the ultimate set-piece decorating your home or office. Honestly, I can't wait to see the Hulkbuster posing alongside the sixth-scale Age of Ultron Hulk, provided that you have a shelf big enough to do so.
At this point, I'm just glad that my own Hot Toys collection is purely focused on Batman figures, otherwise I'd heavy-breath myself into a coma if I ever saw the Hulkbuster figure in real life.
Last Updated: June 27, 2017