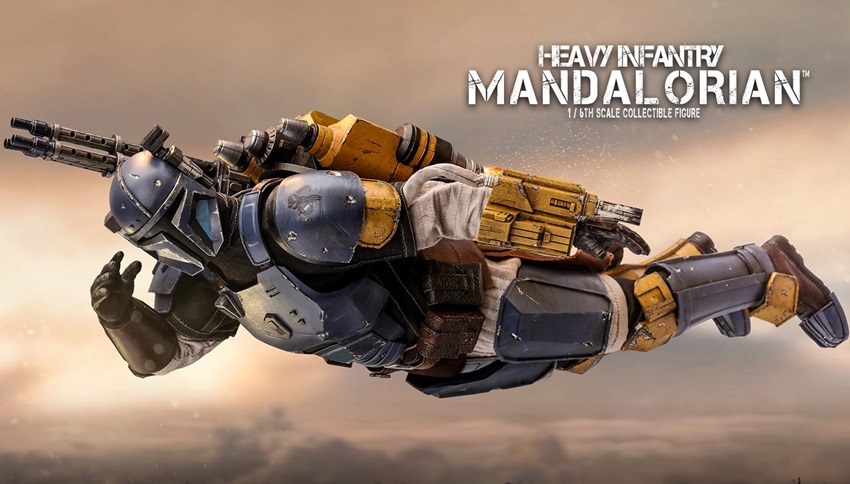 I'm only one episode into The Mandalorian so far. At least I think it's called The Mandalorian, because the Internet refers to this show as The New Adventures of Baby Yoda and His Gun-Happy Pal. Anyway, I've seen an episode and I like it. I like it a lot, especially because I'm an absolute sucker for galactic mercenaries and there ain't none cooler than a race of warriors who have fallen on hard times and yet still manage to cling to the one thing that is truly precious to them: Their jetpacks.
Oh and also their pride. While Disney's show may star Pedro Pasquel's voice and stunt double as a lone gunslinger, he's not the only Mandalorian out there in the outer rim making a name for himself. Other members of his tribe have a bone to pick with him, and they're more than ready to flex some heavy muscle firepower to prove a point.
In astonishing time, Hot Toys already has a figure to go based on the Heavy Infantry Mandalorian, who comes complete with an entire arsenal. And also what Australians would call "a proper knoife mate". Check this piece of awesome merch out:
"This is the way."

Returning to the enclave on a volcanic world with a camtono of Imperial beskar, the Mandalorian intending to create new armor from it was confronted by a group of other Mandalorians, including Heavy Infantry Mandalorian, who condemned the lone gunfighter for transacting with the Empire.

Following the official introduction of the first wave of Hot Toys' The Mandalorian collectible figures featuring the title character and IG-11, we are excited to continue the unveil of astonishingly detailed collectibles based on the first-ever live action Star Wars series and officially introduce the new 1/6th scale collectible figure of this Heavy Infantry Mandalorian!

The highly-accurate collectible figure is specially crafted based on the image of Heavy Infantry Mandalorian. Highlighting the features are the newly designed helmet and armor pieces, meticulously tailored outfit, beautifully applied weathering effects, finely sculpted jetpack, highly detailed and articulated heavy blaster with ammo belt, a blade, and a desert-themed figure base.
There's no official price yet, but seeing as how the current Hot Toys Mandalorian figure already commands a price tag of $243, I'd expect this burly fella to be worth that and a few Imperial Credits more when the proper listing for him goes live.
Last Updated: November 28, 2019