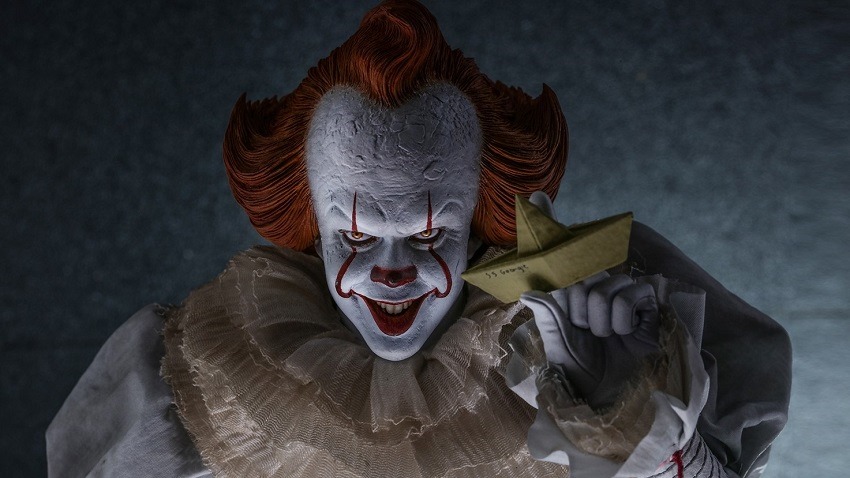 I've always believed that clowns are evil incarnate, vile avatars of unspeakable cosmic horror that happen to wear face-paint and can harness your fear to make balloon animals. The Joker? A harlequin of hate who regularly terrorises Gotham. Bobo the bonkers? Pure evil, and totally the reason why my fifth birthday party was a train wreck. Even now, I can hear his shrill laughter and honking whenever I close my eyes. The endless, unceasing honking that won't leave my head…
Anyway, the most famous clown of all is without a doubt Pennywise. A terror beyond mortal reckoning, Pennywise is the apex predator of the clown species and perhaps Stephen King's most famous creation. Immortalised by Tim Curry in the It mini-series originally, he's had a resurgence of late thanks to a blockbuster film and a sequel which deserves no adjective. Bill Skarsgard put on a hell of a performance as the horror icon, and if you're not too concerned about being choked to death in your sleep by tiny plastic hands, then you'll probably want this collectible from Hot Toys:
Nearly three decades after the Losers Club defeated Pennywise, he has returned to terrorize dreams once more. Now the Losers have grown up and gone their separate ways. However, people start disappearing again. Each receives a phone call from the lone member who remains in their small hometown, together they must destroy Pennywise once and for all.

Using a variety of powers that include the ability to shapeshift, manipulate, and go unnoticed by adults, this dancing entity primarily appears in the form of a terrifying clown. Today Hot Toys is thrilled to introduce the one-of-a-kind 1/6th scale Pennywise collectible figure inspired by the Dancing Clown emerges from sewers of Derry!

The movie-accurate figure is masterfully crafted based on Bill Skarsgård's portrayal of Pennywise in IT Chapter Two, features two newly developed head sculpts with incredible likeness and demonic yellow eyes including a smiling head sculpt and a fanged head sculpt revealing layers of pointed teeth, signature grey-white outfit with sophisticated tailoring and ruffle detailing.
Well, that's going to just add to the sound of honks that are currently playing out in my head. The honking just never stops, ever. Hot Toys say that in addition to sixth scale nightmares, you'll get a creepy Pennywise Jack-in-the-Box, a sculpted paper boat, a skateboard, a right severed arm, and a specially designed sewer grate diorama dynamic figure base to add to the horror. No pricing yet at the time of writing, but I'd float this in the ballpark of the usual $250 give or take for such figures.
Last Updated: September 11, 2019