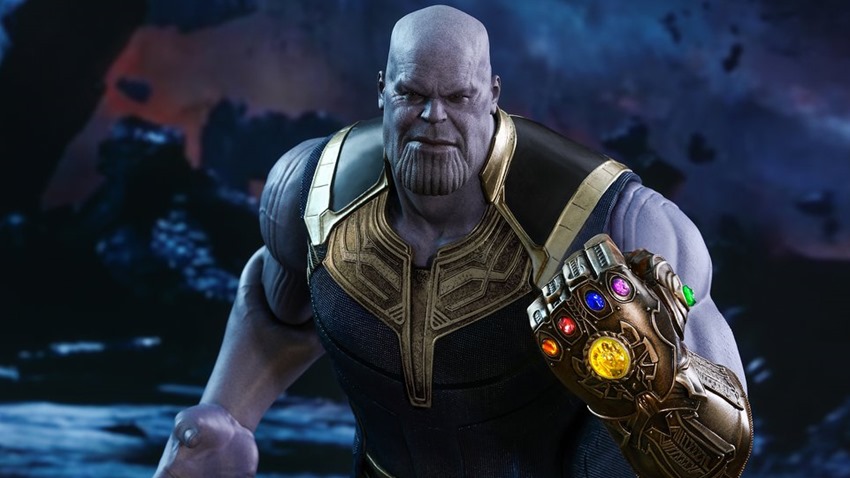 I've got a theory. You need to throw your memory back to a couple of months ago, for when the first trailer for Avengers: Infinity War was released online. Right at the end, that trailer features a glorious money shot of Avengers past, present and future running towards the camera to do battle with Thanos and his army of Outriders.
At that very moment, I have a feeling that Hot Toys grew a boner so massive over the excitement over just how many figures they were going to produce from one film, that it could be seen from space. That onslaught continues, with Hot Toys having already confirmed a stack of new figures related solely to Avengers: Infinity War.
What good is a shelf full of heroes with a villain though? Fortunately, there's a massive sixth-scale replica just for that situation. Your wallet can run dread it. Run from it. Destiny still arrives:
The spectacular 1/6th scale Thanos collectible figure is meticulously crafted with impressive likeness based on the main appearance of Thanos in Avengers: Infinity War. The collectible figure features two newly developed and sophisticatedly crafted interchangeable head sculpts inspired by Thano's serious and angry expressions respectively.

It also comes with two styles of LED light up metallic gold-colored Infinity Gauntlets with all six Infinity Stones and weathering effect, an additional interchangeable non-articulated left arm with great muscle details for Thanos' iconic and intimidating clenched fist pose, a newly sculpted and tailored armored costume with intricate details, and a specially designed figure base and backdrop.
WHAT'S IN THE BOX?
The Thanos Sixth Scale Collectible Figure specially features:
One (1) newly developed head sculpt with an authentic and detailed likeness of Thanos in Avengers: Infinity War
One (1) newly developed interchangeable head sculpt capturing Thano's angry expression
Movie-accurate facial expression with detailed wrinkles and skin texture
Approximately 41.5 cm tall
Newly sculpted purple-skinned muscular body featuring detailed skin texture with over 20 points of articulations, built-in joints in neck and arms with seamless elbow joints
One (1) additional interchangeable non-articulated power pose left arm with muscle details
Three (3) pieces of interchangeable hands including:
– One (1) right fist
– One (1) relaxed right hand
– One (1) gesturing right hand
Each head sculpt is specially hand-painted
Costume:
One (1) blue-coloured armor vest with metallic gold-coloured trims and details
One (1) dark grey-coloured pants with texture
One (1) pair of brown and blue-coloured boots with weathering effects and gold-coloured trims
Accessories:
One (1) interchangeable LED-lighted metallic gold-coloured Infinity Gauntlet with individually articulated fingers and weathering effect, and mounted with six Infinity Stones (6 LED lights, battery operated)
One (1) interchangeable LED-lighted non-articulated metallic gold-coloured Infinity Gauntlet with a clenched fist, weathering effect and mounted with six Infinity Stones (6 LED lights, battery operated)
A specially designed movie-themed figure base with movie logo and backdrop
In case you're wondering just how big Thanos really is: He's able to stand toe to toe with the Thor: Ragnarok Hulk, as they both measure in at over 41cm in height. All of that plastic will command a hefty price tag however, of over R4500 or $376 when Thanos arrives to claim the rest of your Infinity Stones next year June.
Last Updated: April 4, 2018