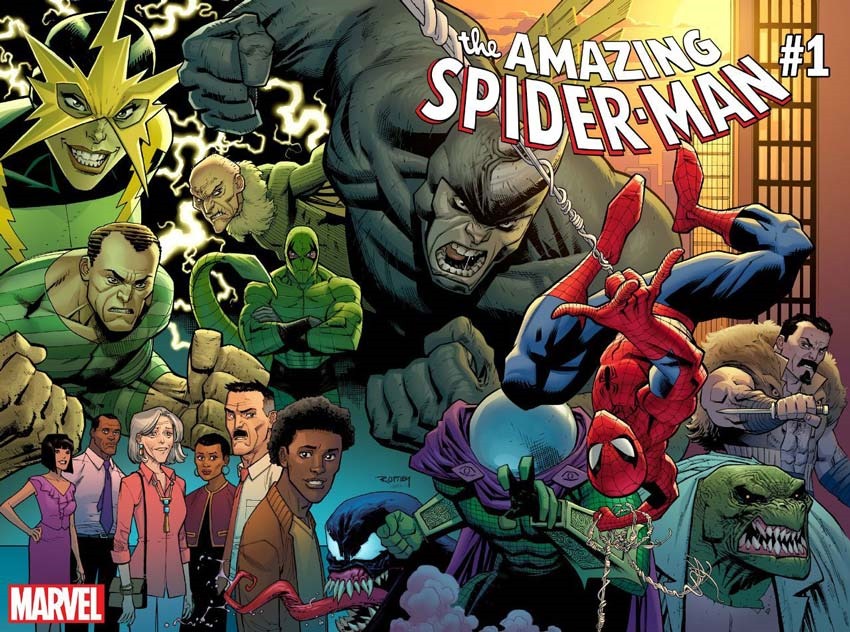 The greatest superhero comic book of all time, has come to an end. Over a decade of action, drama and romance reached a satisfying conclusion in Invincible #144, but what a ride it was. There's a lot to love about Invincible, from its classic adventure action through to its surprisingly mature take on evolving the capes and tights genre, but Ryan Ottley's art will always be the single most defining reason for me to ever punt this series.
What began with Cory Walker continued with Ottley, whose sharp pencils and smooth inks (and don't forget colourists such as John Rauch and Jean-Francois Beaulieu or letter Rus Wooton!) made Robert Kirkman's story shine. Invincible was and still remains a visual tour de force of intimate moments and planet-shattering conflicts. Art that will soon find its way into the pages of Marvel's signature webhead, as Ryan Ottley slings his pencils within the pages of The Amazing Spider-Man for Marvel's Fresh Start.
"I knew that Ryan was wrapping on Invincible, and I kept thinking, 'God, would he be the perfect person for this?' Spider-Man is such an artist book," new Amazing Spider-Man writer Nick "Secret Empire" Spencer said to Comicbook.
It's contained some of the best artists in Marvel Comics history, and I really do believe that Ryan, if he wants to be, is really one of the best superhero artists working in comics. And so, he was very much on the dream list, and we're so lucky and thankful that he was interested in doing it, and we're just [having] so much fun so far.

First of all, Ryan does the action sequences better than just about anyone. So, learning to step with him on that has been a lot of fun. His sense of motion, his character's mobility, you really could not find a more perfect artist for an elastic character like Spider-Man," he said. "With Ryan, he really likes to put the camera at crazy angles, lots of motion, lots of speed bumps.

The other thing that I love about Ryan is his panel density. Ryan's been working within a grid, and so when you want to play the action down and get close in on some things, he can deliver that for you. For a writer, it's an enormous dream to work with somebody like him because he really can do anything.
Yer damn right Spencer. Amazing Spider-Man's greatest artists are many and varied. From Mark Bagley's iconic run, to John Romita Jr's take on the wallcrawler and Giuseppe Camuncoli's sharp pencils, anyone handling art duties on the flagship Spider-Man comic normally has big boots to fill. I think an artist like Ottley is the exception to that rule. He's not filling the boots of legends, he's going to introduce a fresh set of footwear for future generations of artists to fit into.
"Super excited to be working with Nick on this book," Ottley said.
Spider-Man was my first love when it comes to comics, so this is a pretty nostalgic feeling, and so far I'm having a blast putting my spin on these characters.
Marvel's Fresh Start may be its fourth relaunch since 2015, but it's one that actually feels up to the task so far, not a lip service gimmick that attempts to pull back jaded fans. With more artists of Ottley's caliber joining the Marvel workforce, it finally feels like the classic House of Ideas is back and ready to rock.
Last Updated: March 2, 2018