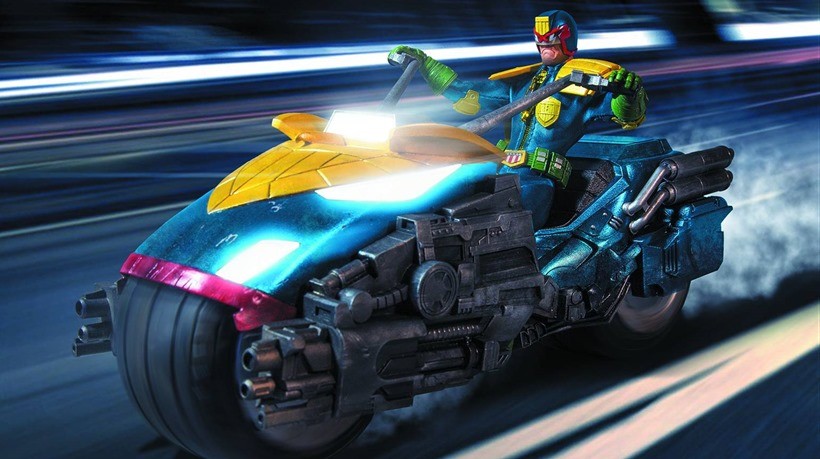 America is an irradiated wasteland. Within it lies a city. Outside the boundary walls, a desert. A cursed earth. Inside the walls, a cursed city, stretching from Boston to Washington D.C. An unbroken concrete landscape.
800 million people living in the ruin of the old world and the mega structures of the new one. Mega blocks. Mega highways. Mega City One. Convulsing. Choking. Breaking under its own weight. Citizens in fear of the street. The gun. The gang. Only one thing fighting for order in the chaos: the men and women of the Hall of Justice. Juries. Executioners. Judges. And on bitchin' awesome motorcycles as well.
If you've read the 2000 AD comics as long as I have, you know that the Lawmaster motorcycle is an indispensable part of Judge Dredd's arsenal, much like his infamous Lawgiver pistol or his notorious chin of justice. The Lawmaster has had a few redesigns over the years, but the core concept has remained intact: A speedy motorcycle that is equal parts velocity, initimidation and a tank on two wheels.
And I'd risk 20 years in the Iso-cubes to take a spin on one of them:
Heavily armored, supremely weaponized and with it's 4000cc V8 KT23 engine the Lawmaster is designed to dominate anything else on the streets of Mega-City One. The Lawmaster is the Justice Department's greatest advancement in law enforcement transportation.

Digitally modeled and specifically designed to interact with the One:12 Collective Judge Dredd figure, the Lawmaster is teaming with amazing details and features. In cooperation with artist Ben Willsher, the One:12 Collective team has created a truly stunning collectable loaded with some incredible features.

The Lawmaster's functions include 5 distinct sounds, multiple light-up features, free-rolling rubber-slick tires, turning handle bars, built in handcuff storage pod and a light-up Synitron GK13 onboard computer display.
The One:12 Collective Lawmaster features:
3 separate FX activated twin front guns with lights and sounds (cannon, machine gun and grenade launcher)
2 FX activated motor sounds (start up/rev and motor wind out/gear change)
Backlit Synitron GK13 onboard computer display
4 real working headlights
3 real working taillights
1 real working spot-light
Real rubber-slick "bulletproof" tires
Handcuff storage pod
Free-rolling wheels
Turning handle bars
I YAM DER LAWR! Mezco says that the Lawmaster will retail for $125. Judge Dredd, not included.
Last Updated: November 17, 2015