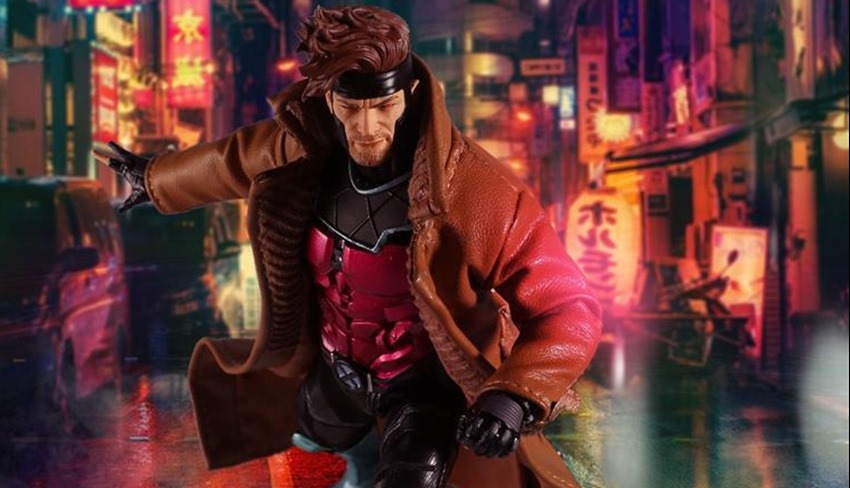 If you were a 90s kid, had access to the X-Men animated series and a backyard, then I'd bet all of my first appearance issues of Deadpool that you role-played as one of two characters: Wolverine or Gambit. Running around a yard with a trio of knives between your knuckles until your mom got home and freaked out was a golden experience, but taking turns to be Gambit? Now that was the fun part.
I've got a memory of me stealing my dad's pack of playing cards and flicking them ineffectively at my imaginary friends, pretending that they were charged with explosive kinetic energy. Who didn't love Gambit back then? He was coolness personified, a charmer with an awesome accent and the skills to pay the bills.
His look hasn't changed much since his original debut, as the ragin' cajun has kept to his trademark body armour, weird as heck neck collar and trenchcoat. That signature look is getting a bit of the ol' three-dimensional love, as Mezco's next one:12 figure will be none other than Remy LeBeau himself. Check him out below and try to forget about his one role in X-Men Origins: Wolverine was to show up and be a nuisance:
The One:12 Collective Gambit is outfitted in a black mission suit with an X-Men issued armoured vest and removable leather-look overcoat. Complete with 2 head portraits, the master of kinetic energy comes complete with a bo staff and a variety of throwing cards and throwing card FX.

Remy LeBeau, the master thief better known as Gambit, possesses the mutant ability to charge inanimate objects with kinetic energy he can create and control. An agile and intelligent member of the X-Men, Gambit is also a master at card throwing, hand-to-hand combat, and the use of a bo staff.
Like it? Of course you do. If you're interested, here's what you get inside the box alongside the suave mutant:
One:12 Collective body with over 28 points of articulation
Two (2) head portraits
Hand painted authentic detailing
Approximately 17cm tall
Seven (7) interchangeable hands
One (1) pair of fists (L&R)
One (1) pair of posing hands (L&R)
One (1) baton holding hands (L&R)
One (1) card holding hand (L)
COSTUME:
X-Men issued armoured vest
Black mission suit
Elbow armour
Wrist guards
Combat gloves
Belt with X-Men insignia
Knee armour
Leather-look overcoat
Boots
ACCESSORIES:
One (1) bo staff
One (1) single throwing card
One (1) charged single throwing card
One (1) stack of throwing cards
One (1) charged stack of throwing cards
Two (2) charged throwing card FX
One (1) One:12 Collective display base with logo
Gambit will arrive next year between June and August, for the cool price of $85 mon ami.
Last Updated: October 9, 2019