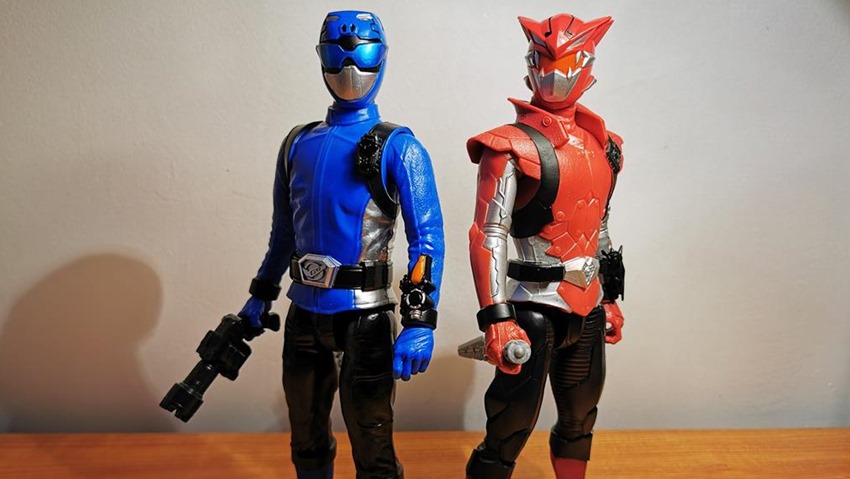 Five teenagers, one Morphin Grid and a multiverse full of potential. No matter what your age is, the Power Rangers have probably been a part of it. Maybe you were an Angel Grove original, watching five teenagers with attitude battle against Rita Repulsa or maybe you're not old as sin and your Power Ranger team of choice leans towards the Samurai incarnation.
Right now, the latest Power Rangers series is something more…beastly. Or Beast Morphers to be exact! It's the premise you're used: A team of warriors, fighting back against the forces of darkness and somehow managing to not level an entire city when they step into their massive mechanised Zords. Like any Power Ranger show, there's naturally a ton of merchandise out there, such as these two figures I recently got my hands on: The Cybervillain Blaze and the Blue Ranger.
Now first off, let's check the basics out. What you have here are more affordable figures designed in a manner that allows them to be used by even the roughest of hands. They're around 12 inches in height, lightweight and their possibility is just enough for the age range of four and up. You've got a ball-jointed neck that is properly stiff, a pair of ball joints in the shoulders and some more joints in legs.
Even with limited mobility, they're still able to strike a decent pose, have some solid balance and they come equipped with one accessory each. In Blaze's case, a plastic sword without any harmful edges and a pistol for the Blue Ranger that he can warp in via the Morphin Grid. Here's the thing: I kind of dig these dudes as static figures. While they are meant to be played with (and roughly depending on your tyke!), my hat is off to just how well they're sculpted.
The proportions look great, the action pose is solid and Blaze's design is particularly good. He may be an evil clone given Ranger powers by Evox the sentient computer virus but hot dang that is one amazing costume for an antagonist. The paintwork may be a tad bit sloppy in the finer areas, but it's still a vibrant figure to look at. That rich burgundy paint scheme, silver highlights and an overall aura of menace make for one cool design. The Blue Ranger doesn't look too bad either, rocking a more sensible battle outfit that highlights a cool future leather biker soldier look that is also equally rad.
So there you go! Power Rangers Beast Morphers is currently airing, and if you've got a kid who wants some of that licensed merch but you don't want to break the bank, R249 for one of these figures doesn't sound too bad.
Last Updated: November 11, 2019