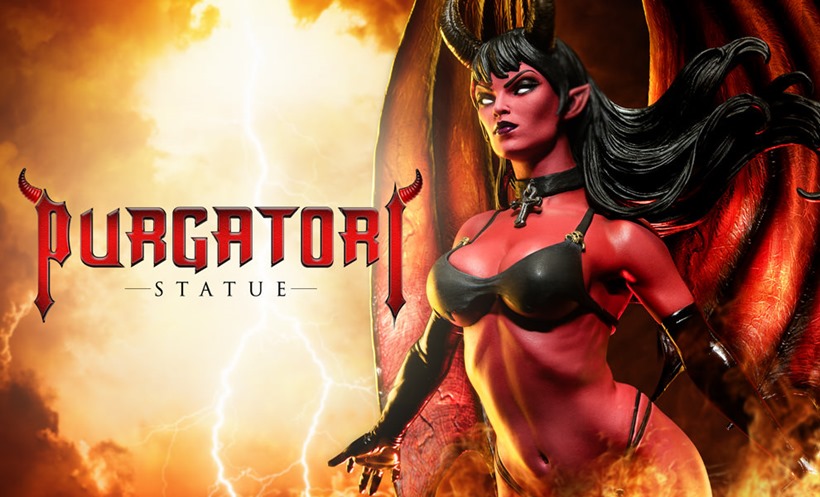 DC comics, Marvel, Dark Horse, Image. All recognisable comic book brands, that have been around for many, many years to paraphrase Commandant Lassard from the Police Academy movies. There used to be another comic book brand, that operated from 1994 through to 2002. It was a publisher of comic books, that your mom would disapprove of.
Ultra-violent, sexy and the most extreme thing to ever come out of the 1990s, Chaos Comics were the printed equivalent of a Mortal Kombat controversy. The boom didn't last however, as Chaos eventually folded, before their properties were snapped up by Dynamite Entertainment. Characters like Evil Ernie and Chastity made their way over to that new publisher. And so did Purgatori.
Never heard of her? Not surprising. Purgatori is heavily intertwined into the mythos of Lady Death, a demon who specialises in blood magic and happens to enjoy drinking the crimson from gods and mortals alike. She's also the sworn enemy of Lady Death, with the two having clashed numerous times in the past. So if you happen to have that Lady Death replica, you might want to avoid leaving the two alone:
As desirable as she is deadly, the stunning vampire goddess takes off like a bat out of Hell amid a base of fiery demons, with outstretched arms and sweeping translucent wings. Driven by her insatiable lust for blood, Lucifer's crimson-skinned lover is dressed to kill, scantily clad in a wicked ensemble with long black gloves, thigh-high boots, and a sacred ankh pendant exuding Egyptian allure. Standing beside Lady Death or Vampirella, Sideshow's Purgatori statue is a must-have for fans of the bad girls of comics!
Sideshow Collectibles say that this replica will measure in at 22.25″ H (565.15mm) x 11.5″ W(292.1mm) x 7.75″ L (196.85mm, and set you back a hellish $429.99 when they roll out in December. Well, at least you know what you want for Christmas now.
Last Updated: March 9, 2016