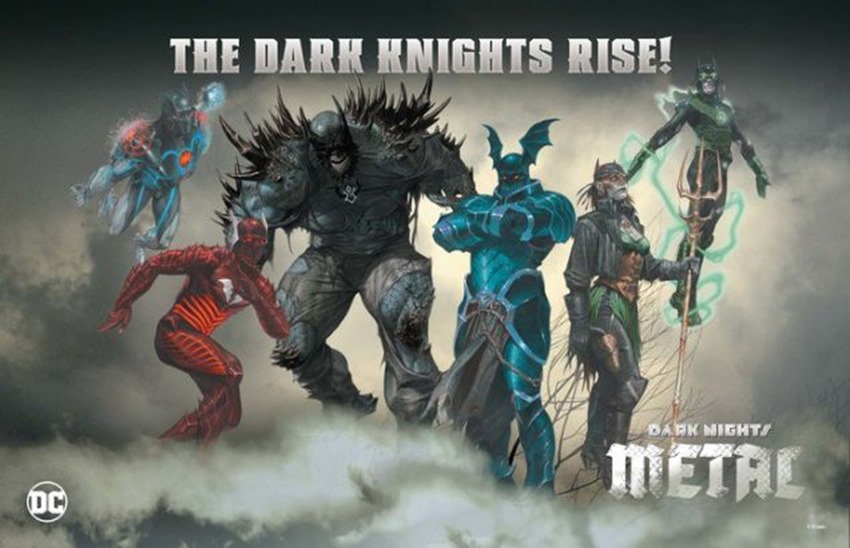 Something is coming to the DC Multiverse. A threat of titanic proportions, a danger which even the Justice League is unprepared for: Batman. Not their Batman mind you, but rather the Batmen of a dark multiverse that is hellbent on extinguishing the light of our universe. Dark Nights: Metal has a threat on the horizon that involves the grimmer alternate reality Justice League descending on Earth's greatest heroes, although the actual plot is rather easy to follow.
So says writer Scott Snyder, as he described Dark Nights: Metal as a "really simple story" at the San Diego Comic Con via Newsarama:
everybody is screwed
It's essentially, the Justice League discovers that there's a Dark Multiverse out there, and that Dark Multiverse is coming to invade. And everybody is screwed.
Dark Night: Metal's main antagonists were also revealed, featuring new villains such as the Murder Machine (Cyborg), the Red Death (The Flash), the Devastator (Doomsday), the Merciless (Wonder Woman), the Drowned (Aquaman/Mera) and the Dawnbreaker (Green Lantern). There's one other mystery member of this team who wasn't shown off: The Batman Who Laughs, a Joker version of the caped crusader. "So, it's basically every kid toy I ever wanted to play with or build, and just smashed together over the summer," Snyder said of the antagonist amalgamations.
What brings the darkest of knights to our reality? Nth metal, as the mysterious mineral results in "these crazy, evil, nightmare Batmen that are the Dark Knights" Snyder explained.
So they go around trying to find the stuff, this Nth Metal, which is one of the rarest things in the universe.
Dark Nights: Metal looks crazy so far. Crazy awesome that is. The series finally kicks off next month, introducing the dark multiverse and a ton of other mad concepts to the DCU. It's so metal, you might need to have a lit Zoppo near you when you read it. No wait, that's a bad idea….
Last Updated: July 22, 2017