Forget about movie trailers, new TV shows and cool toys that are so far out of your price range that you'd have to mortgage your organs to afford them! New York Comic Con is still a comic book showcase, one that sees publishers from all over the industry gather to reveal what's in store for the near future. From DC Comics and Marvel, to IDW Publishing and BOOM! Studios, here's a quick recap of all the news that you might have missed over the Comic Con weekend.
Wolverine is getting a new solo series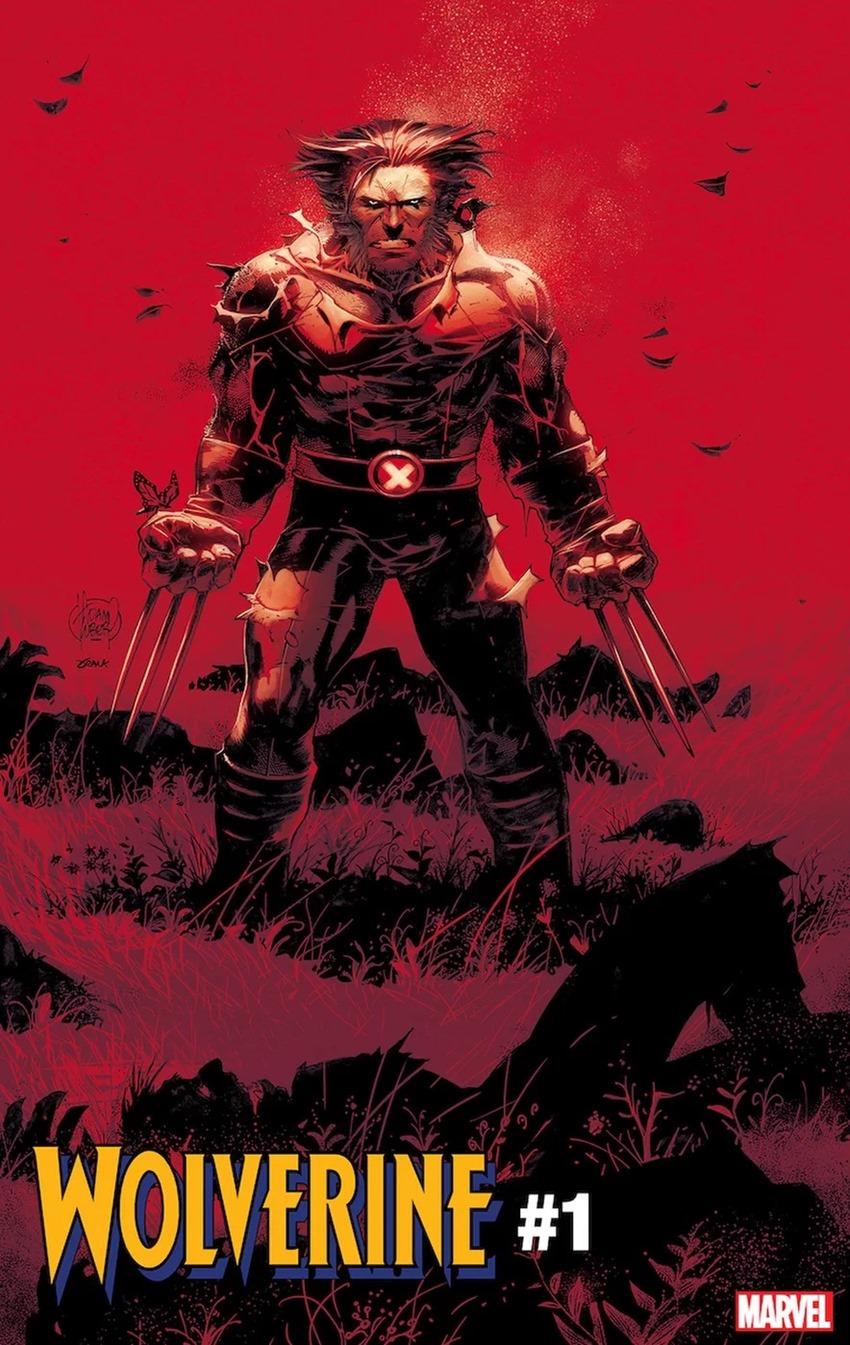 He's the best there is at what he does, and what he does is sell a buttload of comics whenever he gets a new series under his belt. After dying, being reborn, manipulated, handling an Infinity Stone and finally getting his groove back, Logan's once again ready to pop his Adamantium claws in his first solo ongoing series in over five years.
Helmed by X-Force writer Benjamin Percy while artists Adam Kubert and and Victor Bogdonavic rotate on visual duties, this new series is a dream come true for Percy. "We all have that character. The one we love more than any other. The one we treasure in books and movies and maybe memorialize with a T-shirt or tattoo," Percy said at the NYCC Dawn of X panel.
The one we relate to as a cracked-mirror version of ourselves. For me – as a growly, grumpy, hairy, smelly, muscled, flannel-clad, whiskey-swilling loner who lives in the woods of the frozen north – it's Logan. And though this might sound corny, it also feels right to say that writing Wolverine is a dream come true, a childhood fantasy realized. No kidding, bub.
Donny Cates, Nic Klein and Matthew Wilson are taking over on Thor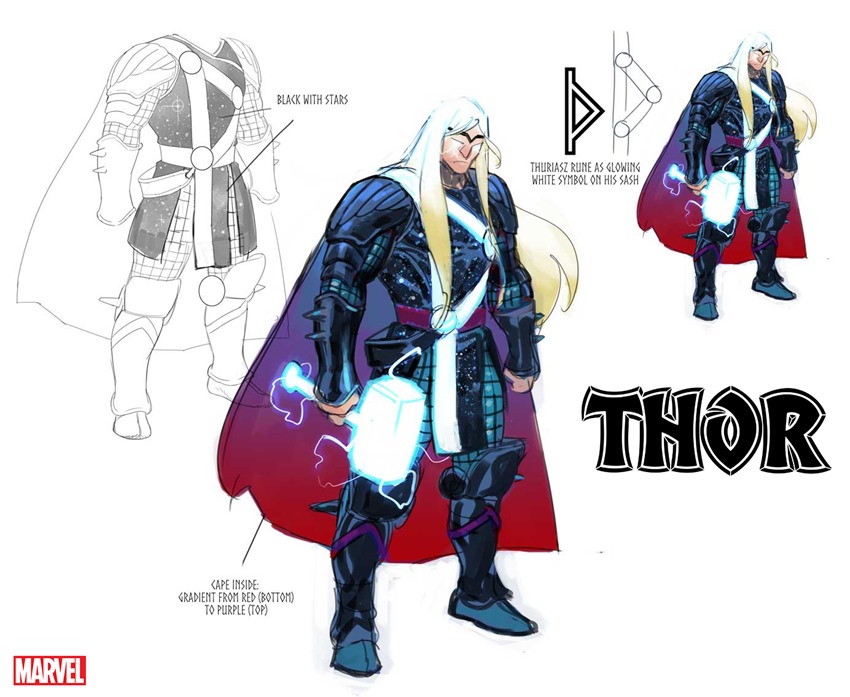 I say thee yay! After making waves with work on Thanos, Venom and Absolute Carnage, Donny Cates already has a new project: Taking over from longtime Thor writer Jason Aaron as he charts a new course for the god of Thunder with artists Nic Klein and Mathew Wilson. Here's a sneak peek at the series and a synopsis for the first issue:
The prince is now a king. All Asgard lies before Thor, the God of Thunder. And after many months of war, the Ten Realms are finally at peace. But the skies above the Realm Eternal are never clear for long. The Black Winter is coming. And the God of the Storm will be powerless before it.
Earth X is getting a prequel
Many MANY years after Earth X and Paradise X presented a haunting vision of a future where Earth had been left in ruins and its greatest heroes were mere shadows of their former selves, Alex Ross and Jim Krueger are finally reuniting to show just how things got bleaker than a Zack Snyder DC Comics film. With art by Velibor Stanojevic, Marvels X will unfold over six issues as the future unfolds in frightening fashion.
David has a problem. He lives in a world of monsters that would love to devour him. He's the last boy on Earth. The last human being on Earth. And these creatures that see him only as prey, they're his former neighbours. He has one hope: to get to New York. To get to where Captain America and the rest of the heroes are. Alex Ross and Jim Krueger combine their abilities with artist Well-Bee to tell a very uncanny prequel to the legendary EARTH X trilogy.
A new Stark takes over in Iron Man 2020
He's been building up to it ever since he started his run on Tony Star: Iron Man, and now Dan Slott is ready to do what he does best: Take a familiar hero out of their identity, and offer the role to someone who is more…superior. So who's stepping into Iron Man's repulsor boots? None other than his estranged brother Arno Stark, who in 1984 was revealed to be the Iron Man of 2020. Hence Marvel preparing themselves for this eventual takeover, many years later.
"Like the inexorable turning of pages on a calendar, we've been building up to the arrival of 2020 and the advent of Arno Stark as Iron Man ever since this latest run began!," said Executive Editor Tom Brevoort at NYCC.
Here, all of the larger themes we've been playing with will come to the fore in a big, sweeping, epic action movie that anyone can enjoy!
And here's a quick look at the cover for the series, which will feature the delightful visuals of Pete Woods!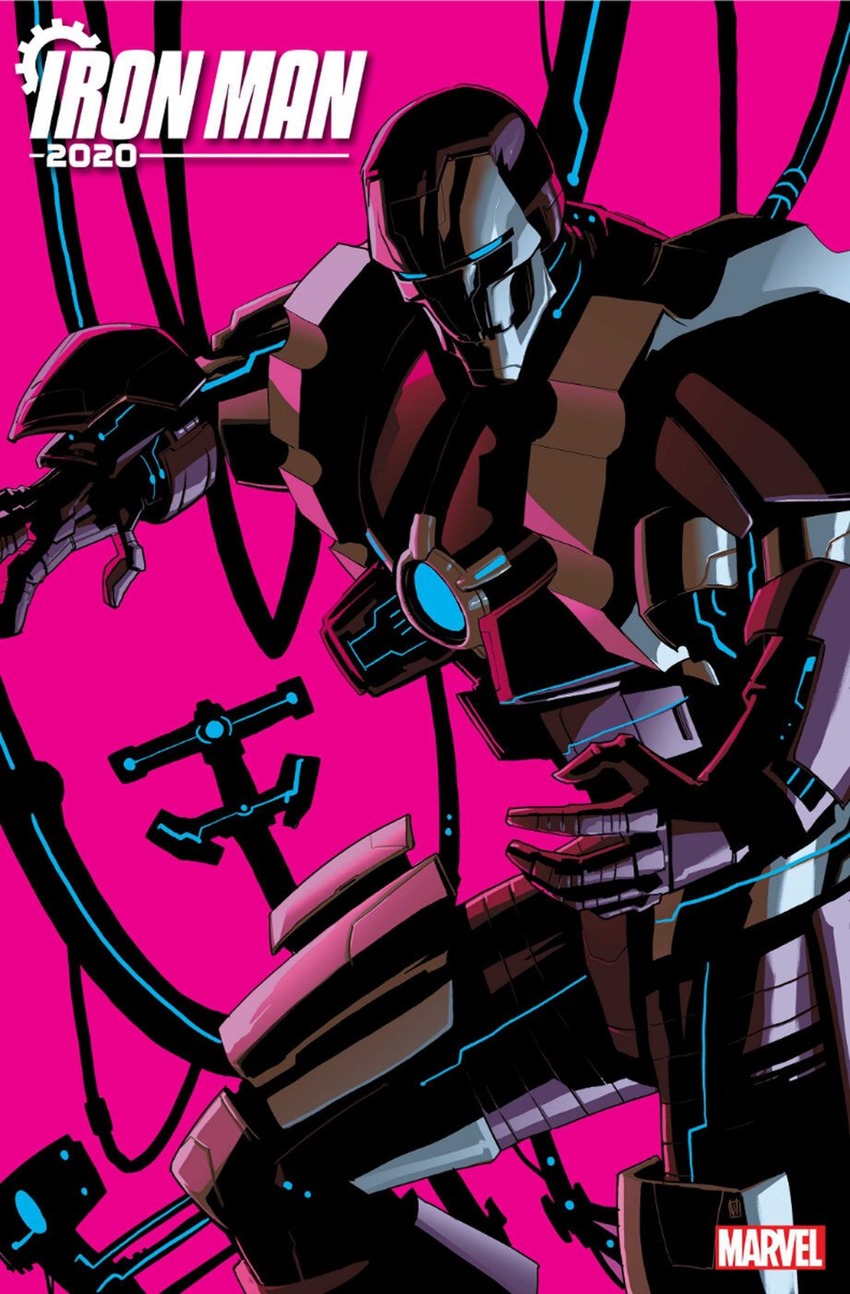 The future is now! Artificial Intelligences present a clear and present danger to humanity and must be brought to heel!

The Robot Rebellion battles for the establishment of robot rights!

And Arno Stark IS Iron Man!
At this point, I'm just sad that Tony isn't South African, just so that we can hear him say "Arno brrruuuu" when the iron rug gets pulled out from under him.
Amethyst is ready to shine once again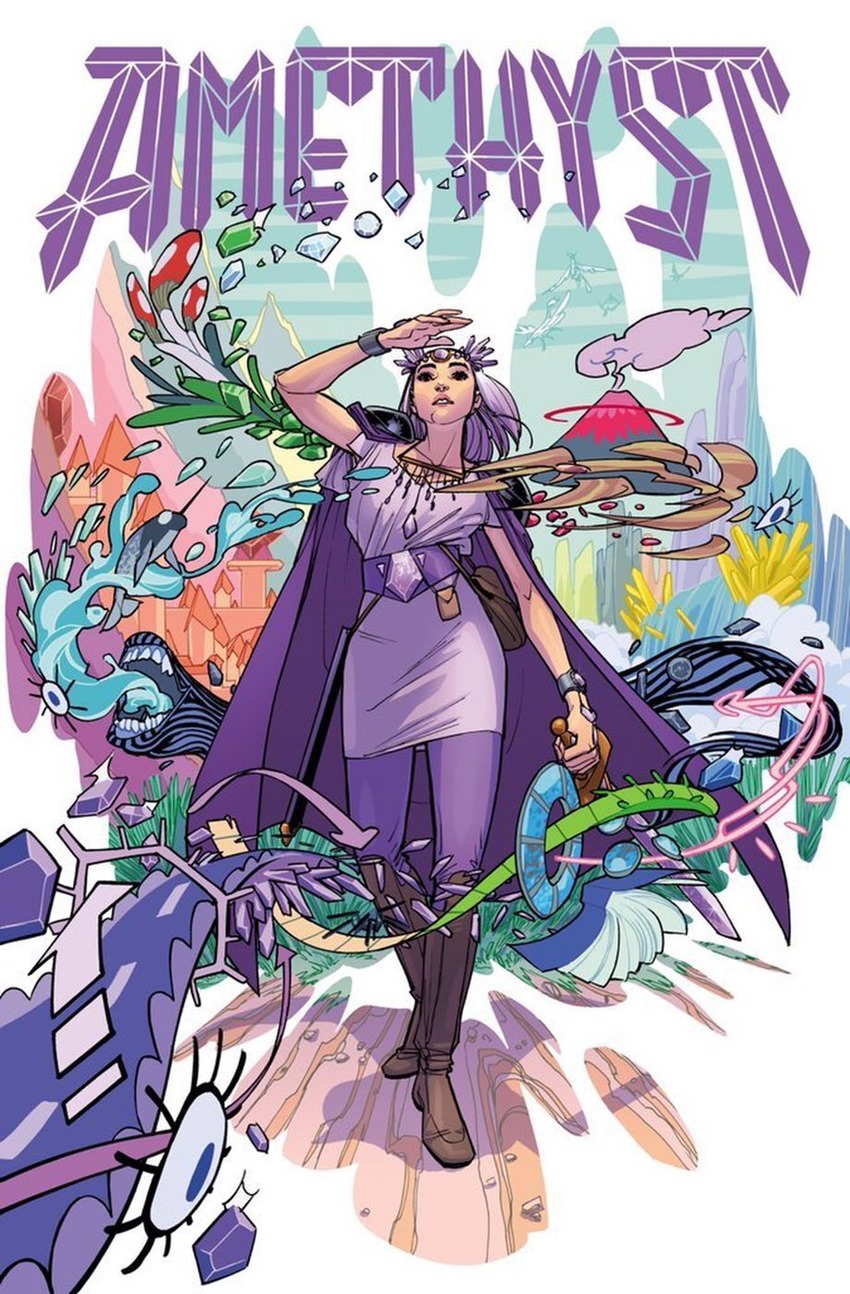 Now here's a blast from the past! Over on the Wonder Comics side of DC, it was announced that that Amy Reeder's take on the beloved character will kick off in February. Here's what Reeder, who turned down the chance to work on a creator-owned series, had to say about the freedom she was offered to helm this project: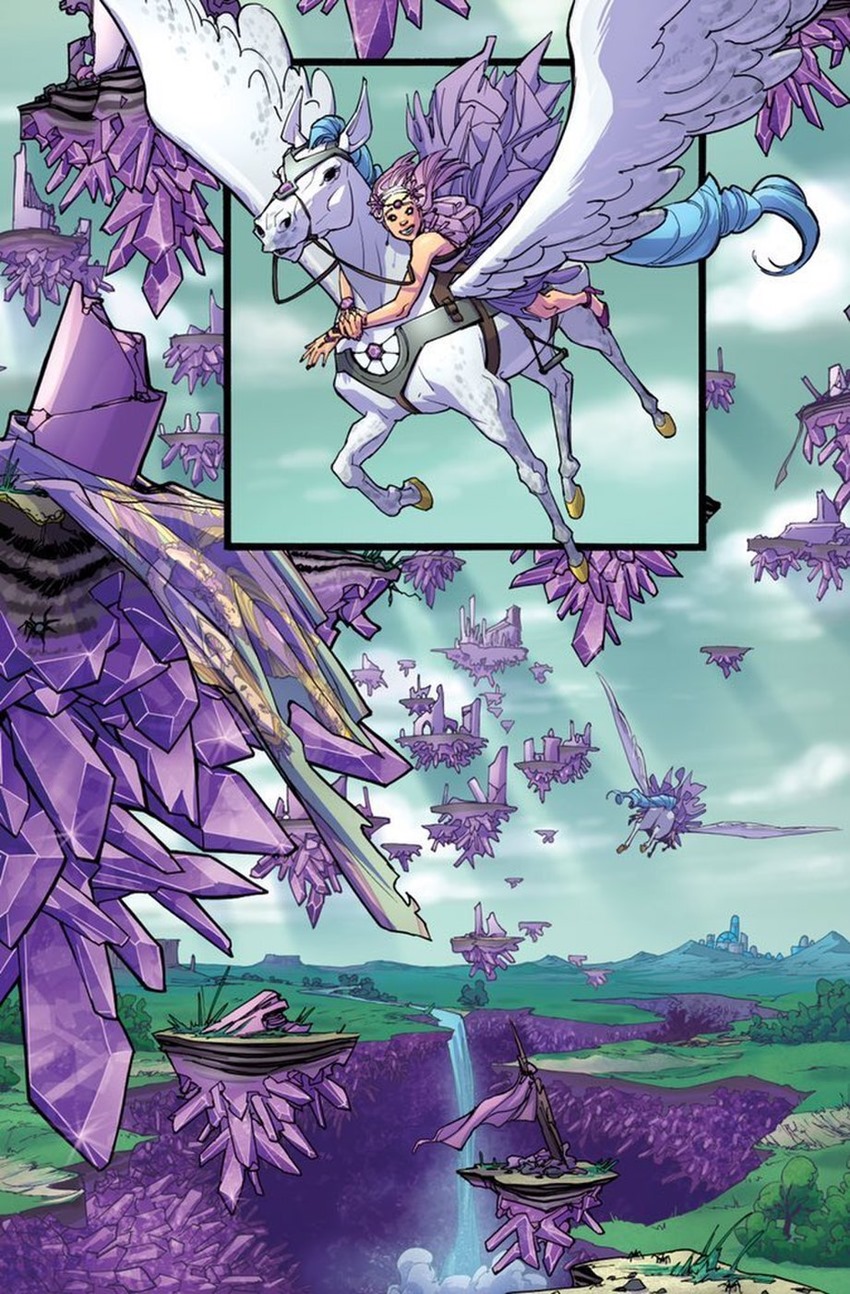 It's a lot of world building, a lot of gorgeous landscapes and psychedelic fever dream stuff," said Reeder. "It's really fun… I don't know. I think I'm doing a good job! With the original Amethyst story, which I love, she spends a lot of time talking to the other royals. Not as much in this one. She's going to be among the people.
Guardians of the Galaxy relaunches in 2020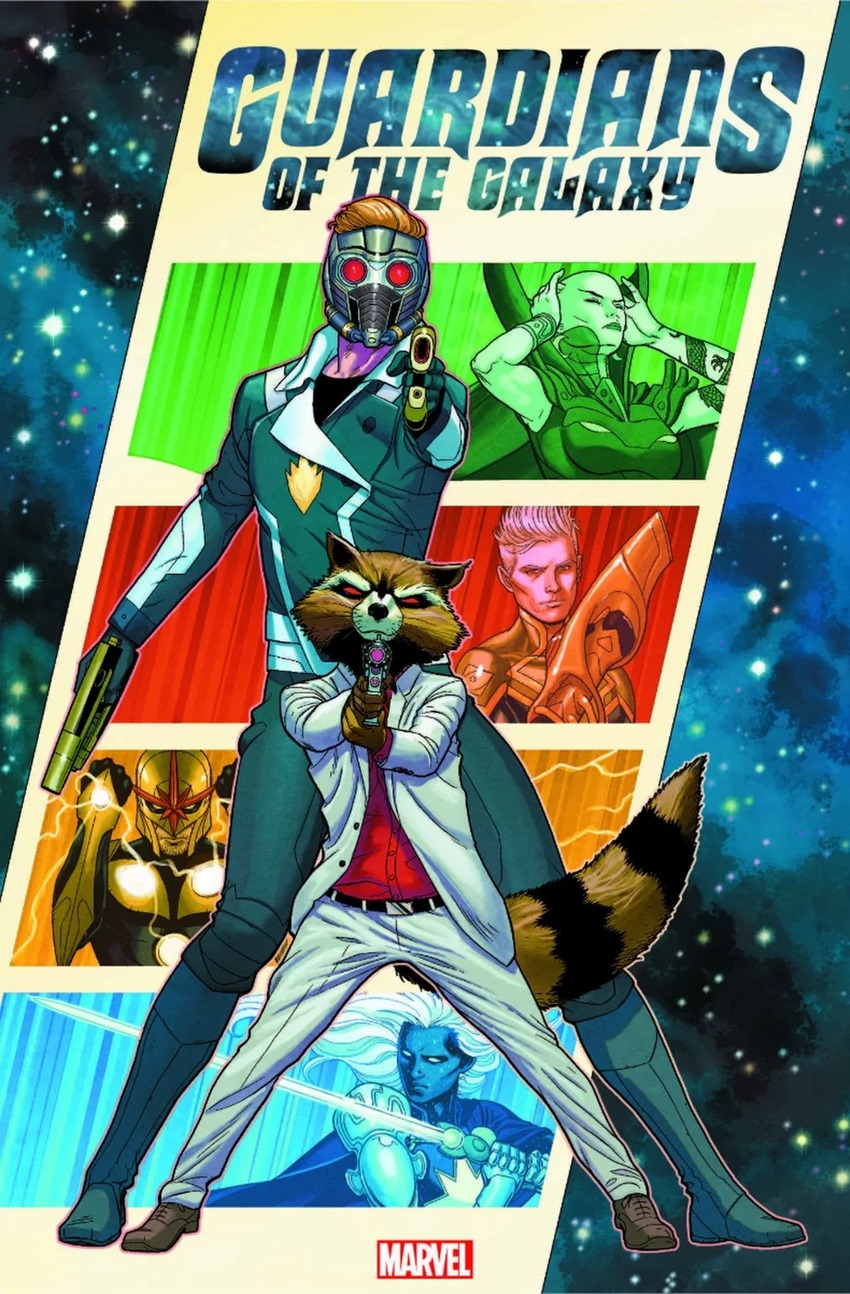 New Guardians team, who dis? Al Ewing and Juann Cabal have a new Guardians of the Galaxy series to launch in 2020, and this time they're positioning Marvel's biggest cosmic heavyweights as a team that is ready to tackle everything from outer space espionage to the resurrection of a pantheon of Earth's darkest gods. Here's the plot from Marvel for the 2020 relaunch:
Once, they were a team of misfits. Now they're a family, and they've earned their peace. But the universe is not a peaceful place — and it's only getting worse. The Great Empires are in turmoil. The rule of law is dead. And amidst the chaos, the Gods of Olympus have returned — harbingers of a new age of war, reborn to burn their mark on the stars themselves. Someone has to guard the galaxy – but who will accept the mission? And will they survive it?
DC is rewriting its history
Well, kind of. In an effort to once again streamline their continuity into something more flexible and easily digestible for the legions of rabbid nerds who demand to make sense of a universe that is home to solar-powered gods and Amazonian Princesses who have yet to nuke man's world after a day on Twitter, DC Comics is ready to put an official stamp on all the craziness that happens in their comic book neck of the woods.
"For the first time, we're going to introduce the DC Timeline," DC Comics co-publisher Dan DiDio said during the DC Nation panel.
The whole idea here right now is, from our standpoint, we're trying to organize a sense of when the DC stories took place and how they all fit together.
Some of those fixed points in history? They'll be split across four distinct eras:
Dawn of the Heroic Age – Wonder Woman arrives in time to kick ass during World War Two
The Space Age – Superman makes his first appearance
The Age of Crisis – Basically everything from 1985's Crisis on Infinite Earths, Zero Hour, Infinite Crisis, Final Crisis and concluding with 2011's Flashpoint
The Flashpoint – Everything from the New 52 until today, including when Mr Mxyzptlk rewrote reality to merge the Pre-Flashpoint Earth with the current continuity of the DC Rebirth timeline and I can't believe some people think comic books are silly
G Willow Wilson is taking over on The Dreaming
Now that Simon Spurrier is focusing on the return of John Constantine in a brand new Hellblazer ongoing series, someone needs to take over on The Dreaming series set within the Sandman Universe. And that someone is G Willow Wilson, who has some BIG plans for the series which so far looks simply magical.
Stuart Immonen is handling the art for Joe Hill's Plunge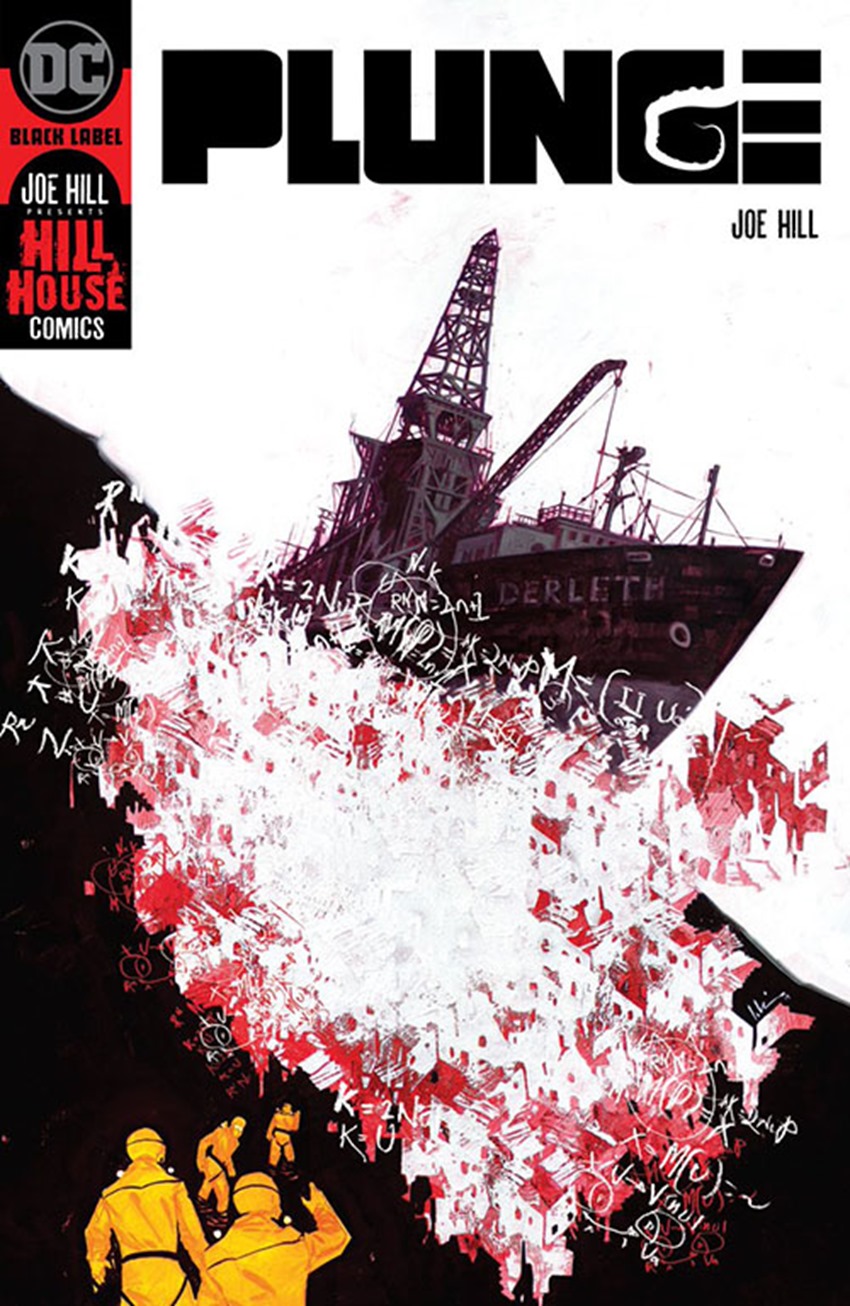 Joe Hill has a knack for writing some of the best modern-day supernatural series around, but pairing him with superstar artist Stuart Immonen? Now that's a dream creative team! "Plunge is my chance to riff on one of the greatest horror films of all time," Hill said at his panel, explaining how John Carpenter's The Thing helped inspire his series. Taking place today, Plunge begins with the discovery of a research vessel that vanished in the 1980s and returns with a cargo of oil that has unusual properties to it. "There's oil on board with unusual properties," Hill said at his reveal panel.
At the center of this ring island, sunk in shallow waters, is what appears to be the ruins of a prehistoric civilization. Most upsetting of all is when the men who were on the research vessel emerge from the island's caves. Their eyes have all been eaten away, they haven't aged a day, and they're capable of performing unfathomable mathematical feats. There's something terribly wrong with them. And then the storm closes in…
Harley Quinn finally gets a new love interest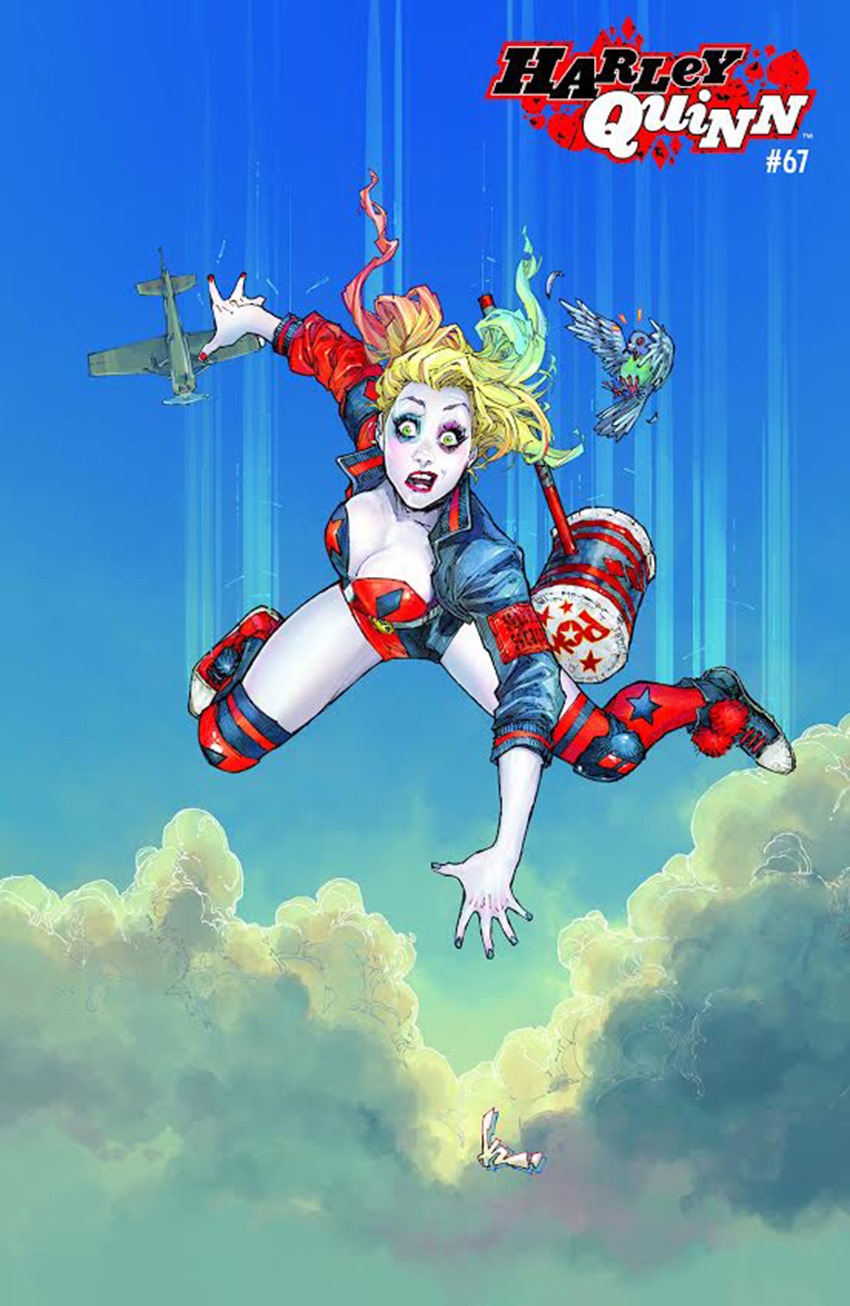 And you'll never guess who he/she/it may be, because Harley Quinn writer Sam Humphries claims to be the only person capable of even imagining this love story. Ten bucks says that Harley falls in love with Gaggy, the former Joker sidekick. Another ten bucks says that if this is true, there'll be hope that anyone can find love, especially those of us who sympathise with a homicidal little person who dresses in cheap-ass pyjamas before going on an adorable crime spree.
Cliff Chiang has a big project brewing at DC Black Label
And he'll probably be injecting coffee straight into his veins for this one, as the artist on the hit Paper Girls series will be a Swiss army knife of art and writing under DC's mature Black Label imprint.
The New Day are getting an original graphic novel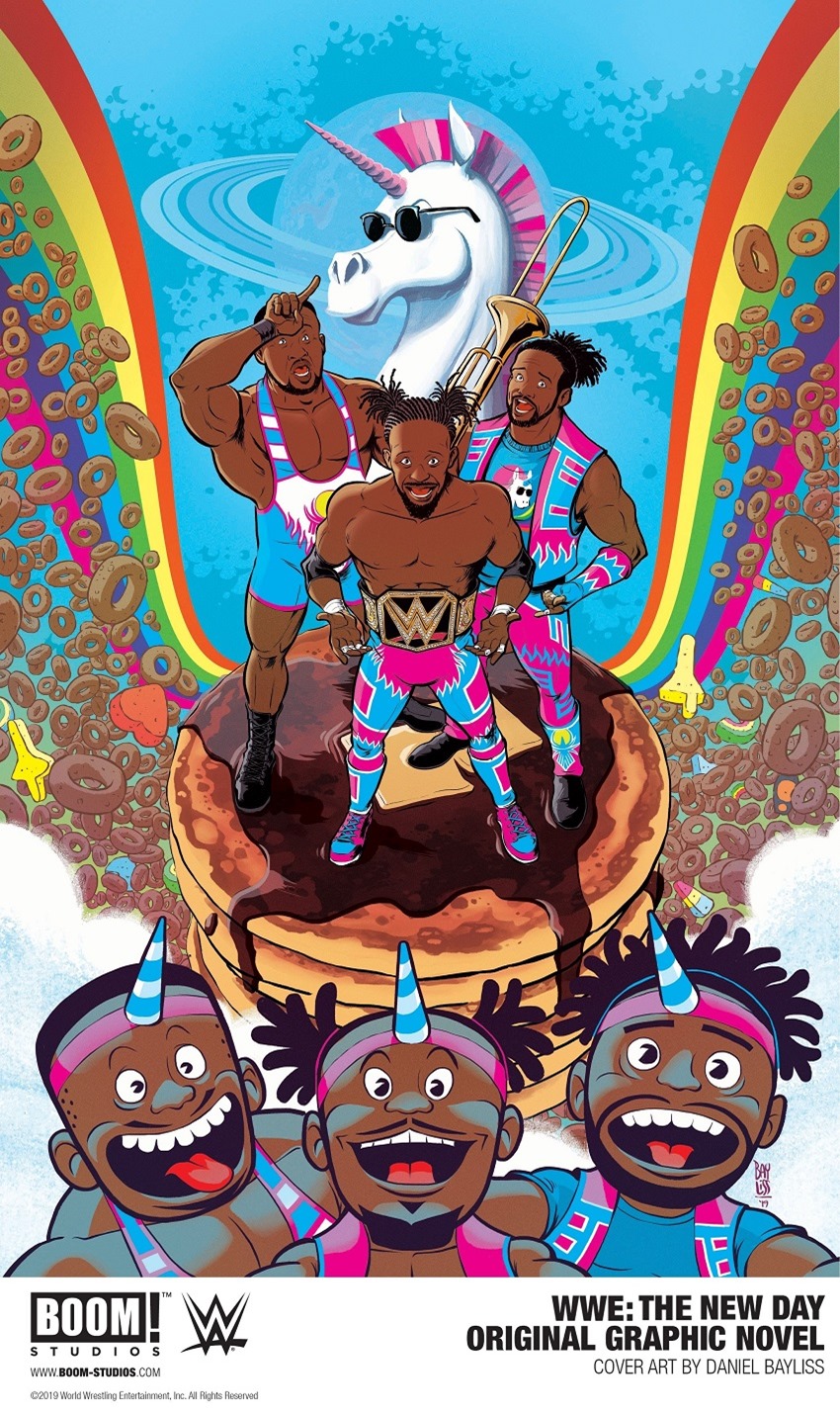 The power of positivity! The fan favourite tag team of the WWE are bringing flapjacks and unicorns to comic books, with writers Evan Narcisse and Austin Walker and artist Daniel Bayliss being in charge of that project.
BOOM! Studios announce Alienated
Three outcasts, thrust together in the unlikeliest of circumstances as they bond together over an adorable alien creature…that is currently growing into the ultimate predator. Imagine ET meets Alien, and you'd have a good idea of what direction this new series from Simon Spurrier and Chris Wildgoose is going in over at BOOM! Studios:
Three teenagers, each an outcast in their own way, stumble upon an unearthly entity as it's born. As they bond over this shared secret and the creature's incredible abilities, it becomes clear to the teenagers that their cute little pet is a predator in the making—and it's in need of prey. Guided by the best intentions at first, the teens' decisions soon become corrupted by adolescent desires, small town jealousies, and internal rivalries, sending them into a catastrophic spiral of their own making.
Bermuda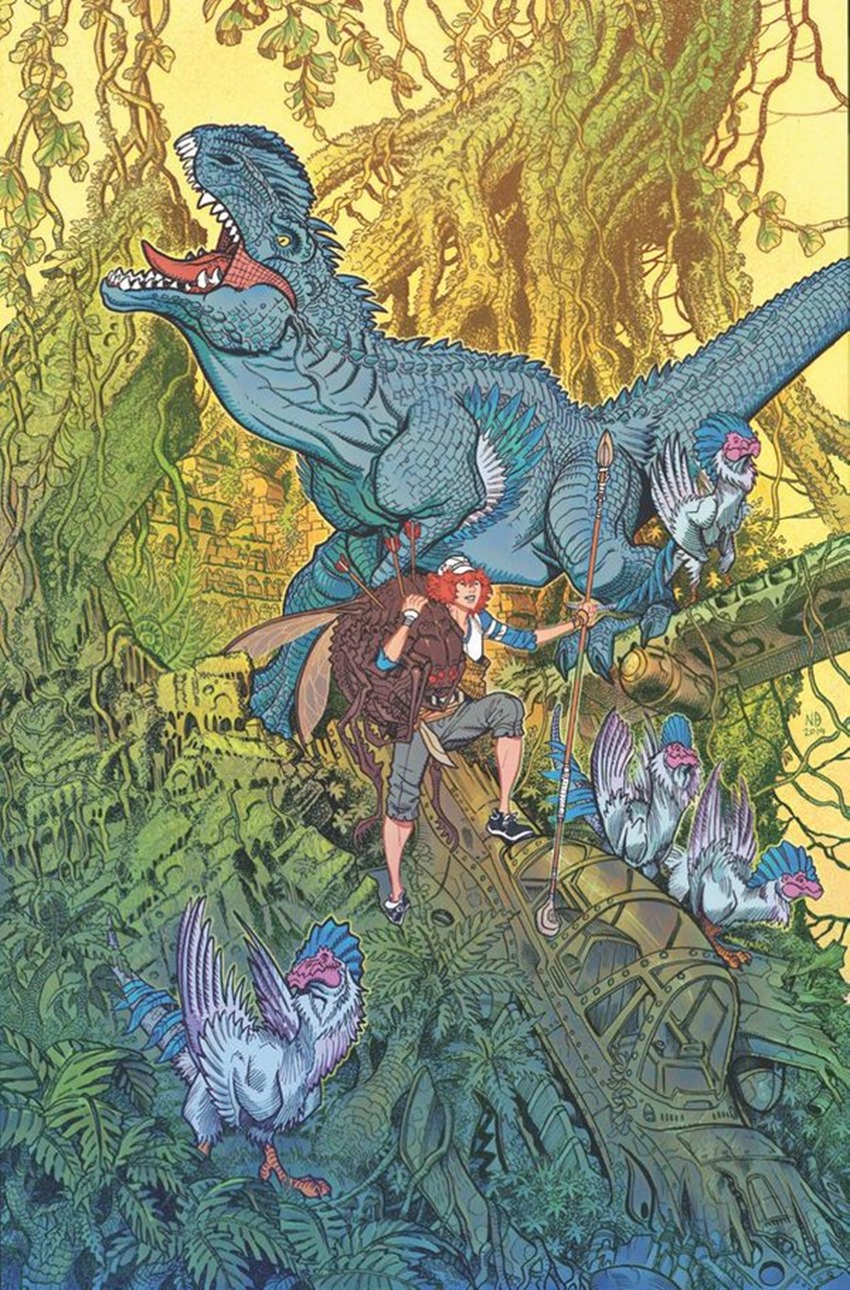 He weaponised food in Chew, and now writer John Layman is back with a new series that happens to be centred on the impossible over at IDW Publishing. Here's the synopsis for Bermuda, which will feature the art of Nick Bradshaw:
Bermuda is just your normal, everyday 16-year old girl – who just happens to live in an otherworldly dimension, swarming with dinosaurs and pirates! But that's just the tip of the iceberg in this action-packed saga as we discover just who Bermuda is and how she came to be!
"Bermuda is a story that's been rattling around in my head for a while, and the type of book I've wanted to write for quite some time: high adventure with a jungle hero in a strange, savage land filled with all kinds of dangers and a world that's both weird and wonderful," Layman said in a press release
In addition to Chew, my absolute favorite books I've ever done have been with IDW – Scarface, Godzilla, and Mars Attacks – so I'm hoping lightning strikes a fourth time with Bermuda! Nick Bradshaw is an insane talent whose work I've been in love with since the moment I'd laid eyes on it, so I'm thrilled to be teamed up with him. Plus, I'm getting a chance to reunite with my old boss and good friend, the Eisner-award accumulating editor extraordinaire, Scott Dunbier.
Last Updated: October 7, 2019