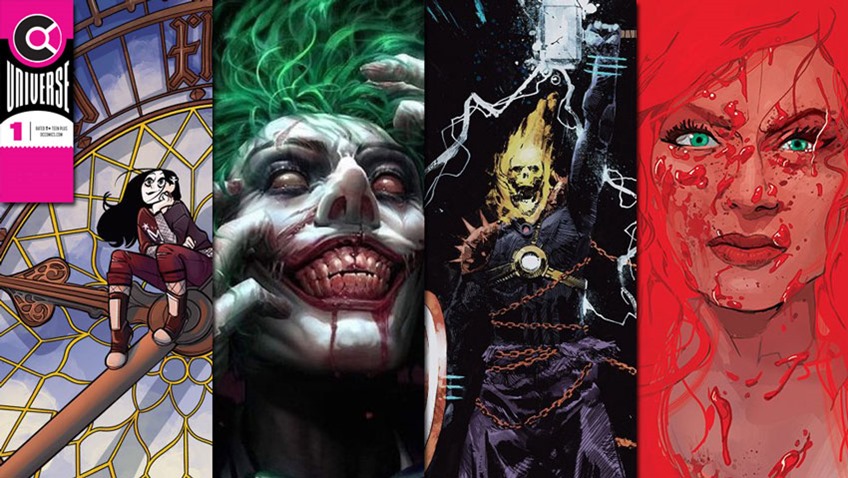 You may see plenty of superhero adventure, mystery and sci-fi at DC Comics, but fantasy seems to be the one genre that the Distinguished Competition has yet to crack. That's all changing later this year, as DC is heading into mythological territory with The Last God, a new 12-issue series from Phillip Kennedy Johnson, Riccardo Federici, Dean White, and Tom Napolitano.
A mature story for mature audiences, The Last God is described as a tale of "a cross-generational quest to kill an evil tyrant king—also known as the Last God—as he seeks to destroy the land of Cain Anuun."
"This is a terrifying horror story told in a stunning epic-fantasy world," Johnson said via Newsarama.
Set in two different generations, it follows a mighty fellowship of heroes that travels beyond the borders of creation to kill a god, and the next generation, who learn their predecessors aren't the heroes the world believes them to be. Fans of D&D, Game of Thrones, Lord of the Rings and Magic: The Gathering, and anyone who enjoys deep-dives into fantasy lore: you will be extremely well-served with The Last God. Stay tuned!
So far, the art alone looks amazing:
And here's the proper synopsis from DC:
Thirty years ago, a fellowship of legendary adventurers saved their world by slaying the demonic tyrant Mol Uhltep—The Last God. Following his downfall, the realm entered a new age of peace and prosperity. But a generation later, when the leader of the original fellowship dies, their children and successors learn their terrible lie: The Last God still lives.

A new generation of heroes must unearth the secrets that their parents kept, and set out to finish what was started thirty years before. Andthis time, they must not fail.
With DC looking to focus its offerings across a core trio of youth, teens and adult markets, this sounds like exactly the kind of story that the DC Black label could do with. The Last God will kick off in October, and will probably have some amazing covers with each issue. Just like this week's comic book offerings!
The Immortal Hulk #20 by Alex Ross

The Green Lantern #9 by Jeff Dekal

DCeased #3 by Derrick Chew

Harley Quinn #63 by Guillem March

The Unbeatable Squirrel Girl #46 by Erica Henderson

Spider-Gwen: Ghost-Spider #10 by Iban Coello

Teenage Mutant Ninja Turtles #95 by Dave Wachter

Cosmic Ghost Rider Destroys Marvel History #5 by Gerardo Zaffino

Lois Lane #1 by Mike Perkins

Giant Days #52 by Max Sarin

Buffy the Vampire Slayer #6 by Marc Aspinall

Doom Patrol: Weight of the Worlds #1 by Nick Derington

Red Sonja #6 by Christian Ward

No One Left to Fight #1 by Fico Ossio

Rocko's Modern Afterlife #4 by Ian McGinty

The Six Million Dollar Man #5 by Michael Walsh

Belle: Oath Of Thorns #1 by Igor Vitorino

The Punisher #13 by Greg Smallwood

Ms. Marvel Annual #1 by David Baldeon

Old Man Quill #7 by John Tyler Christopher

Last Updated: July 1, 2019