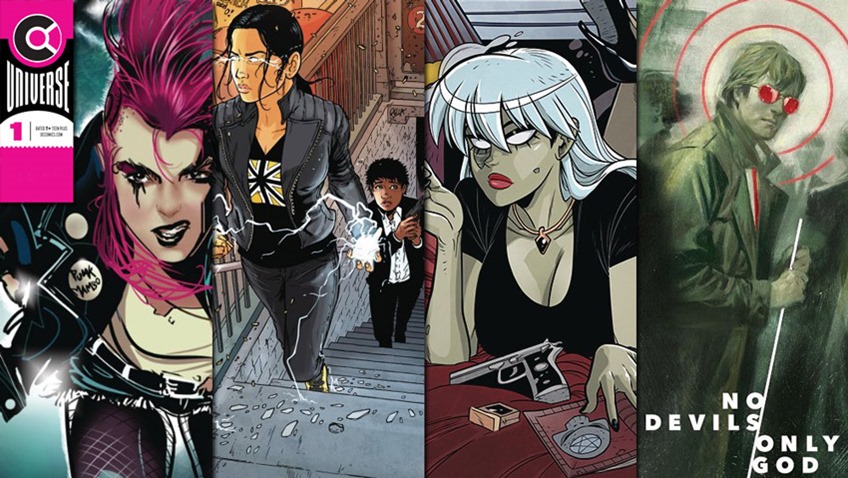 You never know which comic book is going to be the next big deal in the comic book industry, but they all have one thing in common: They all started with a first issue. I've got a lot of love for number ones, comic books which have the potential to be the first step towards printed page glory and maybe even more in this age where new properties seem to be snapped up before they're even released.
Above all else, a good story idea is what hooks me in, and I'm liking what I'm reading so far with BOOM! Studios and their next title, Once & Future. Here's the plot synopsis for it:
Duncan McGuire is having a terrible day and a terrible date when his grandmother's retirement home calls with an emergency. Little does he know, the emergency is actually the emergence of a villain from Arthurian legend, being summoned back from the dead by a group of Nationalists to serve their cause. And the only person who knows how to stop them is . . . his grandmother, Bridgette McGuire, ex-monster hunter and lifelong badass.

Duncan is soon swept up into a world of magic and myth as he comes face-to-face with the legends from England's past and his own complicated family history, as he and his gran fight for their country's future.
And here's a preview of the art!
That looks great! Kieron "The Wicked + The Divine" Gillen and Dan "Klaus" Mora are busy crafting the comic book, which so far looks like a neat twist on established ideas that we've seen done dozens of time before. It'll be out on August 14 later this year. With that sneak peek done, on to the best comic book covers of the week!
The Amazing Spider-Man #22 by Heejin Jeon

Heroes in Crisis #9 by Ryan Sook

Fantastic Four #10 by Bill Sienkiewicz

Thor #13 by Alex Ross

Batman: Last Knight on Earth #1 by Jock

Daredevil #6 by Julian Totino Tedesco

Black Science #40 by Matteo Scalera

The Wild Storm #23 by Jon-Davis Hunt

Black Panther #12 by Paolo Rivera

Teenage Mutant Ninja Turtles #94 by Andy Kuhn

The Superior Spider-Man #6 by Travis Charest

Marvel's Spider-Man: City At War #3 by Clayton Crain

Coda #12 by Matias Bergara

Dark Red #3 by Aaron Campbell

Zombie Tramp #60 by Bill McKay

Elvira: Mistress of the Dark #6 by Joseph Michael Linsner

Punk Mambo #2 by Cris Delara by Hannah Templer

Hellboy vs. Lobster Johnson: The Ring of Death #1 by Paulo Rivera

Wasted Space #10 by Hayden Sherman

Punks Not Dead: London Calling #4 by Martin Simmonds

The Forgotten Queen #4 by Hanna Templer

Last Updated: May 27, 2019