If there is something that has remained constant about the Guardians of the Galaxy ever since they were catapaulted into the limelight following a successful movie appearance, it's that the team has always had a starship whose name is influenced by some of the greatest actresses in Earth history. It's not hard to see why, as that bit of pop culture has given Peter Quill a subtle link back to his homeworld over the years.
Those starships also have a habit of being catastrophically demolished during the course of the several adventures with the Guardians, leading the crew to find a new mode of transport and a new name for a vessel that can house the ragtag misfits. In the recent pages of Guardians of the Galaxy, that idea was revisited but with a twist as writer Donny Cates decided to pay tribute to the 50th anniversary of the cult classic song Space Oddity by the late and great David Bowie.
A name that is now being used for the current Guardians ship, as per Gamora's suggestion for naming it after a "pretty Earth man" for once: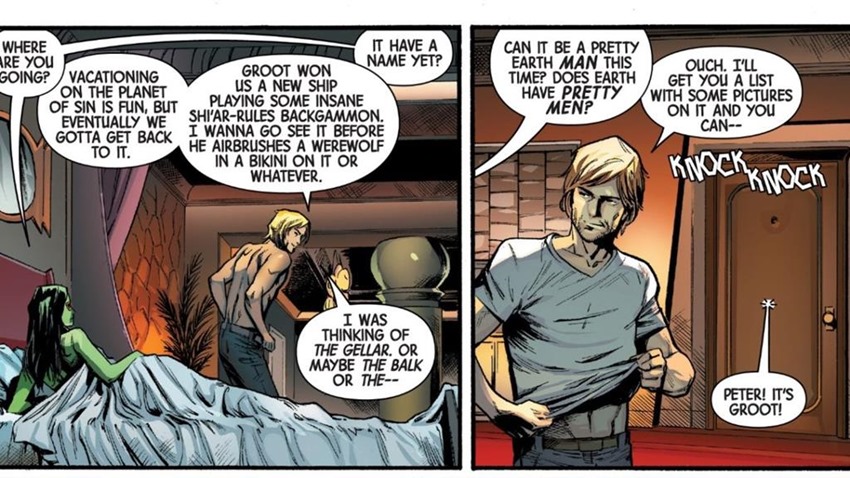 Neat, right? Only this nod to one of the greatest performers of all time isn't just a fun reference: It's one that has the approval of Bowie's estate by the sound of things.
This Major Tom to ground control and I think I have a lump in my throat. Now if you'll pardon me, I'm going to go do some Moonage daydreaming while you have a look at the best comic book covers of the week.
Paper Girls #30 by Cliff Chiang

Venom Annual #1 by Rian Gonzales

The Batman Who Laughs #7 by Jock

Powers of X #1 by Adi Granov

Justice League Dark Annual #1 by Riley Rossmo

Captain America #12 by Alex Ross

Monstress #24 by Sana Takeda

Low #23 by Greg Tocchini

Teenage Mutant Ninja Turtles #96 by Sophi Campbell

Black Panther #14 by Daniel Acuna

The Beauty #28 by Jeremy Haun

Ice Cream Man #13 by Wes Craig

Sabrina The Teenage Witch #4 by Audrey Mok

Angel #3 by David Lopez

Punk Mambo #4 by Dan Brereton

Stranger Things: Six #3 by Caspar Wijngaard

Test #2 by Jen Hickman

Shadow Roads #9 by Carlos Zamudio

Shades of Magic #8 by Caludia Caranfa

KISS: The End #4 by Stuart Sayger

Last Updated: July 29, 2019