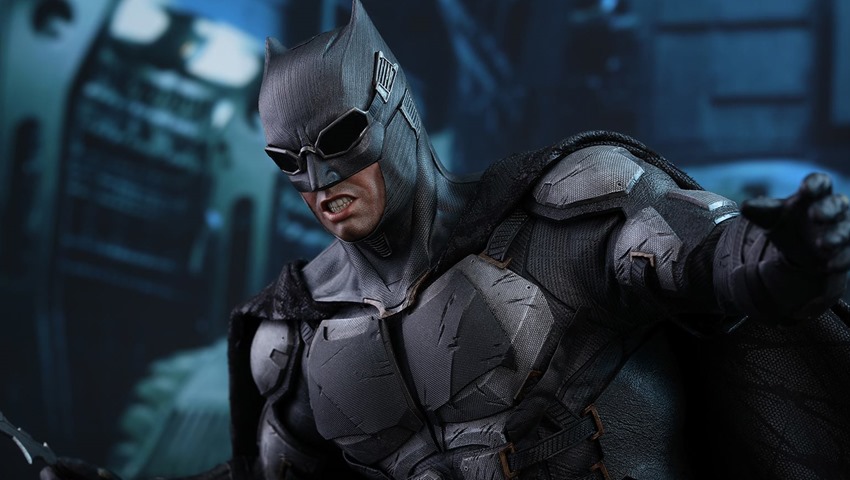 It is a cold night in Gotham City. The Superman is dead, all hope is lost and people look to the skies hoping to catch a glimpse of the Batman who has been missing for months now. Perched on a gargoyle that criminals have yet to wire with explosives as a preemptive measure to stop the vigilante, the dark knight broods. "Dammit people, I'm not that motherf***ing Owlman!".
Similarities aside, I love the Justice League tactical batsuit. Which is technically an unconditional love, much like a mom having affection for her child and believing that he's special and not just some lunatic obsessed with filling his shelf with sixth-scale plastic men. Every time I think I'm that little bit closer to closing the fap gap on my dream collection, Hot Toys has another figure ready to be unleashed.
A smart and tactical move on my wallet. Which means that I need to start assembling a team of my own so that I can afford the bloody things. Anyone care to join my Injustice League? Here's the official synopsis from Hot Toys on their latest Batman figure:
Ahead of Justice League's release in about 3 months, the highly anticipated blockbuster has already gained a huge buzz globally. As the continuation of Batman v Superman: Dawn of Justice, Batman is awakened and inspired by Superman's selfless sacrifice, he is determined to form a league with Wonder Woman, Aquaman, Cyborg and the Flash to fight for justice against their new enemy and maintain peace on Earth.

With Batman as one of the most popular characters in DC Comics, Hot Toys is proud to present to fans our latest 1/6th scale Batman (Tactical Batsuit Version) collectible figure prior to the release of Justice League!

Meticulously crafted based on the image of Ben Affleck as Batman/ Bruce Wayne in Justice League, the figure showcase the never-before-seen Tactical Batsuit with visible upgrades. The 1/6th scale Batman figure features a masked head sculpt, 3 interchangeable eye pieces and 3 lower faces capturing Ben Affleck's facial expressions, 2 interchangeable goggles, a newly developed body portraying Batman's muscular body, intricately detailed Tactical Batsuit, an array of Batman gadgets, and a specially designed Justice League themed figure stand.
The latest Batman figure doesn't have official US pricing yet, although I'd wager it retailing for the usual $230-$250 when it does start tempting my wallet in a week or two on the pre-order page.
Last Updated: July 25, 2017