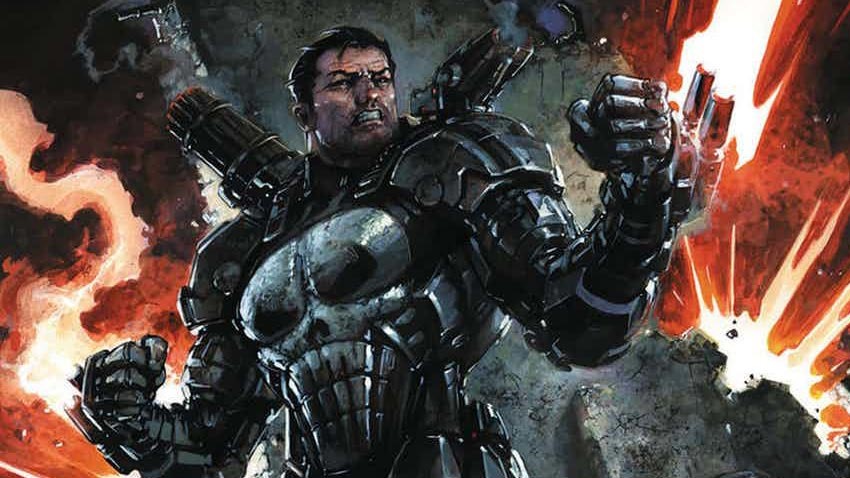 You know what makes the Punisher interesting? It isn't his predilection for skulls, his history as a soldier or his ruthless aggression for mowing down criminals with enough force to keep the funeral industry afloat single-handidly. It's that no matter the obstacle in front of him, Frank Castle is still a man. A man who possesses all the weaknesses of any other human on the planet.
A lifetime of war has taken its toll on The Punisher, as his neverending crusade to kill crime has resulted in this soldier using any and all methods at his disposal to get the job done. The Punisher may be getting his hands on his greatest weapon yet: The War Machine armour of the deceased James Rhodes, as he becomes a walking arsenal outfitted in pilfered Stark technology.
"In a way, this is Frank in his idealized form. It's one of those crazy ideas that everyone recoils from at first and then they let it sink in and it makes people ask "Why didn't this happen sooner?". It just makes logical sense that Frank would want the armor," upcoming Punisher writer Matthew Rosenberg said to Newsarama.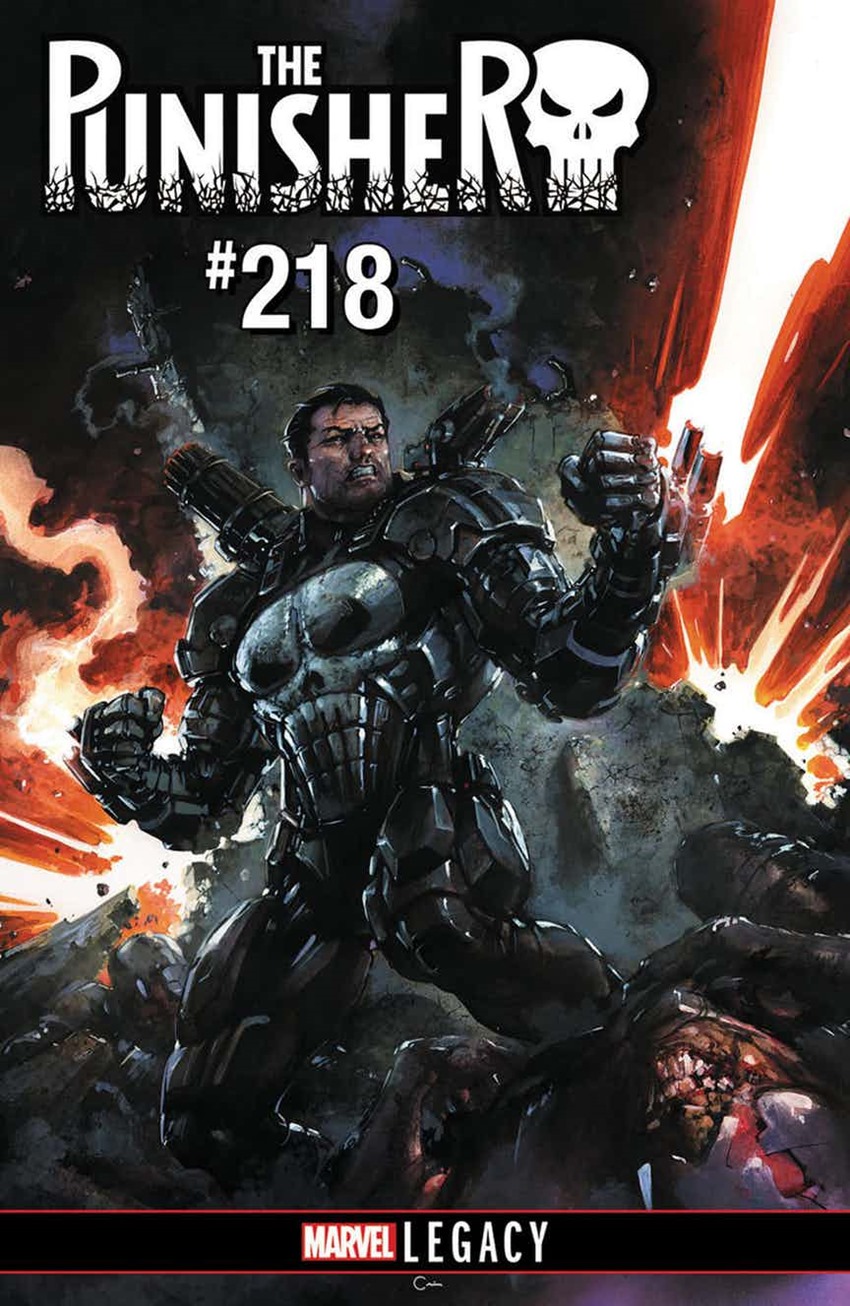 As for where the idea came from, my editor Jake Thomas brought it to me. It took me a second to really get it. I love War Machine and Rhodey. I love him as a character and what he stands for. In a lot of ways, he is this optimistic view of what our government and our military stand for. Like Cap, he is the best of us going above and beyond to keep all of us safe and free. And obviously, he is much more than that too.

But none of that is what Frank is.

Frank is the inverted nightmare version of that. He is all the anger and hatred and vengeance that is built into our society, personified. The Punisher brings up a lot of uncomfortable questions about who we are as a society and what we are willing to let happen and what we'd like to see done. So, putting Frank in Rhodey's armour felt so wrong to me at first. It felt almost blasphemous.

It wasn't until I realized this wasn't a superhero story anymore that I got it. This isn't a celebration of the Punisher taking on the mantle of War Machine and becoming a hero. This is a look into how easily War Machine can become overshadowed by the Punisher when it falls into the wrong hands.
Rosenberg isn't the only new face taking over from issue #218 of The Punisher. He'll be joined by artist Guiu Vilanova, who has some ideas of his own for how he wants to draw the iconic armour:
Probably one of the most dangerous man in the whole Marvel universe and now he has the War Machine armor! This's going to be really fun! And about War Machine's armour, well. I'm going to focus on trying to make it looks more expressive and dynamic. I also added some pretty cool gadgets to the armour and I'm going to try to have fun drawing it!
This probably won't end well for anyone who finds themselves on the wrong side of the law. This isn't going to be a new war…it's going to be an extermination.
Last Updated: August 22, 2017