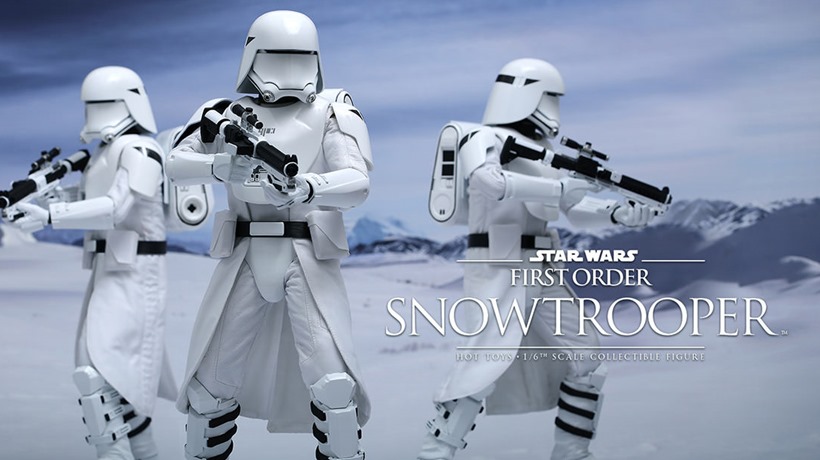 I've always questioned the use of certain specialised Stormtrooper divisions in the Galactic Empire. You've got your regular Stormtroopers, Captains, commanders and other chains of command. Then you've got Black Hole Stormtroopers, Sandtroopers, Skytroopers, Swamptroopers and of course…Snowtroopers.
Out of all the Stormtrooper squads out there, the ability to not whinge when it's cold isn't nearly as impressive as it sounds. Still, they've got some bitchin' armour, that really looks fab at one-sixth scale. Star Wars: The Force Awakens isn't even out yet, and there's already a slew of merchandise waiting to be bought.
So in addition to the recently unveiled First Order Stormtrooper, comes a new variant of the Bloemfontein Winter division.Here's the deets, from Sideshow Collectibles:
Following the official introduction of the first wave of Hot Toys' Star Wars: The Force Awakens collectible figures, featuring the enigmatic Kylo Ren and the First Order Stormtroopers, Sideshow Collectibles and Hot Toys are excited to unveil the highly detailed First Order Snowtrooper sixth scale collectible figure!

The latest generation of cold weather assault Snowtroopers is equipped with completely redesigned advanced insulated armor and helmets that can reduce the glare of icy terrain when carrying out the First Order's missions in extreme climates.

The highly-accurate collectible figure is specially crafted based on the image of a First Order Snowtrooper in Star Wars: The Force Awakens and features the freshly designed Snowtrooper helmet and armor, a finely sculpted backpack, meticulously tailored coat and under-suit, detailed blaster rifle with extended stock, and a specially designed hexagonal figure stand with the First Order's emblem!
WHAT'S IN THE BOX?
The First Order Snowtrooper Sixth Scale Collectible Figure specially features:
Authentic and detailed likeness of First Order Snowtrooper in Star Wars: The Force Awakens
Approximately 30 cm tall
Body with over 30 points of articulation
Seven (7) pieces of interchangeable gloved palms including:
– One (1) pair of fists
– One (1) pair of relaxed palms
– One (1) pair of palms for holding weapon
– One (1) open left palm
Costume:
One (1) newly designed First Order Snowtrooper helmet and armor
One (1) white long coat
One (1) white under-suit
One (1) belt with pouches
One (1) pair of white pants
One (1) pair of white boots with black straps
One (1) First Order Snowtrooper backpack
Weapon:
One (1) blaster rifle with extended stock
Accessory:
First Order emblem hexagonal figure stand with First Order Snowtrooper nameplate and Star Wars logo
You can expect to pay $214.99 for this trooper, when they march out next year February.
Last Updated: September 28, 2015