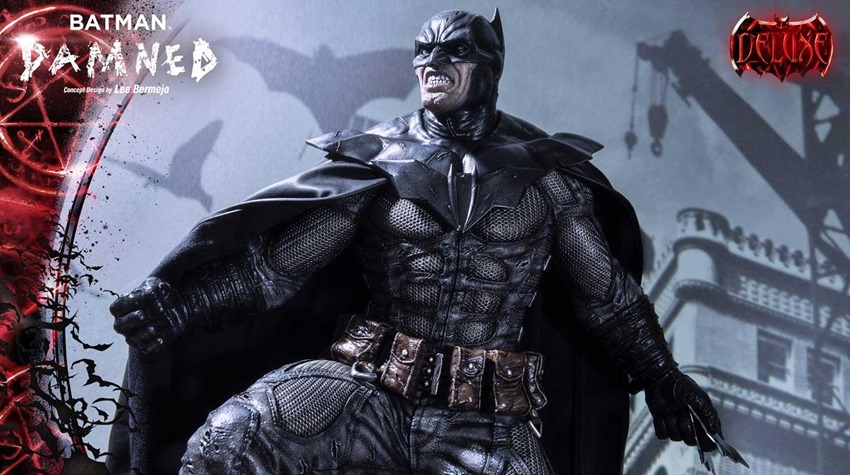 Look, I've spent too much cash on Batman…stuff. I've got a shelf full of dark knights who all stare at me in frozen horror whenever they spot me in various stages of nakedness, I have the mark of the bat inked into my skin and if I ever have children then there's a good chance they'll both be named Bruce Wayne Bonthuys. Even if they're girls, societal norms be damned.
But would I spend perhaps too much money on a replica of Batman from the recent DC Black Batman Damned mini-series? Yes, yes I would if I had that kind of money lying around. I think I need help. Point is, I love what I'm seeing here. If ever there was an artist who excels at drawing Batman, it has to be Lee Bermejo. His is a Batman who looks like a brute, a dark force of justice who literally looks like he could kick several kinds of crap out of you with every martial art that man has ever devised and then some.
A brooding shadow whose costume doesn't look magnificent in the light, it looks plausible as well. Leather, kevlar and a scowl that could freeze the sun itself if Bermejo's Batman ever looked at the sky. Bermejo's Batman is currently in over his head with some magical shenanigans inside of the Batman: Damned series, which were just begging for some merchandising. In comes Prime 1 Studio to the rescue, with this stunning take on the 2D images which they've breathed 3D life into:
As always, you can expect to see a regular version of this statue with a more deluxe offering. The regular Batman Damned statue includes a poseable fabric cape, two interchangeable heads that you can swap out, two extra left hands and that gorgeous base. The deluxe version includes two extra heads, a third hand, a bonus A4 Size art print hand-signed by Lee Bermejo and is limited to 300 pieces. Naturally, it's going to cost you plenty with the deluxe version clocking in at $1199 without shipping.
If you need me, I'll be crying in poor. It's a whopping massive statue as well, with the overall size coming in at a height of 76cm and a width of 44cm. Talk about your fine art, am I right? So uh, guess I need to go rob a bank and run afoul of a flying rat-themed vigilante with anger management issues if I want to afford this masterpiece.
Last Updated: July 23, 2019