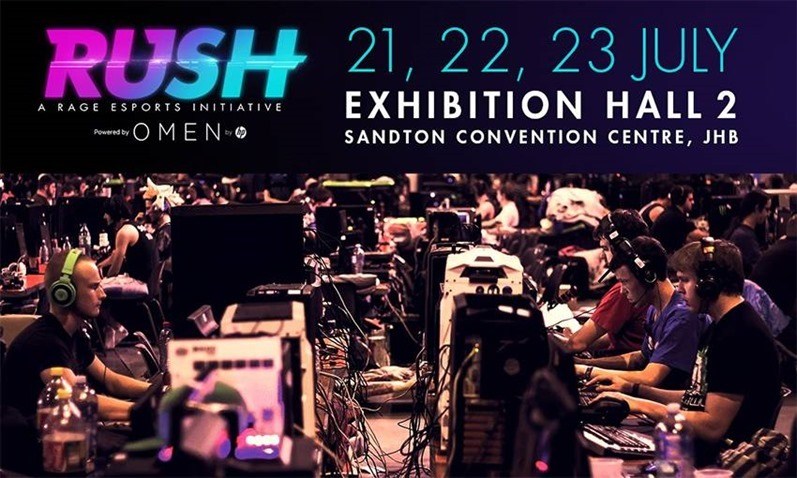 We have told you quite a bit about Rush. If you've missed it, though, Rush is rAge's esports equivalent. That's right, it's an expo dedicated to esports, and it looks like it's going to be a whole lot of fun. Whether you're an esports n00b (you can get up to speed here) or a diehard fan, there is something for everyone at Rush. There will even be causal tournaments that you can enter on the day to win cool prizes!
Running from 21-23 July at the Sandton Convention Centre in Johannesburg, Rush will feature amazing local esports action, including CS:GO teams going head to head, as well as LoL, Hearthstone, Street Fighter V and more. Plus, there will be retail opportunities to check out the range of HP Omen products, and buy your usual fare of geeky, gaming merchandise. Also, your favorite local gaming personalities will be there, as some of your less-favorites ones, too. Want to come and see Geoff? He probably won't be there. But I will, along with any other members of the Critical Hit team I can coax from their homes, and the likes of Tech Girl (Sam Wright), Chani_ZA and even one of our original local gaming influencers – Pippa Tshabalala. So come, meet everyone and generally just hang out with tons of other gaming and esports fans.
If you still haven't bought a ticket, do I have news for you – you can win tickets! We have ten double tickets to give away, so you and a friend or loved one can attend together and check it out. Want to win? Of course you do! So head on over to this entry page. Then send offerings to the Random.org gods. We will pull winners on 17 July, so be sure to enter now so that you can make plans to meet up with people at the expo, and some of us will see you there!
Oh, and as a reminder, these are just the tickets to get into the expo. You will need to arrange to be in Joburg and get to the venue by yourself. We aren't your real mom.
Last Updated: July 10, 2017