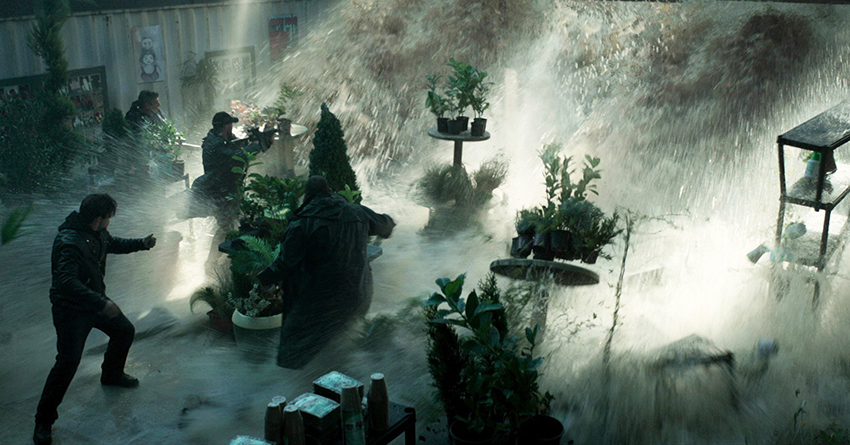 Do you know what I love? Movies, duh! However, I specifically enjoy crazy silly movies. There is a huge market out there for them, what with movies like Sharknado hitting its fourth sequel, and people still watching them! In that vein, we have a crazy fun movie called Hurricane Heist for our readers in Cape Town (sorry JHB, every time we have a screening for you, very few people rock up. No clue why). What is it about? Let's have a look:
A crew of thieves plans the ultimate heist, to steal $600 million from the U.S. treasury facility located on the Gulf Coast of Alabama using a hurricane as their cover. When the storm blows up into a lethal CATEGORY 5 and their well-made plans go awry, they find themselves needing a vault code known only by one female Treasury Agent, a need that turns murderous. But the Treasury agent has picked up an unlikely ally, a meteorologist terrified of hurricanes but determined to save his estranged brother kidnapped by the thieves. He uses his knowledge of the storm as a weapon to defeat the bad guys in this non-stop action/thriller.
That looks like some mental fun! If you want to join us while watching it, we're giving away some double tickets to the screening. Here's when and where it will be happening.
Screening Date: 21st June
Location: Cape Town – Canal Walk
Time: 19:30
(Popcorn and soda will be provided free)
Enter below for the screening in Cape Town, but please note: One entry per valid email. We will be drawing the names of the lucky winners on Thursday, 14 June.
[contact-form-7 404 "Not Found"]
As we normally do, we'll ask our loyal readers to string a sentence together for the usual 'You review the movie' piece afterwards, so you can get your name online as well.
We can't wait to see you guys on the night, and a big thank you to our partners at Empire Entertainment for making this happen. You rock!
Last Updated: May 23, 2018