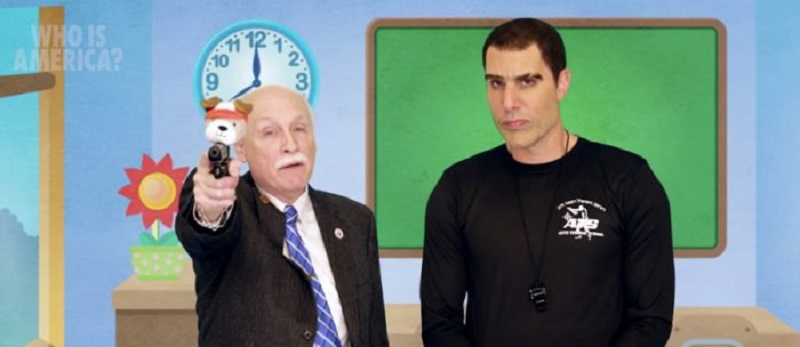 Two weeks ago Sacha Baron Cohen cryptically tweeted that was working on a new project that would possibly involve Donald Trump and Cohen's usual parody antics. Well, we finally have more details on what that project is about and it turns out we were quite a way out on our guesses on what the project could be about. Well kind-of. Instead of a new movie, Cohen is instead making a new series titled Who Is America? And it's not focused on Trump specifically, but rather America as a whole. And based on the evidence of this new 10-minute footage about the show, it's probably even scarier than you could imagine:
In this clip we get to see Cohen in the guise of Colonel Erran Morad that includes things like getting politicians to participate in a training video designed to teach kindergarten-age kids how to use guns. Be warned though, this clip is not for sensitive viewers. Not because there is anything necessary graphic in its content, but rather because the views that end up coming out on how people in the US view guns and violence and support kids using them is absolutely shocking. And yet they will blame video games for all the mass shootings when it's absolutely clear the source of the issue lies in the very politicians that are chosen to lead the world most powerful nation.
Its scary stuff, but likely to also make for riveting viewing. You have to wonder though if content this bizarre is perhaps not scripted, but based on what we see in the above clip, it does look pretty genuine.  You can only imagine that in a short space of 10 minutes we get to see this much stupidity in politicians that what it will unlock in its full seven episodes is going to be horrendously eye-opening. Or eye gouging if you live in the US and can't believe that these are the people leading your country.
Below is the official synopsis for Who is America?, which premiered on Showtime in the US over the weekend:
Who is America? is a half-hour series from comedian Sacha Baron Cohen, in his return to series television for the first time in more than a decade in the genre he created first in Da Ali G Show. In the works over the past year, Who is America? explores the diverse individuals who populate our unique nation, and features Baron Cohen experimenting in the playground of 2018 America.
Last Updated: July 17, 2018