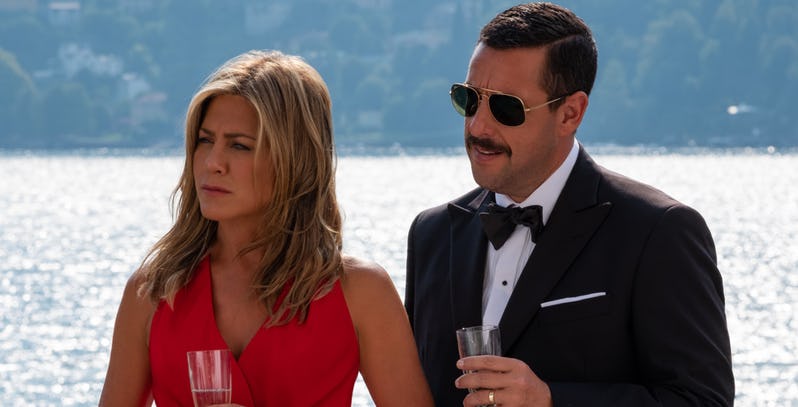 Some novels are so timeless that you could take their stories and even transpose them into a different timeline and they would still remain equally as gripping. That is unless you put it in the hands of Adam Sandler who is bound to ruin almost everything he touches. In his new Netflix movie Murder Mystery, he teams up with Jennifer Aniston as they play a couple that ends up on a yacht with other passengers when a murder happens and are now key suspects in the murder as they try and figure out who committed the crime.
The plot clearly borrows from Agatha Christie's acclaimed novel Murder on the Orient Express, including a detective with a moustache and strange foreign accent. And I'm not referring to Sandler's creepy moustache here, but rather that of Dany Boon who plays the Closeau-like French detective. Can Sandler and co take a classic story like this and do it justice or will it descend into a typical Sandler antics vehicle? Let's take a look at the first trailer for this movie to find out:
As someone who is not a fan of Sandler in the first place, this trailer was always going to struggle to pull me in and after watching it a few times I remain unconvinced this is going to work. It's not only the predictability of the plot or the same brand of Sandler humour that I don't find funny but also just the lack of chemistry between Sandler and Aniston. It makes their on-screen relationship look like a bit of a gimmick.
I have no doubt though that much like the rest of Sandler's films, that this movie will attract a lot of viewers and prove popular for Netflix. Even if I don't enjoy Sandler's movies, I have to appreciate his ability to appeal to a wide demographic and entertain them with his slapstick and juvenile humour.
Murder Mystery is set to premiere on Netflix on June 14th and also stars Luke Evans, Gemma Arterton and Terence Stamp.
Last Updated: April 29, 2019