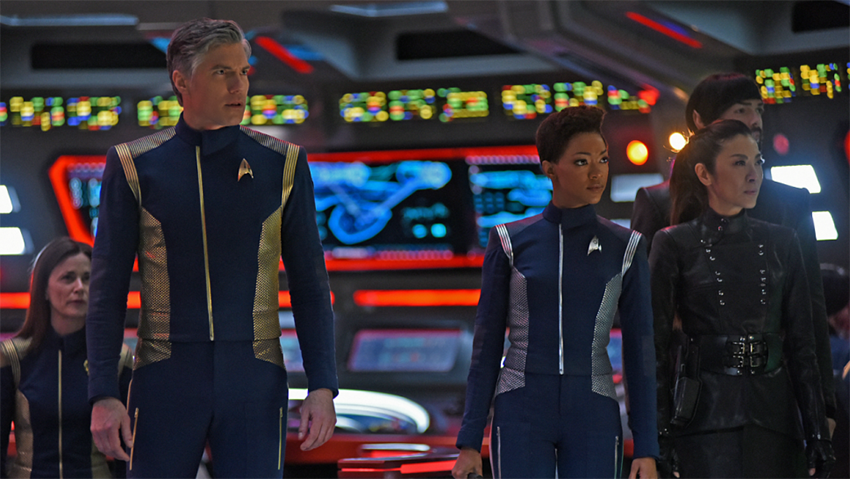 WARNING: THIS ARTICLE CONTAINS MAJOR SPOILERS FOR THE SEASON TWO FINALE OF STAR TREK: DISCOVERY!
After 14 weeks of dealing with rampant AIs, evolving alien races, finding lost brothers, hopping through time and giving us possibly the dreamiest starship captain ever, Star Trek: Discovery wrapped up its second season this Friday past. While I thoroughly enjoyed the first season of the show, I know it had its detractors. However, its sophomore showing managed to turn many of those critics around as well, as the new Star Trek show gave us a very gripping mystery as Sonequa Martin-Green's Michael Burnham and the rest of the Discovery crew had to track down her missing foster-brother Spock to help solve a galaxy-spanning mystery involving seven impossible signals.
In the end, we learned that all that time-hopping shenanigans wasn't just a result of Michael's mother and her Daedalus suit, but Michael herself traversing the time stream. And as the Discovery and Enterprise with their fledgeling fleet of modified pods, transport shuttles, and drones stood off against the AI-controlled fleet of Control to buy Michael enough time for a Hail Mary play that would see her drag the Discovery – and the cache of data Control was after to complete its evolution – into the far future, we got ourselves one hell of a space battle. And also filled in the biggest plot hole this show has had since it began.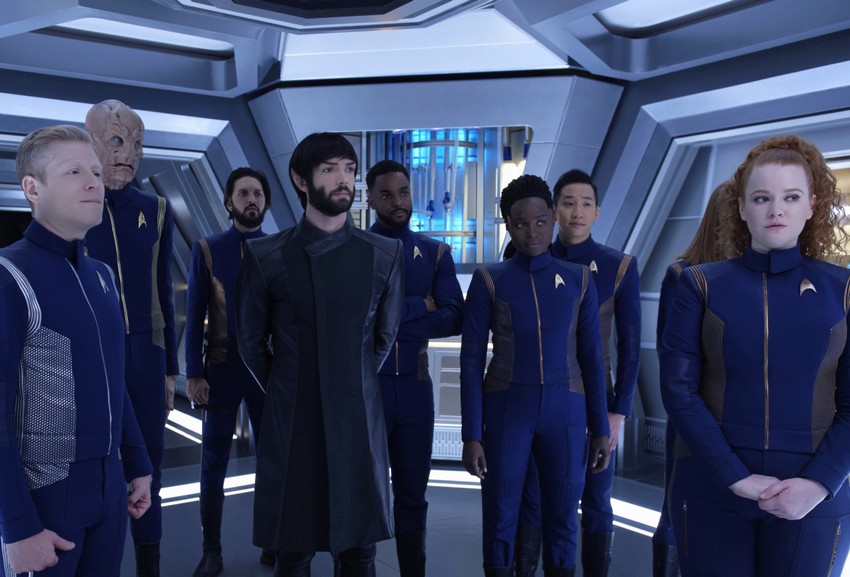 When Discovery first debuted, long-time Star Trek fans immediately asked "How?". If this show was set before the original TV series then how had we never heard that Spock had a foster sister? How had we never learned that she started the Klingon War? How had we never heard of the ship she served on, which boasted an experimental spore drive capable of instantaneous travel that made warp engines look like archaic? The answer, as we learned, is twofold: After the dangerous actions that led to Control nearly gaining omnipotent power, Spock had everything about Discovery and her crew classified to the highest levels with nobody involved allowed to even speak of them. Keeping this secret was, of course, made easier by the fact that the Discovery and her crew are no longer around as Michael jumped them 950 years into the future, a completely unknown era in the Star Trek timeline.
Yes, this approach has quickly become a bit of a trope for the show in dealing with timeline incongruities (Holograms before they were supposed to have them? JUST TAKE THEM OUT AND DON'T SPEAK ABOUT THEM AGAIN!), but it at least patches over the cracks somewhat. Cracks that showrunner/franchise architect Alex Kurtzman no longer needs to worry about as he revealed to THR that the time jump frees the writers up from trying to fit into the franchise's well-worn existing canon.

We love playing within canon. It's a delight and a privilege. It's fun to explore nooks and crannies of the universe that people haven't fully explored yet. That being said, we felt strongly that we wanted to give ourselves an entirely new energy for season three with a whole new set of problems. We're farther than any Trek show has ever gone. I also had experience working on the [J.J. Abrams] films where we were stuck with canonical problems. We knew how Kirk had died, and we wondered how we could put him in jeopardy to make it feel real. That's what led us to go with an alternate timeline; suddenly we could tell the story in a very unpredictable way. That's the same thought process that went into jumping 950 years into the future. We're now completely free of canon, and we have a whole new universe to explore.

There will be canonical references to everything that has happened in the various shows; we're not erasing that. But we're so far past that point that all of that is a very distant memory. We're very excited to see how you put the elements of Star Trek in an entirely new universe.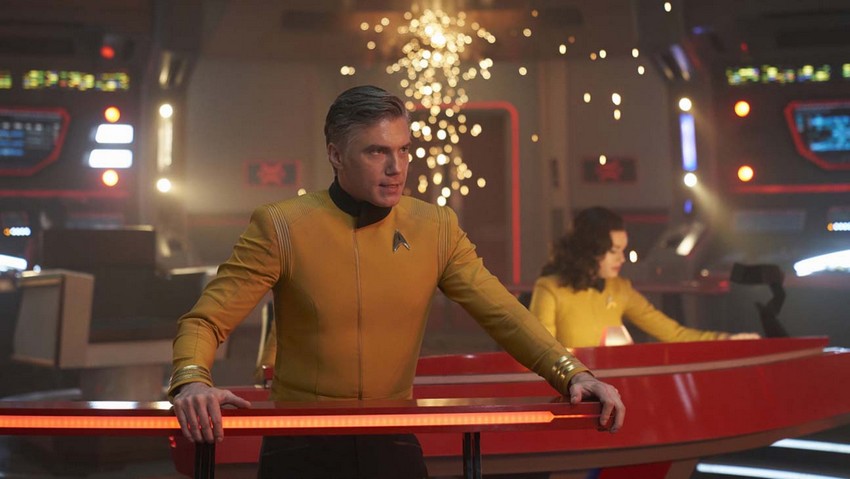 Even those few fans that were still against or on the fence about Star Trek: Discovery will readily admit that one of the greatest aspects of season 2 was the inclusion of Anson Mount's Captain Pike. Canonically the predecessor to Captain James Kirk, the captain of the USS Enterprise was famously seen alongside a very young Spock in the pilot episode of the original 1960s TV series. This gave Kurtzman and co the opportunity to involve the historical figure of Pike like never before as he temporarily took over the captaincy of the Discovery to perform his mission of tracking down his science officer Spock. And Mount turned in a performance for the ages, being the very epitome of charm, honour, and just all-around coolness.
By the time the credits rolled on the finale, Pike was back aboard the Enterprise with Ethan Peck's (thankfully shaven) Spock and Rebecca Romijn's Number One and they did their jobs so incredibly that fans were screaming for a spinoff show focusing on these early years of the Enterprise and her crew. Petitions have made and fan campaigns started, and Kurtzman, while not committing to anything, would like you to know that they've taken notice of it all.
The fans have been heard. Anything is possible in the world of Trek. I would love to bring back that crew more than anything. It was a huge risk for us. One of the most gratifying things is to see how deeply the fans have embraced Pike, Spock, Number One and the Enterprise. The idea of getting to tell more stories with them would be a delight for all of us.
Personally, with how amazing Mount was and how much those final moments of the season felt like one big backdoor pilot for an Enterprise spinoff, I would riot in the streets if we didn't get it. We are already getting one other spinoff though.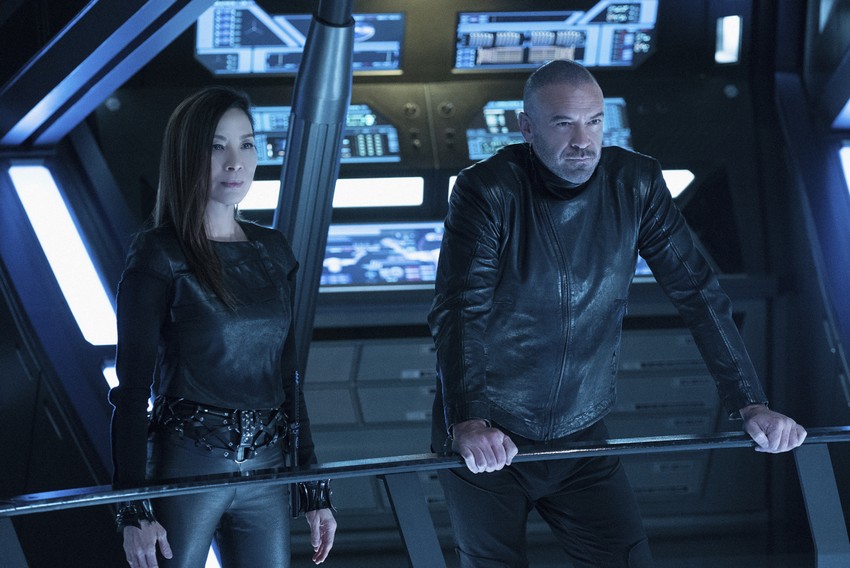 As we learned in January, Kurtzman is developing a new show focusing on Michelle Yeoh's morally flexible Captin Phillipa Georgiou (actually the ex-Emperor of the Mirror Universe's Terran Empire) who spent a lot of time working with Starfleet's Section 31 black ops organization. Not that they were very black ops-ish, what with huge starship fleets engaging in all-out war, before Control's influence was eradicated and Shazad Latif's Klingon/human hybrid Ash Tyler put in charge.
If you're a fan of Deep Space Nine, you've probably spent the past two years saying, "What the hell are they doing with Section 31? That's nothing like the Section 31 we know." That's exactly right. In Deep Space Nine, they did not have badges or ships. They're an underground organization. What you see on Discovery and our upcoming show with Michelle Yeoh is how Section 31 became that organization and why it was so underground by the time Deep Space Nine comes around.
While CBS renewed Star Trek: Discovery for a third season back in February already, there's no word on when it and that Section 31 series will drop. On top of that, there's also a new show focusing on Sir Patrick Stewart's Captain Jean-Luc Picard currently in development.
Last Updated: April 23, 2019