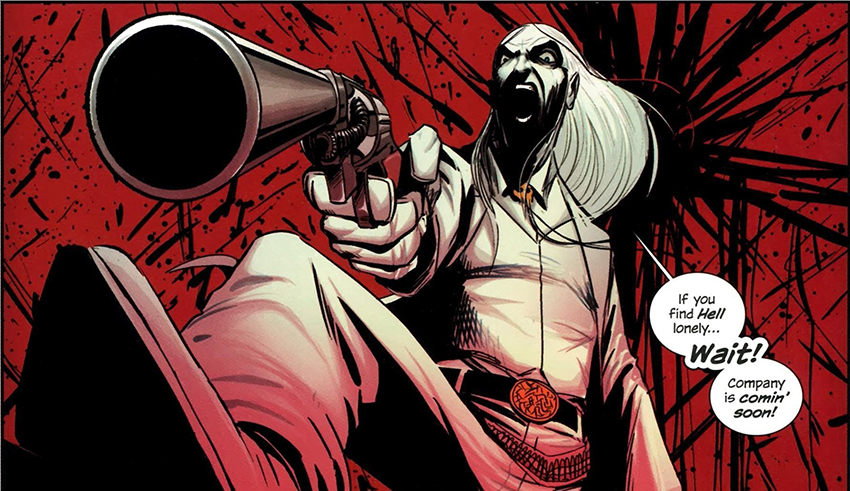 I need you folks to pay attention now. Really pay attention. Maybe even sit down and take notes. You see, a number of years ago, I went gaga over the news that Marvel was developing a live-action movie based on one of my favourite comic books of all time, but since this was a comic that was a bit more fringe than the mainstream titles like Avengers or Spider-Man, many you greeted my excitement with an ironic "Who?" before dismissing it. And then two years later you all went on to lose your minds over its awesomeness because that fringe comic book was Guardians of the Galaxy.
So here we are again. Once more I am losing my mind in anticipation with the news that one of my favourite comics, which is admittedly not very mainstream, is being adapted for the screen. And this time ya'll need to get in on the hype early. The comic book, in this case, causing all my whoopin' and hollerin' is East of West, one of two titles from acclaimed comic book writer Jonathan Hickman – the other being Transhuman – which is now being developed by Amazon as a live-action TV series.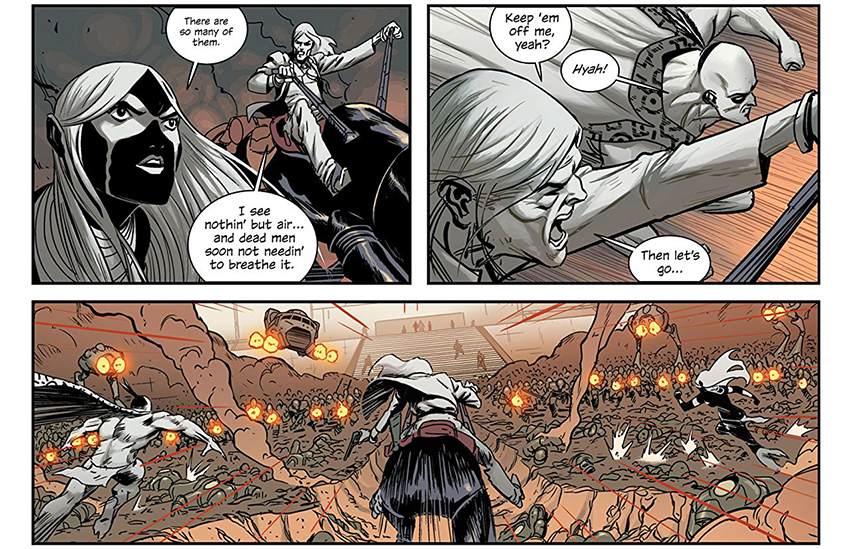 Much like how Amazon's upcoming big budget Lord of the Rings show is undoubtedly the streaming platform's answer to HBO's Game of Thrones, you would have to think that this is Amazon trying to counter Westworld as East of West is also a western genre mashup. The story is set in a dystopian alternate America in which the Civil War never ended but rather spread out until the country ended up divided into new warring nations. There's the Union, overpopulated and messy; the Republic of Texas, ruled by the cold-blooded Ravagers; the Kingdom of New Orleans, an oil-rich African-American monarchy; the Mao Dynasty's People's Republic of America, born out of former Chinese exiles; and the Machine State of the Endless Nation, a Native American people who went into heavy isolation for decades to only eventually emerge as the most technologically advanced nation in the world. The constant enmity between these six nations reached a tense armistice though after a devastating natural disaster, which was also followed by a lowly soldier making an apocalyptic prophecy about the End Times called The Message which changed everything.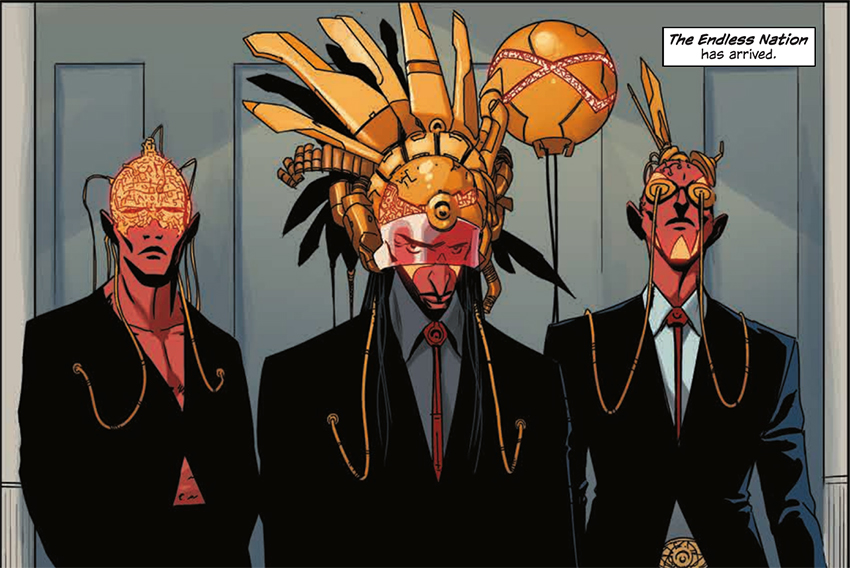 The series leans heavily into the latter mystical angle as the story actually follows Death, one of the Four Horsemen of the Apocalypse, who is reborn into the world with his three siblings – War, Famine and Conquest – but sets off on his own mysterious mission across the country, at odds with his prophesied role. With Death appearing as a Clint Eastwood-like gunslinger and his travels taking him to a sun-blasted desolate landscape with roving bandits, pilgrims and warring nations of various technological levels, everything plays out like an absolutely crazy sci-fi western with a bit of dark fantasy thrown in for good measure. And it's all brilliant, from Hickman's wonderful prose and graphic design-based infographics to artist/co-creator Nick Dragotta's amazing artwork, having notched up numerous industry awards already.
Deadline reports that Hickman himself will be exec producing/penning the TV series adaptation, which will also be co-produced by Dragotta, along with The Walking Dead creator Robert Kirkman who will be producing for Amazon through his Skybound production company.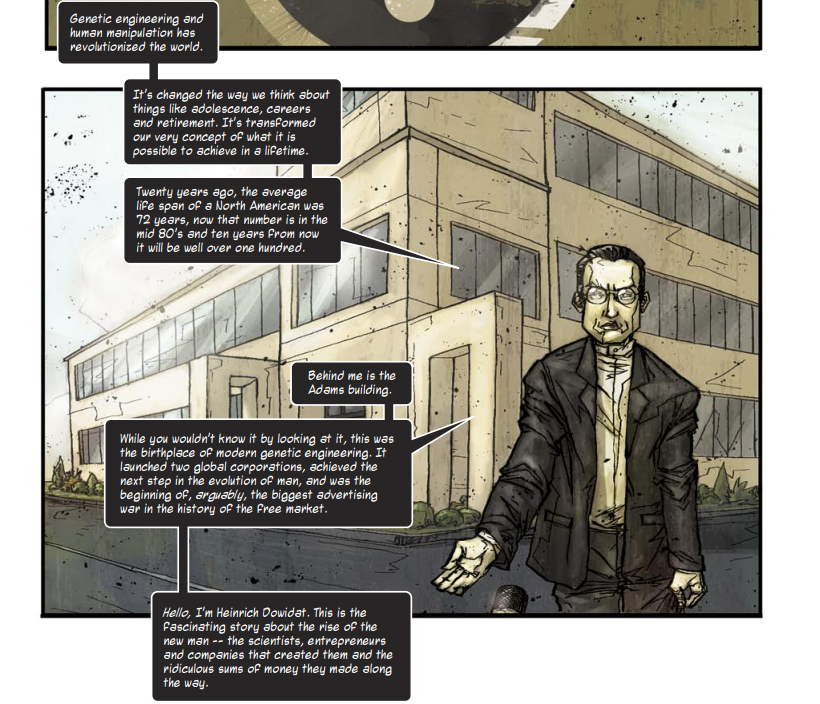 As for Transhuman, I will admit having never read it, but I've loved everything Hickman has done from his independent work for Image like the above and his incredible Avengers run for Marvel, so I'm equally as stoked. Billed as a high concept sci-fi mockumentary, Transhuman is set in the near future and follows the scientific and marketing arms races that develops between a divorced couple who run rival tech companies after the discovery of superhuman genetic editing and the quest to bring this technology into every home. You can check out a 7-page preview over HERE. Hickman and Kirkman will once again be exec-producing, this time with Transhuman artist/co-creator JM Ringuet, but Hickman won't be handling writing duties himself though and the search for a writer is currently underway.
Both East of West and Transhuman have fantastic potential for genre storytelling. East of West will undoubtedly be the bigger production of the two but's not as if Amazon has shown a reluctance to spend big. Many TV networks are scrambling at the moment to find their own alternative when HBO's Game of Thrones ends next year. Amazon, in particular, is building an incredible stable of genre shows from the aforementioned Lord of the Rings to other adaptations of classic/critically acclaimed properties like Robert Jordan's Wheel of Time, Iain M. Banks' Culture series, Neal Stephenson's Snow Crash, Larry Niven's Ringworld, and Greg Rucka's Lazarus. With East of West and Transhuman added to that roster, Amazon may just become the place to be for sci-fi and fantasy geeks.
Last Updated: April 23, 2018