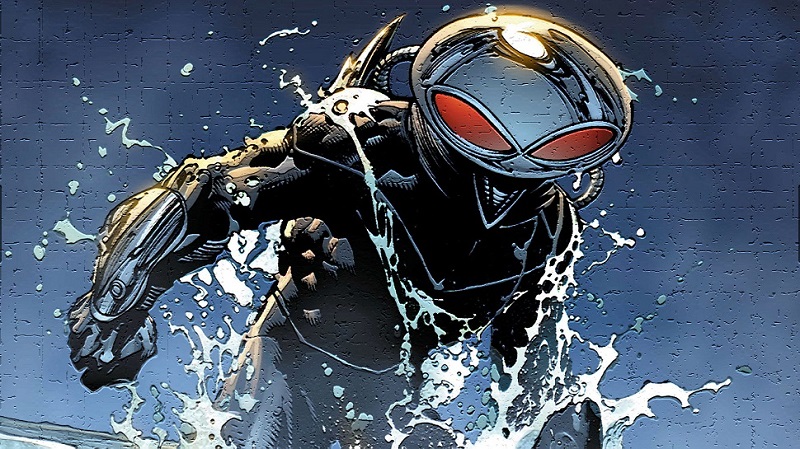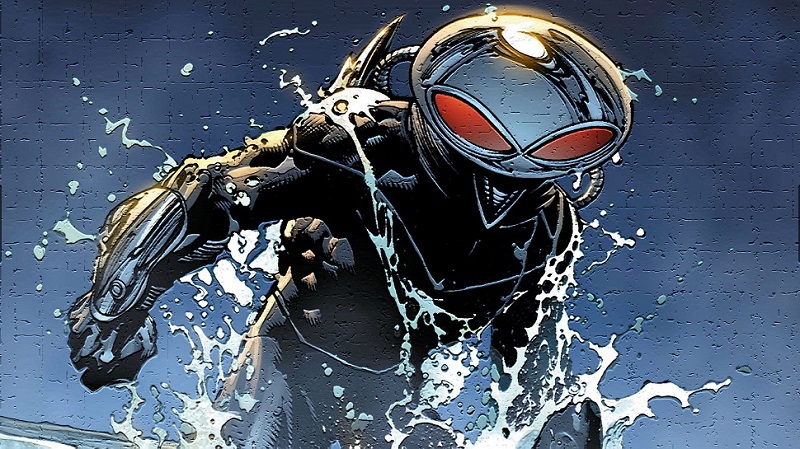 The Aquaman movie is shaping up to be one of the more exciting DC films on the way. Yes, we still have Wonder women and Justice League to look forward to this year and hopefully both will undo the damage that Batman v Superman and Suicide Squad did to the brand's reputation. What I'm excited about with Aquaman though is just how cool Jason Mamoa has looked as the character in the small glimpses we've seen of him. James Wan's potential in telling a story completely different to Zack Snyder, plus the casting of key characters is looking on point. And this latter point gets more exciting as two new cast members have just been announced.
We already have Amber Heard as Queen Mera, Aquaman's love interest and a powerful character in her own right. Then there's Patrick Wilson as his villainous half-brother Orm aka Ocean Master and Willem Dafoe as his chief adviser, the scientist Dr. Nuidis Vulko. On paper, those are all names with fantastic potential. However, we now have news from The Hollywood Reporter about the casting of Yahya Abdul-Mateen II as villain Black Manta and Nicole Kidman as Aquaman's mother, the exiled Queen Atlanna.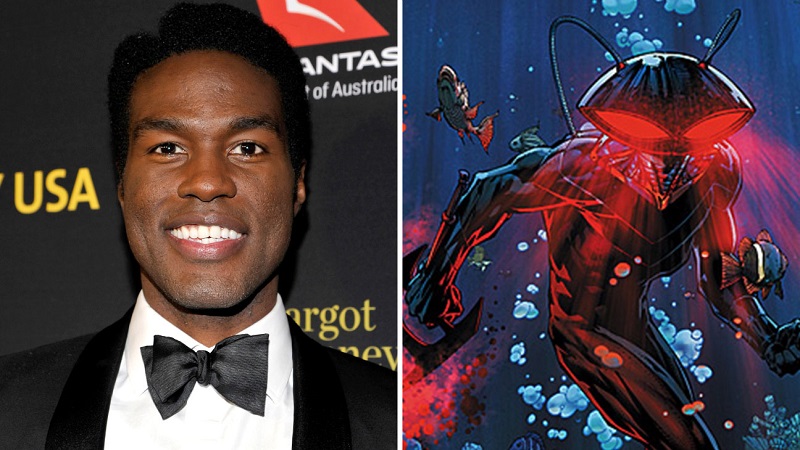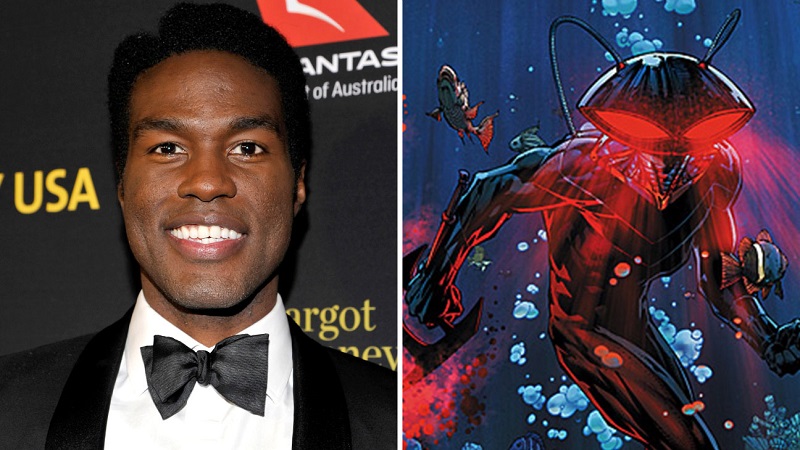 Abdul-Mateen is a relative newcomer, but he made a big impact on Baz Lurhmann's acclaimed Netflix drama series The Get Down. Kidman of course needs no introduction as a multiple award-winning veteran of the screen (including an Oscar and three Golden Globes). These two will wrap up quite an impressive cast list for the film that will certainly make this one of the more star-studded DC Films outside of the Justice League picture itself. Warner Bros and DC are certainly going all out with Aquaman – not just to change his unfair reputation as the lamest of the Justice League heroes, but to make it a great movie as well.
For comic book geeks, they might be wondering which interpretation of the characters the movie will be based on, as like most comic book series, characters have been rebooted with different back stories several times. And while we may only really know once trailers of the film start to drop, we can at least speculate. There may be potential movie spoilers here if they follow the comic book script, so consider that a warning.
Black Manta, who first appeared in Aquaman #35 has two back-stories as either a kidnapped Baltimore boy aboard the ship where he is abused by his captors and ignored by Aquaman, hence the start of their bad blood. However in a new version of the character, Aquaman accidentally kills Black Manta's father, which results in the start of their feud. This version also had the character spend time in Belle Reve prison and refuse to join the Suicide Squad. Black Manta doesn't possess any natural super powers, but uses a suit which gives him his special abilities and keeps him alive under the ocean. Both versions of the story are quite dark and I wouldn't be surprised if the movie takes elements of both in its new telling.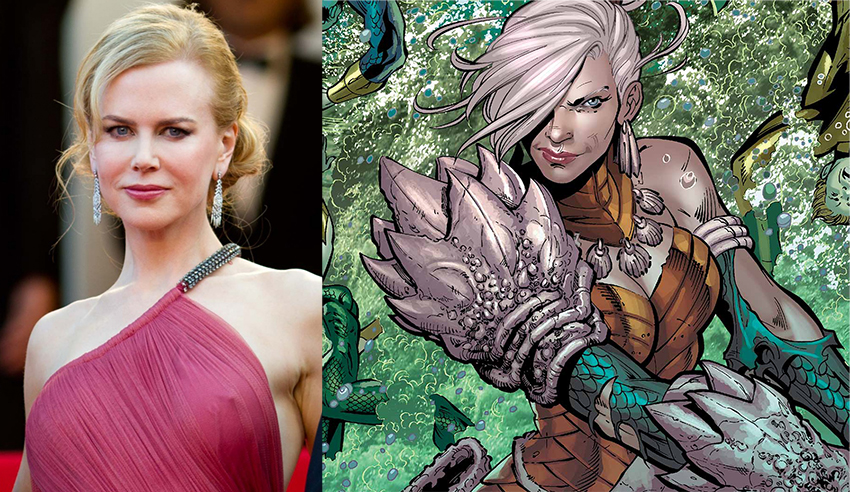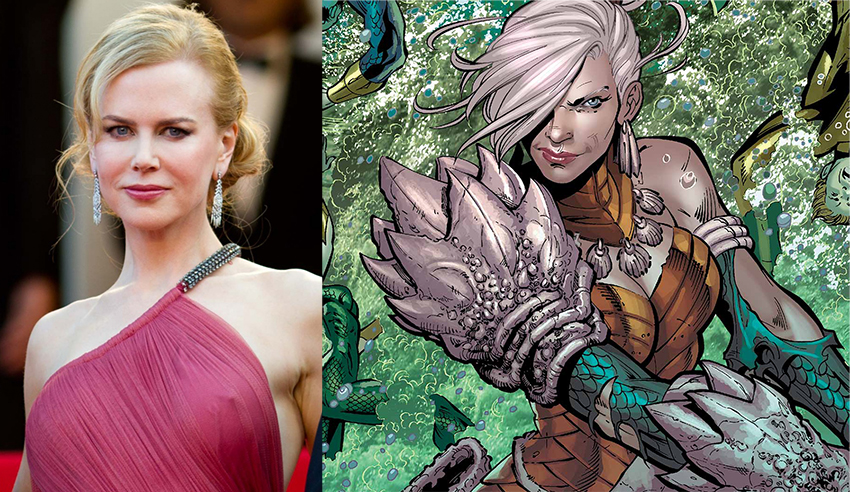 As for Nicole Kidman's Queen Atlanna, her first origin story is that of a scientist and roboticist who was able to survive the sinking of a ship through a special serum that allowed her to breathe underwater and meet up with Aquaman's Atlantean father. In this version, however, her character nearly dies at the birth of their son, Arthur Curry aka Aquaman, and doesn't feature further in that storyline. If the studio has bigger plans for the character we could instead see her introduced as in a later story line where she is wed to sterile Atlantean royal, King Trevis, a.k.a. Trevis the Weak. Arthur Curry is then conceived during an affair between Atlanna and the wizard Atlan, leading to the illegitimate birth of the blonde-haired child and Atlanna's evential imprisonment and death. Except, with this being comics and all, she would come back from the dead years later as a villain! So, not a good fate for Kidman's character if they stick close to the comics.
What I love about these Aquaman stories is how dark and different from what you get in some other comic books. If they can just pull elements of these stories together into a great script, we have a winner on our hands. Or I'm just fueling the DC hype and you will be disappointed once it arrives on our screens in 2018, but eventually enjoy the inevitable extended home theatre release more.
Last Updated: February 1, 2017