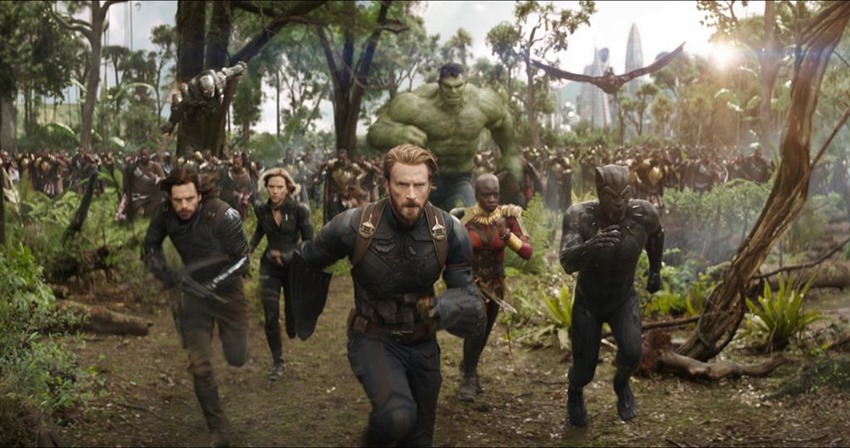 You guys, I need a time machine. Like, yesterday! Which shouldn't be a problem for a time machine. The source of my chronal consternation is none other than Avengers: Infinity War, the largest superhero team-up movie ever which was the incredible culmination of ten years worth of storytelling by Kevin Feige and the rest of his Marvel Studios team. And the movie which also had its first premiere in Los Angeles just a couple of hours ago.
The film's directors, Joe and Anthony Russo actually took to Twitter just before the premiere to issue a PSA to fans to possibly avoid social media for the next few days until they've seen it, just in case somebody spoils something. Full reviews are still being embargoed, but those in attendance at the premiere were allowed to tweet out short reactions. I'm sure some of you – who, like me, cannot contain their hype for this film any longer – would love to check out these reactions to know if this movie delivers on the years of anticipation, but are afraid you're accidentally going to get something spoiled. Don't worry though: We got you!
I've done a quick sifting through the online reactions and found the spoiler-free ones from the established film press in attendance. And their verdict? Infinity War is epic, dark, emotional, surprising and intense, and Josh Brolin's Thanos is apparently every bit as fantastic a villain as he needed to be after being teased for six years. In other words: HYPE LEVELS SOMEHOW INCREASING EVEN FURTHER!
AVENGERS: INFINITY WAR is very weighty and juggles most of its characters with consideration. It's the closest thing to a Paul Thomas Anderson movie you'll find in the Marvel Cinematic Universe. I Am Shook! #Marvel #AvengersInfinityWar pic.twitter.com/YgntkXFIkv

— Rudie Obias (@RudieObias) April 24, 2018
#InfinityWar is everything you want, nothing you expect. It's funny, surprising, dark, filled with delightful interplay between characters never seen on screen before. I know many filmmakers say they are trying to make a sequel in the vein of Empire Strikes Back, this succeeds.

— Peter Sciretta (@slashfilm) April 24, 2018
Buy a ticket for a second viewing of #AvengersInfinityWar now. The movie delivers, it's huge, and no one in your theater is going to be able to sit quietly through this one. Expect the unexpected. pic.twitter.com/8eobaAYrSF

— Jill Pantozzi ♿ (@JillPantozzi) April 24, 2018
#AvengersInfinityWar wrecked me and it's probably going to wreck you. Can't wait to see it again.

— Kirsten (@KirstenAcuna) April 24, 2018
Wow! Marvel dropped all the rules, fists out and what a tornado!! #AvengersInfinityWar was a blast and Thanos just dethroned Killmonger as the champion of villains.

— Kristian Harloff (@KristianHarloff) April 24, 2018
#AvengersInfinityWar: #Marvel puts it all on the table and wipes it off. Stress-inducing, full of dread, darker than usual, yet, funny as hell and super entertaining. Terrifying Thanos razes the ground without mercy. Blockbuster noise? Yes, but with emotional stakes attached. pic.twitter.com/3zWP5LtCCk

— Rodrigo Perez ??? (@YrOnlyHope) April 24, 2018
#Avengers #InfinityWar: Wow. Just…WOW! I was NOT expecting THIS! What a ballsy movie! Blown away! See this NOW! Do not get spoiled! Can't believe what I just saw!!!! pic.twitter.com/dITeGTHTsu

— Jenna Busch (@JennaBusch) April 24, 2018
#AvengersInfinityWar is my second fave @Marvel movie after #BlackPanther. The superhero interplay is hilarious and surprising at every turn. The action is monumental. And there are actual stakes this time around. Kevin Feige is not f-cking around with this one.

— Nigel M. Smith (@nigelmfs) April 24, 2018
Infinity WOW! #InfinityWar. Lots of payoffs. Stay till the very END. That's all I'm saying. pic.twitter.com/ch7adyFK21

— Brian Tong (@briantong) April 24, 2018
So overwhelmed at what I saw in #AvengersInfinityWarPremiere I'm still processing. It's an epic event unlike anything you ever seen. I would follow the Russo's advice about staying offline because the movie has major reveals!

— Umberto Gonzalez (@elmayimbe) April 24, 2018
I saw #AvengersInfinityWar earlier tonight and I can say that it delivers. There's a lot of really fun character interactions, some cool action moments (Thor's powers, Iron Man's suit), and a few powerful emotional beats. Most of the humor is ?? Also Captain America is ? pic.twitter.com/WoZNPDpGXk

— Molly Freeman (@mollyrockit) April 24, 2018
Of course, no matter how much love a movie gets, everybody is different and thus not everybody will be as hyped by what Infinity War does. However, even these "negative" reactions are absolutely nowhere close to calling the movie even remotely bad.
#AvengersInfinityWar: Despite some truly thrilling moments, feels like less than the sum of its parts. A definite step down after that epic run of GotGV2 / Spidey / Thor 3 / Black Panther, but what else did I expect?

— Angie J. Han (@ajhan) April 24, 2018
AVENGERS: INFINITY WAR is basically CAPTAIN AMERICA: CIVIL WAR times 20, except with less hero-on-hero fighting. I think people who loved the airport fight in CIVIL WAR like I did will go nuts for this film, and people who were bored will be 20 times as bored here. #InfinityWar

— Tasha Robinson (@TashaRobinson) April 24, 2018
I feel like that last tweet is talking directly to our very own Geoff.
We'll be watching Avengers: Infinity War tomorrow afternoon and will be posting a review as soon as we're done watching it. For the rest of you, the long-awaited film hits theatres this coming Friday, 27 April.
Last Updated: April 24, 2018