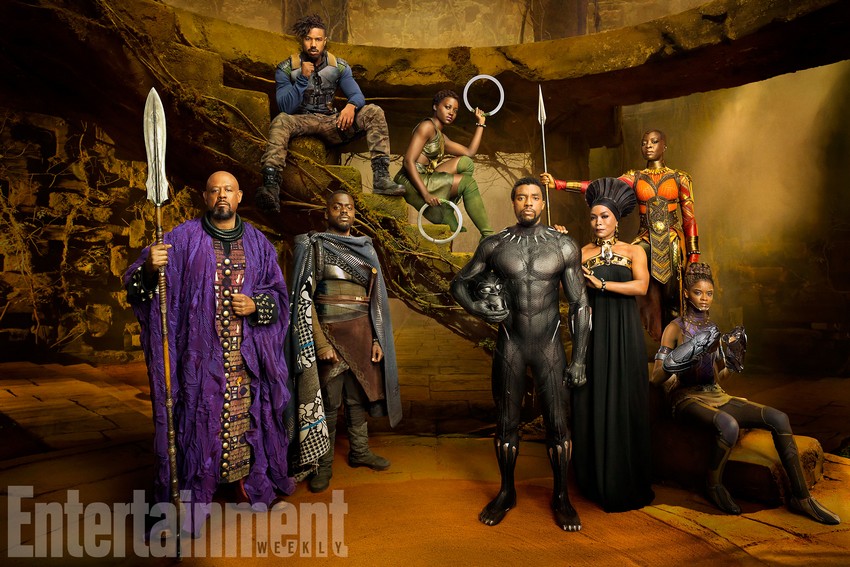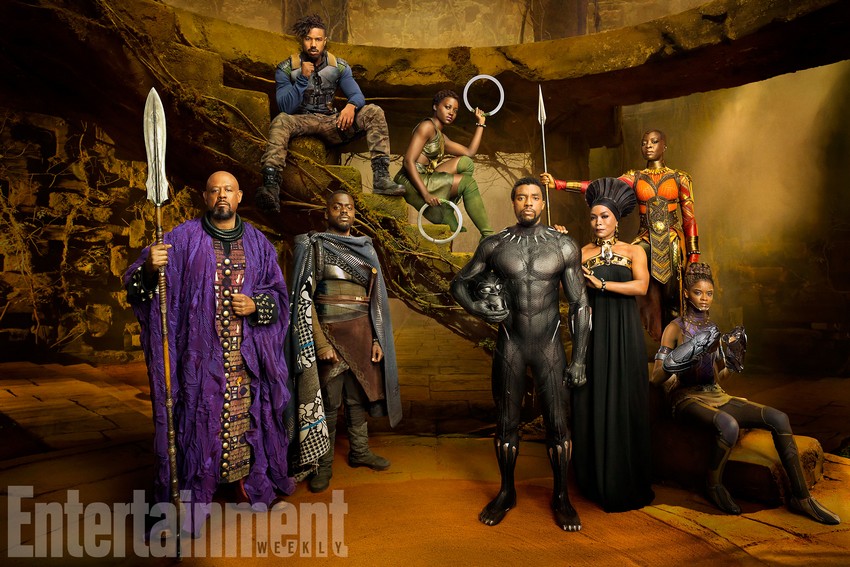 We're a week away from San Diego Comic-Con 2017, and in anticipation of the world famous annual geekstravaganza, Marvel are stepping up the marketing for their next big release: Black Panther. We've already seen the amazingly cool first trailer for the upcoming flick, but now Entertainment Weekly, in a series of articles, has unveiled brand-new pics and huge character and plot details, giving us our best look yet at the African kingdom of Wakanda and its elaborately garbed heroes and villains.
Chadwick Boseman plays the titular Black Panther aka Prince T'Challa, reprising his role from Captain America: Civil War, in which he witnessed his father the King assassinated. Now's he's returned to his homeland of Wakanda, a highly advanced technological utopia disguised to the rest of the world as a simple African country, and as Boseman explained to EW, it's not an easy return.
It's shortly after Civil War has ended so he's still in mourning. There's a guilt in terms of taking the throne. There's a feeling that he wishes that his father would have been alive to see it, if he would have given up the throne for being too old. That's the ideal way. His mindset is one of guilt and unsureness because he doesn't have [his father] there.

Generally, there is unrest because there's no leader on the throne. We're dealing with a similar thing right now in this country. Just because a person was elected doesn't mean everybody agrees with the things he's going to do. Having to make the first decisions … what do you do first? What do you choose to do that's going to get everybody on your side? It's a political drama essentially.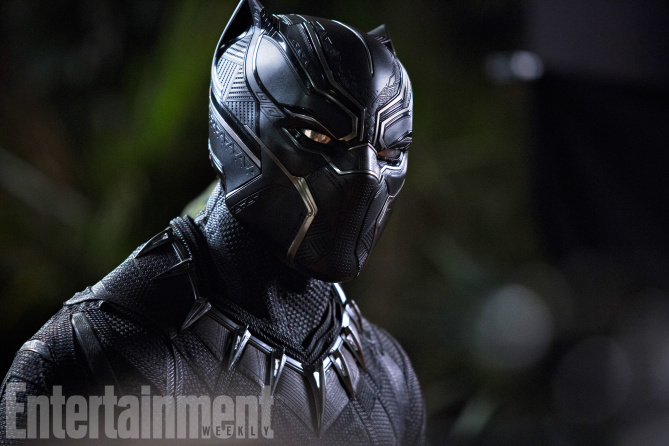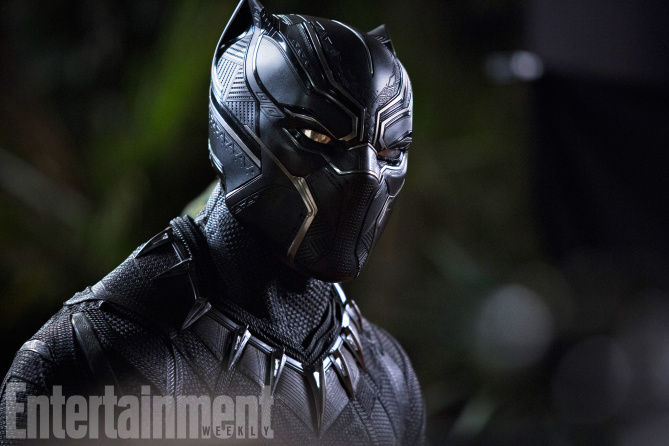 Director and co-writer Ryan Coogler shot to fame with Fruitvale Station and Creed, both movies which took a deep look at race relations, societal unrest and the burden of legacy. And as Marvel Studios boss Kevin Feige elaborates, Black Panther continues that timely political engagement.
Part of the story is about the isolationist state of Wakanda coming to terms with the modern day. There are other people [in the story] who say, 'No, we shouldn't do that.' You get into conversations about refugees. You get into conversations about, 'Should we help the people on the other side of that border, because they need help and we could help them …. but it would potentially endanger us.'It is so rich in culturally relevant ideas. These are conversations we were having two years ago because that is inherently the story within the comics. Now it's going to seem like the most highly fluid thing we could have done.
It is so rich in culturally relevant ideas. These are conversations we were having two years ago because that is inherently the story within the comics. Now it's going to seem like the most highly fluid thing we could have done.[/quotes]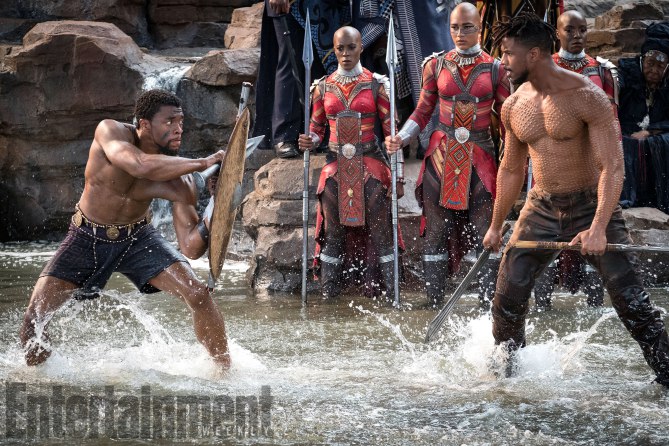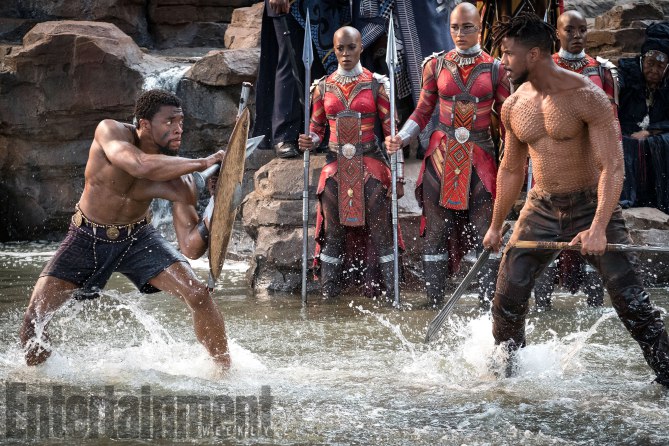 Besides for political turmoil caused by his unexpected ascension to the throne, T'Challa will also have his hands full with both Michael B. Jordan's Eric Killmonger and Andy Serkis' Ulysses Klaue. The latter is a mercenary arms dealer last seen having his hand lopped off in Avengers: Age of Ultron, who now has his sights set plundering Wakanda's vibranium – a rare metal found almost nowhere else on Earth – while Killmonger is a returned Wakandan exile who is not happy with the way things are being done in his country.
I can't really say [if Erik Killmonger is T'Challa's primary rival, the other side of this divided nation, seeking to take his throne]. Klaue is the real villain. I can say that I identify with Killmonger's character. It's going to be a fun character. He definitely has a different point of view. They are polar opposites. A superhero movie is only as great as its villains. I think they both provide a piece of that.

You have Wakanda, which is an isolationist society, Klaue has entered that space and knows more about it than anybody else. Because of that, he is a threat. Not to mention that he's accessed this gift that could also be a curse to the rest of the world. [He's a rogue terrorist]. Yeah, that would be a good way to put it. He is the Osama bin Laden of the movie. He's out there, and you have to go find him because he's coming back at some point in time.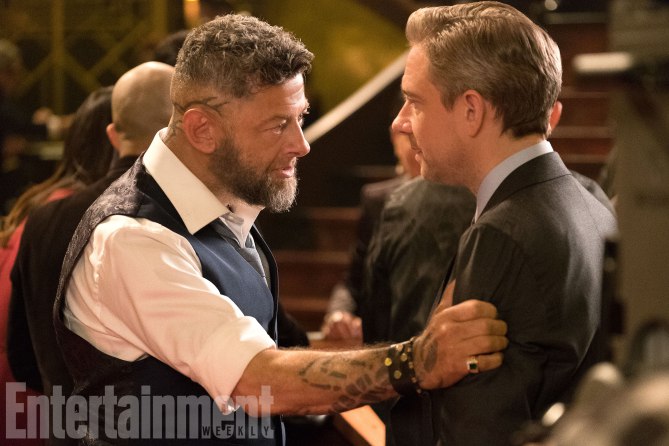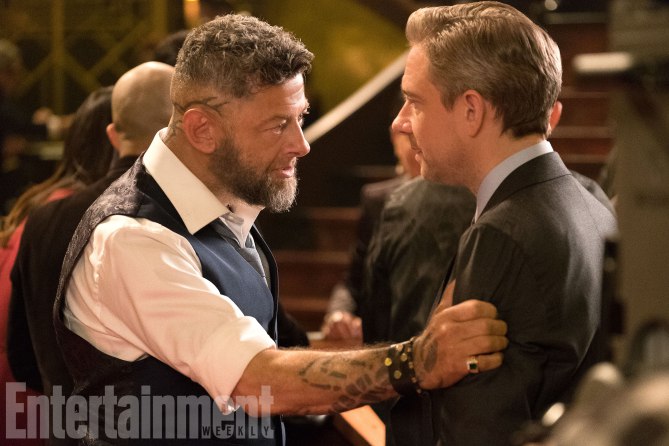 Said gift is of course the Vibranium which Wakanda has kept secret from the rest of the world due to its combination of being near indestructible (as Black Panther's suit can attest), but also malleable enough to be used in a myriad different ways, from advanced medicines to high-tech vehicles and destructive weapons. And its this last application that interests Klaue and makes him so dangerous.
A lot of times when we talk about Vibranium we talk about it as if it's, like, nuclear. It's not a nuclear weapon but with the flexibly and versatility of it, it can do a lot of things. The fact that he has accessed that and has the mind to use it for evil is the key thing. Most people don't know what it is and what can be done with it.
Producer Nate Moore elaborated on Killmonger's ambitions and how it sets him against T'Challa as he "has his own opinion on how Wakanda has been run and should run."
What I think Michael brings to the table is sort of a charming antagonist, who doesn't agree with how T'Challa is running things, frankly. I think that puts T'Challa in a difficult situation. Killmonger is a voice of a different side of Wakanda.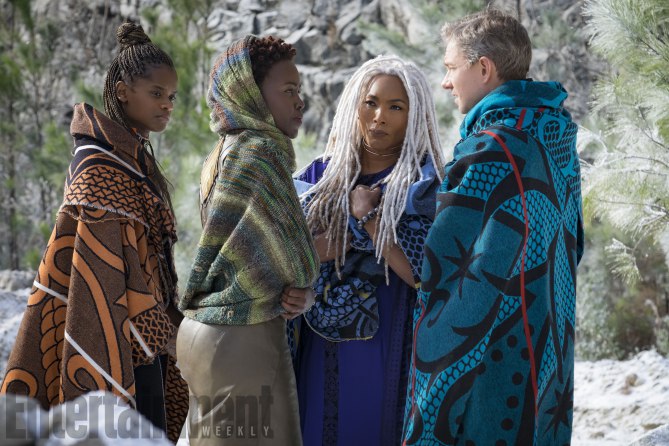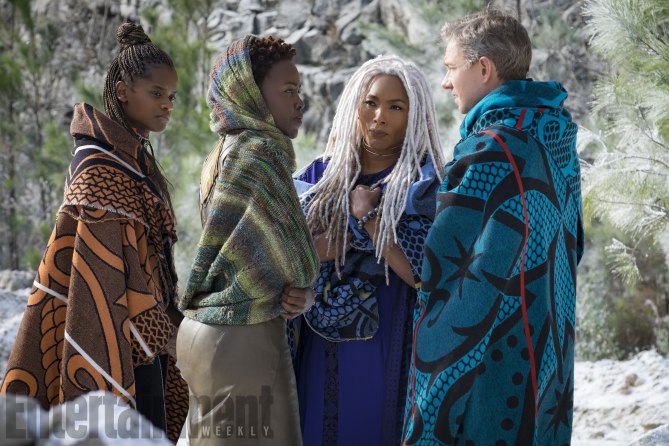 Not everybody is out to get T'Challa though. He has several allies, starting with his mother Ramonda, played by Angela Basset. Boseman explains that Ramonda acts as T'Challa's adviser, and "he has to look to her for some of the answers of what his father might want or might do."
She may not be exactly right all the time, but she definitely has insights. She is the queen mother. And she's that for not just him, but for everybody. [laughs] She's has her hands in everything — even his love life.
Not as involved in his romantic life, but equally important to T'Challa is Forrest Whittaker's Zuri. The elder acted as an advisor to the former king and now to T'Challa, but even more than this, he is a shaman and keeper of the "Heart-Shaped Herb", local fauna that absorbs the vibranium and grants the members of the royal bloodline who consume it superhuman strength. Coogler explains that Zuri is "somewhat a religious figure or spiritual figure."
Spirituality is something that exists in Wakanda in the comics, and it's something we wanted to have elements of in the film. Forest's character, more than anything, is a major tie-back to T'Challa's father. Zuri is someone he looks to for guidance.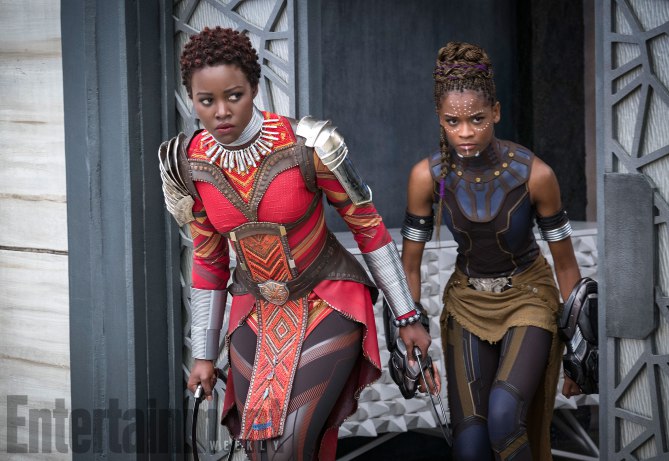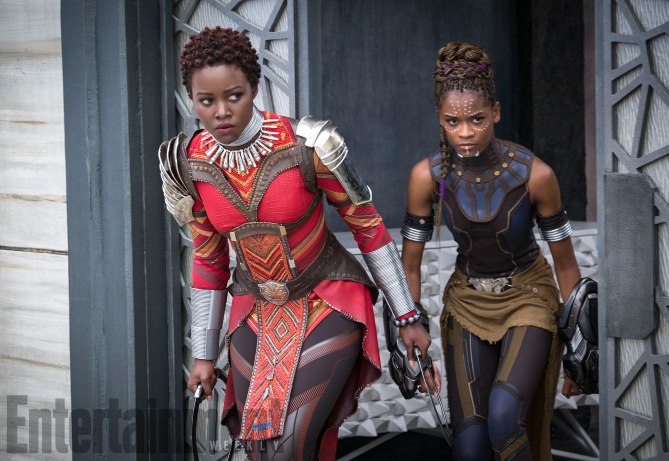 Despite the gifts of his bloodline and his life-long training, the Black Panther can't be everywhere, and thus he is also surrounded by equally formidable warriors. Oscar-winner Lupita N'yongo plays one of them, Nakia, a former lover of T'Challa who is described as "the closest thing to 007 in this movie," as the actress explained.
She is a departure from what she was in the comic book. Nakia is a war dog. She is basically an undercover spy for Wakanda. Her job is to go out into the world and report back on what's going on.
Moore elaborates on the "unique weaponry" Nakia uses to do her dirty work.
We call them her ring blades. The ones Lupita carries while in the green outfit are based on traditional African weaponry. However, she does get a hi-tech upgrade later in the film, compliments of Shuri.
Shuri, in this case, is the younger sister of T'Challa, played by Letitia Wright. Wakanda is a very female-empowered society, and Shuri is a living example of that. She is not just a fierce warrior, employing mysterious panther-shaped gauntlets of her own design, but also one of the country's foremost scientists, asc Feige explains.
She is also a genius and runs the entire Wakandan design group. She's responsible for all these amazing technological advances that Vibranium has brought about from Wakanda.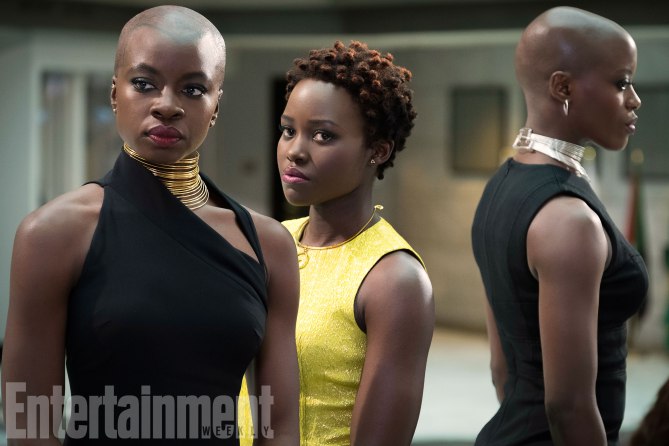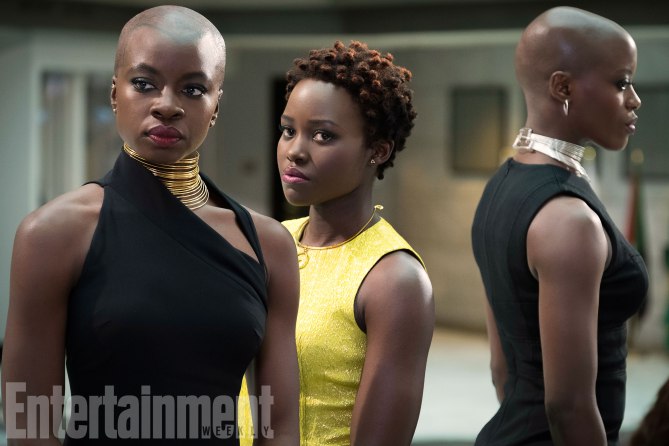 Rounding out the woman in T'Challa's corner is Okoye, played by The Walking Dead star Danai Gurira, who is no stranger to kicking butt on screen. She may be without Gurira's signature dreadlocks and katana sword, but Okoye is no less badass as she leads the Dora Milaje, the all-female special soldiers unit that acts as the imperial guard. That role has made Okoye stern but not cold, according to the actress.
They are a very powerful force. They are not utopic, but what Wakanda has down well is it has allowed people to function within their strengths. These women, their strength is to preserve Wakanda. It's more like the secret service in a sense that it's not just military. She is head of intel.

She can be serious, but she also has an unexpected sense of humor. She has a heart, but for her country and for her people. She's not a person who doesn't connect to human beings as a result of what she does.
After his breakout role in Get Out, British actor Daniel Kaluuya will be stepping into the world of comics books as well, as he plays W'Kabi, T'Challa's best friend. Being a childhood chum to the new king is not W'Kabi's only role though. According to Moore, W'Kabi has one of the most important jobs as a member of the group designated with maintaining the illusion of a simple Wakanda to the outside world.
W'Kabi is the head of security for the Border Tribe. They live on the borders of Wakanda and serve as the first line of defense for the country.

To outsiders they appear to be what people would 'expect' of a small provincial African nation – but the truth is they are some of the fiercest warriors in Wakanda, intent on protecting the secrets of their advanced nation at all costs.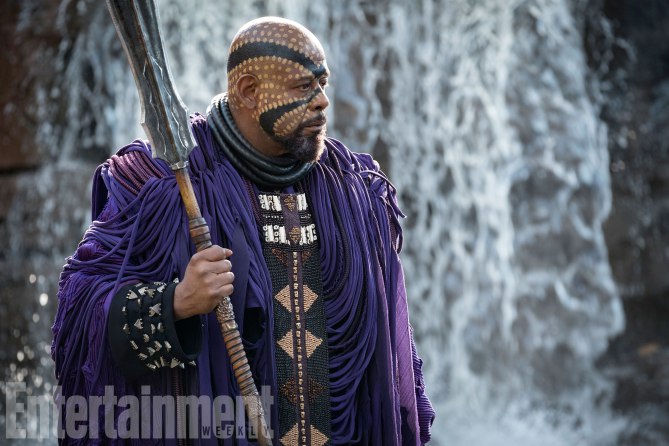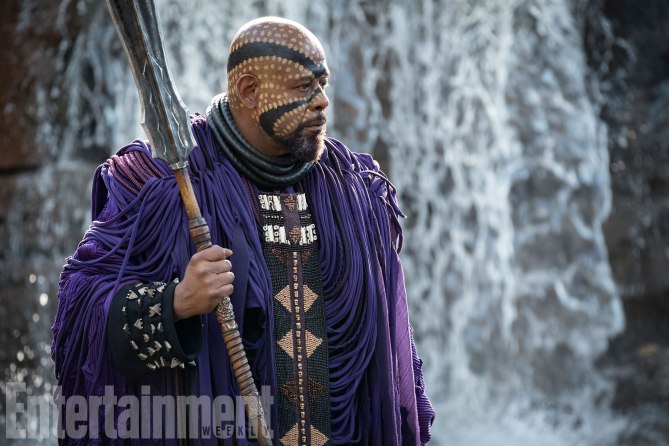 All these precautions are certainly necessary because Wakanda is definitely a place like no other in the Marvel universe. And according to Feige, Black Panther will follow suit as it will be a movie like nothing else out there.
I don't think people are prepared for what this movie is going to be. Not just Black Panther, but the Dora Milaje, and Killmonger, and the entire design of Wakanda – both its traditional African-inspired elements, but also the Vibranium inspired techno-elements. I can't think of a blend that has happened like that before in movies.
Black Panther is scheduled for release on February 16, 2018. We'll more than likely get another look at though at Comic-Con next weekend.
Last Updated: July 14, 2017