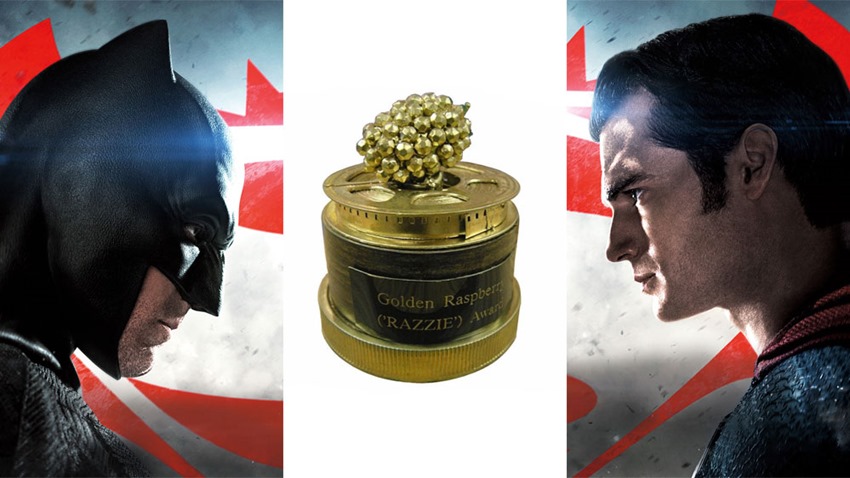 Ah, early…whatever year this is. Like most annual trips around the sun, 2017 is kicking off with an awards season in Hollywood. Screen Actor Guild Awards, the Golden Globes and the Academy Awards but to name a few. It's where Hollywood honours the best movies of the year…and also the worst. In years past, the Razzies were a fun distraction that saw less-than-stellar efforts from Tinsel Town awarded for their failures on the big screen.
All in good fun, Razzies were an amusing poke in the ribs. A roast for an industry that takes itself very seriously at times. This year however, feels somewhat different. The latest Razzie nominations have been announced, and they feel somewhat spiteful this year. Instead of a platform for satire, the Razzies feel more like that guy who only gets the joke a year after you've told him, lacking any of the impact in the punchline itself.
I'll be the first to admit that I'm biased as f*** this year however. Sure Batman V Superman may not be perfect, but having it nominated for awards in just about everything? Say what you like about the movie, but Ben Affleck being nominated for worst actor or Zack Snyder earning a worst director nod feels unnecessary. I've said it before and I'll say it again: This is a movie which is far superior in its extended cut than it was in its theatrical run. Trust your directors Warner Bros., they're capable of more than you realise.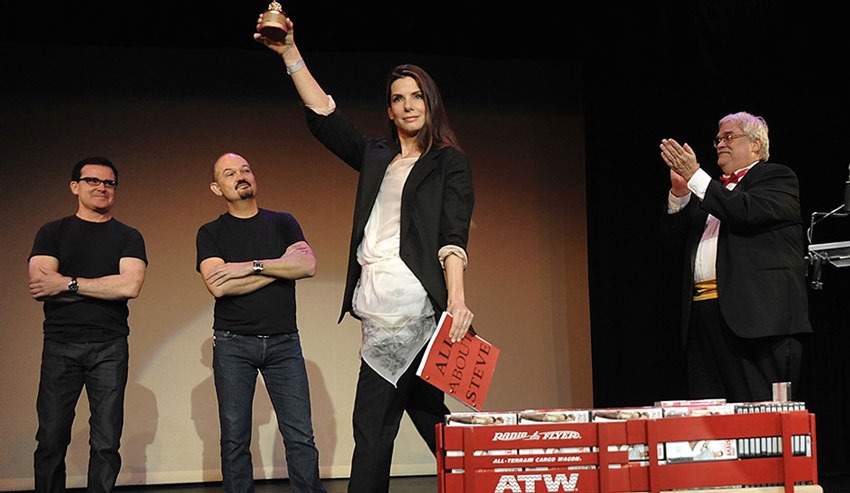 Same for Zoolander 2, a movie which by all accounts is completely and utterly stupid. But gleefully so, giving it a layer of really really ridiculously good-looking charm. Again, not a perfect movie but hardly the worst thing to ever hit the big screen.  Point is, is that the Razzies have essentially become the living embodiment of a joke that you see coming from miles away. They've got no teeth, no bite whatsoever. And there's nothing worse than that.
The Razzies right now, are a wasted platform for satire. Instead of mocking Hollywood's lack of determination to cast people of colour in leading roles or provide pay-scales which aren't ungrossly unfair to the opposite sex, they're relying on the same tropes once again. Hell, at least have an award for best fight whitewashing and nominate the entire judging board of the Academy Awards.
Anyway, here's the list then via io9:
Worst Picture
Batman v Superman: Dawn of Justice
Dirty Grandpa
Gods of Egypt
Hillary's America: The Secret History of the Democratic Party
Independence Day: Resurgence
Zoolander No. 2
Worst Actor
Ben Affleck / Batman v Superman: Dawn of Justice
Gerard Butler / Gods of Egypt & London Has Fallen
Henry Cavill / Batman v Superman: Dawn of Justice
Robert de Niro / Dirty Grandpa
Dinesh D'Souza [as Himself] Hillary's America: The Secret History of the Democratic Party
Ben Stiller / Zoolander No. 2
Worst Actress
Megan Fox / Teenage Mutant Ninja Turtles: Out of the Shadows
Tyler Perry / BOO! A Madea Halloween
Julia Roberts / Mother's Day
Becky Turner [as Hillary Clinton] Hillary's America: The Secret History of the Democratic Party
Naomi Watts / Divergent Series: Allegiant & Shut-In
Shailene Woodley / Divergent Series: Allegiant
Worst Supporting Actress
Julianne Hough / Dirty Grandpa
Kate Hudson / Mother's Day
Aubrey Plaza / Dirty Grandpa
Jane Seymour / Fifty Shades of Black
Sela Ward / Independence Day: Resurgence
Kristen Wiig / Zoolander No. 2
Worst Supporting Actor
Nicolas Cage / Snowden
Johnny Depp / Alice Through the Looking Glass
Will Ferrell / Zoolander No. 2
Jesse Eisenberg / Batman v Superman: Dawn of Justice
Jared Leto / Suicide Squad
Owen Wilson / Zoolander No. 2
Worst Screen Combo
Ben Affleck & His BFF (Baddest Foe Forever) Henry Cavill / Batman v Superman: Dawn of Justice
Any Two Egyptian Gods or Mortals / Gods of Egypt
Johnny Depp & His Vomitously Vibrant Costume / Alice Through the Looking Glass
The Entire Cast of Once Respected Actors / Collateral Beauty
Tyler Perry & That Same Old Worn Out Wig / BOO! A Madea Halloween
Ben Stiller and His BFF (Barely Funny Friend) Owen Wilson / Zoolander No. 2
Worst Director
Dinesh D'Souza and Bruce Schooley / Hillary's America: The Secret History of the Democratic Party
Roland Emmerich / Independence Day: Resurgence
Tyler Perry / BOO! A Madea Halloween
Alex Proyas / Gods of Egypt
Zack Snyder / Batman v Superman: Dawn of Justice
Ben Stiller / Zoolander No. 2
Worst Prequel, Remake, Rip-off, or Sequel
Alice Through the Looking Glass
Batman v Superman: Dawn of Justice: Dawn of Justice
Fifty Shades of Black
Independence Day: Resurgence
Teenage Mutant Ninja Turtles: Out of the Shadows
Zoolander No. 2
Worst Screenplay
Batman v Superman: Dawn of Justice
Dirty Grandpa
Gods of Egypt
Hillary's America: The Secret History of the Democratic Party
Independence Day: Resurgence
Suicide Squad
Last Updated: January 24, 2017