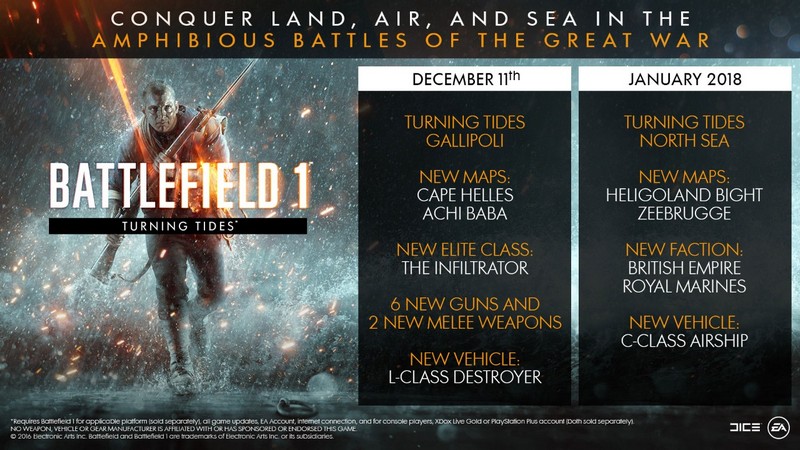 While Star Wars: Battlefront 2's poor release has mired EA Dice in controversy, financial losses and even litigation, the developer's other – and original – "Battle" franchise has just kept delivering the goods for fans all year. Battlefield 1 has had a great year thus far and it looks to be ending 2017 on a proper bang. Well, technically one bang now and then another a bit later, as the first part of Turning Tides, the game's third out of four DLC packs, dropped for Premium members yesterday – non-premium players get it in two weeks – along with a sizable new patch.
After previous expansions They Shall Not Pass and In the Name of the Tsar took the action to the French and Russian fronts of the Great War, Turning Tides will focus on the iconic and world-changing battles in the Turkish peninsula of Gallipoli. Turning Tides is bringing a lot more content than previous expansions though, and as such DICE has split its release between this month and January.
Part 1 sees the addition of two new maps, Achi Baba and Cape Helles, two sprawling open areas filled with hills, tunnels, bumpy terrain, broken down ruins and tons of flanking routes. In other words, a crapload of fun. Achi Baba is rapidly becoming my favourite map in the game, just for how balanced it is in allowing every type of player to play their preferred style. You can go sneaky and long range or up close and dirty, it all works here. And ir looks gorgeous, really making you feel like you're in the sun baked Turkish outdoors. Just a fantastic design from DICE.
Each class also gets two new weapons to unlock via new gameplay objectives, as well as new service assignments to give the class brand new specializations. DICE has done some extensive testing on some of these specializations as the community has not liked the more passive direction in which they were headed. A few of the most controversial ones are still in the works for next month's release, but for now we have things like Overwatch which highlights any enemy you spot after killing another with a headshot from a Single-Action rifle.
Another nice new specialization is Safe Bail for pilots, which allows any passenger jumping out of your craft to do so with a spotting flare, meaning they light up the map beneath them as they parachute down. That's pretty neat.  There's also a brand new elite class in the Infiltrator, which gives you a permanent sprint boost, the ability to call in artillery strikes and deploy spawn beacons for your team.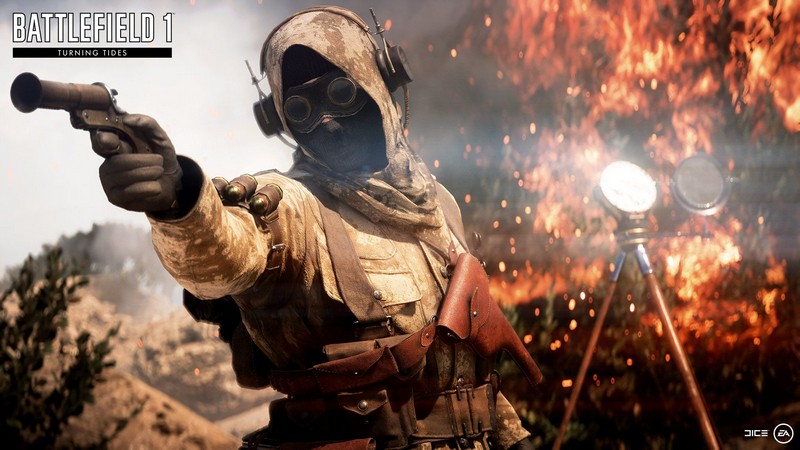 And you can try out all of the above and more in Conquest Assault, the brand new game mode. I've given Conquest Assault a spin and I'm already loving it. The game starts off with an attacking team spawning from a single Navy destroyer at sea, with a defending team on land already holding all land-based objectives but without a headquarters. To balance this out, the attackers start with a sizable points lead. If they capture and hold all objectives, the defenders will have no other spawn points except for their squad mates. The goal for both sides is to get to 1000 points or to have the most points when the time runs out. With its large terrain and mix of infantry and vehicular action, it feels a lot like traditional Conquest, but there's more of an urgency to play the objectives now, particularly on the attacking side.
Here are the full details of all the Turning Tides content being released this month and next year:
December 2017 (Battlefield 1 Premium Pass owners)

Achi Baba (map): Throw yourself into the British assault on the Gallipoli peninsula of 1915 in an intense, fast, and infantry-focused setting.
Cape Helles (map): Storm the beaches of the Gallipoli peninsula with the British forces or defend the Ottoman Empire's fortifications.
Gallipoli (Operation): Defend or attack sectors on the Cape Helles and Achi Baba maps in a new, epic Operation.
6 new guns: Find your new favorite weapon among the M1917 Trench Carbine, Maschinenpistole M1912/P.16, Farquhar-Hill, M1917 MG, Carcano M91 Carbine, and Type 38 Arisaka.
2 new melee weapons: The new Naval Cutlass and Grappling Hook melee weapons are perfect for close and personal fights.
L-Class Destroyer: Rule the waves with the mighty Destroyer and take on sea, air, and ground units with its cannons, torpedoes, AA guns, and mines.
Infiltrator Elite Class: Hide in plain sight and move faster across the battlefield with the new Infiltrator Elite pickup.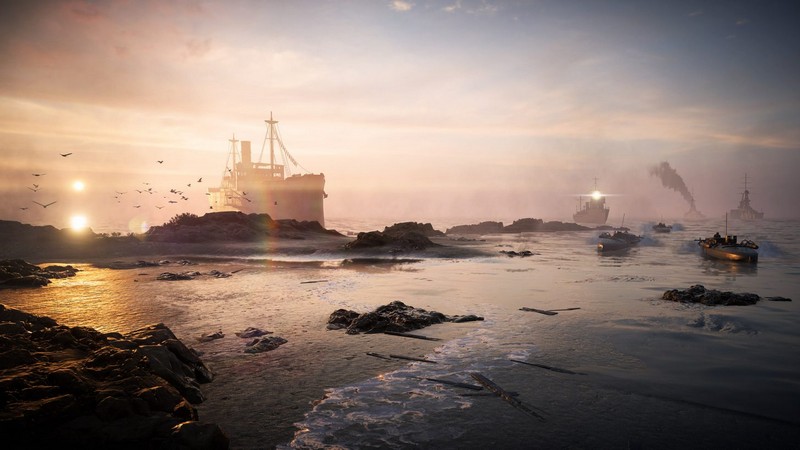 January 2018 (Battlefield 1 Premium Pass owners)

Heligoland Bight (map): Engage in an epic naval clash as the British Royal Marines and German Navy pit dreadnoughts, destroyers, and aircraft against each other while infantry troops fight by the iconic red cliffs of Rocky Cove.
Zeebrugge (map): Take part of the daring British raid on the Belgian port of Bruges-Zeebrugge with rough waves and a vast German mole as backdrop. Fight at sea, in the air, and in close-quarter infantry environments.
Royal Marines (British army): Don the characteristic blue uniform of the British Empire's elite naval troops and charge into battle with the new Royal Marines.
C-Class Airship: Deliver death from above in a nimble airship with room for a pilot with three gunners.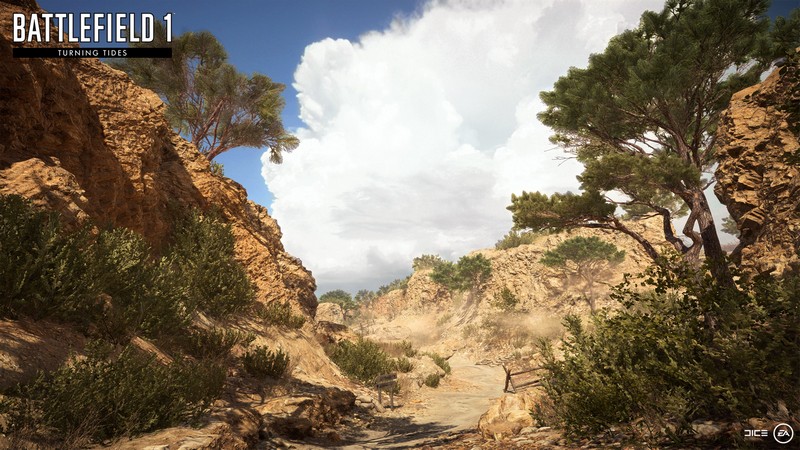 Along with the Turning Tides content though, this latest update brings with it several fixes and tweaks. You can read the full patch notes as well as all the details on Turning Tides OVER HERE, but there are two that need to be highlighted.
Adjusted player movement to avoid "sprint to slide" exploitation
Made improvements to the snap-to-target-on-zoom aim assist system to make it more subtle.
That's right, you greased weasels, you can no longer just slide your way across the map like you did before. DICE introduced the slide mechanic – activated by pressing crouch while sprinting – to allow players to rapidly get behind cover when attacked. However, players had been turning this into an offensive tool by sliding around corners, into rooms, out of rooms, behind vehicles, etc. There was a lot of sliding. Based purely on the anecdotal evidence of all the times I've been killed in Battlefield 1 by an enemy that has done his best impersonation of baseballer trying to slide into home right before he lights me up with his SMG from shin-height, it was an extremely effective tactic.
However, it definitely dragged down the realism of the game, especially since players were abusing the system by sprinting, sliding, getting some shots off really quickly, standing back up into the sprint without a loss of momentum, then sliding again, rinse and repeat. The justification for doing this is that it was a good counter against the game's rather aggressive aim assist on console which helped players to snap onto targets when aiming down gunsights. But now that that's getting nerfed as well, DICE feels the sliding mechanism is no longer as necessary.
What the combined changes to the sliding and the aim assist means for the overall game is that players will now need to work a lot harder on getting those kills. It will become more about your skill with the raw mechanics of shooting, which should make for an interesting adjustment from the community.
Last Updated: December 13, 2017