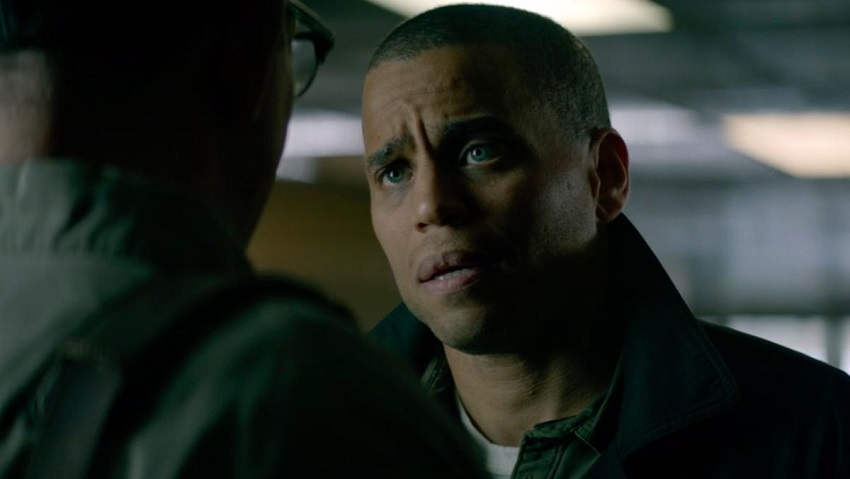 Jacob's Ladder is, perhaps unsurprisingly, an updated remake of 1990's psychological horror of the same name.
The original, which was directed by Adrian Lyne, starred Tim Robbins as the titular Jacob Singer – a soldier in the Vietnam War who was gravely wounded when his unit came under attack. Flash forward a few years and Jacob is living in New York City, but is increasingly being affected by bizarre hallucinations that nearly end up killing him. His fragile state of mind isn't helped when one of his former squadmates contacts him and reports also being affected by similar hallucinations, but is killed shortly afterwards. And so began a bleak and despairing journey to unravel the truth behind the hallucinations and just what happened to his squad in Vietnam.
The remake of this cult classic updates the war setting to Afghanistan, and stars Michael Ealy (Almost Human) as Jacob Singer. He's haunted by the death of his brother (Jesse Williams – Grey's Anatomy) while in Afghanistan, but is slowly starting to make a life for himself back home in New York City. However that life is upended when his brother suddenly returns home alive, but with strange and dangerous phenomena following him.
The official plot synopsis is as follows:
After losing his brother in combat, Jacob Singer returns home from Afghanistan only to be pulled into a mind-twisting state of paranoia as he realizes that his brother is alive and life is not what it seems.
Let's take a look:
To be perfectly blunt this movie could've been called anything, but it shouldn't be called a remake of Jacob's Ladder – because beyond a few superficial similarities it's not. Gone is the psychological horror that saw one man wrestling with his demons and in its place is a stock-standard horror movie about a dead man coming home, with a sibling rivalry love-triangle thrown into the mix. Don't watch this if you're expecting anything like the original.
As an ordinary horror movie it looks alright, with nothing really standing out as particularly good or bad from the performances or direction. I've seen far worse, but I still wouldn't bother unless you've got time to kill.
What do you think?
Jacob's Ladder is due for release in the US on the DISH network in July before moving to theatres in August. Directed by David M. Rosenthal, with the script by Jeff Buhler and Sarah Thorpe, it also stars Nicole Beharie, Joseph Sikora, Karla Souza, and Guy Burnet.
Last Updated: July 2, 2019