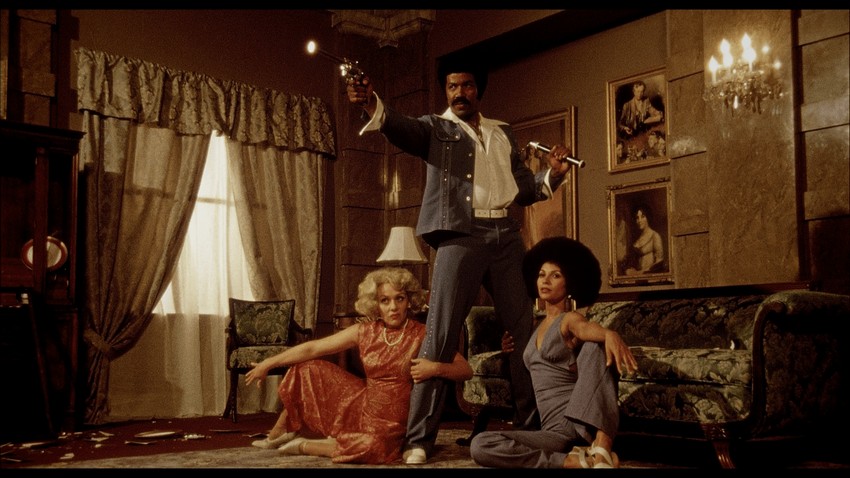 Sorry for interrupting your kung fu, but this is rather important news. It appears that we're getting a Black Dynamite sequel so all you jive ass suckers dealin' smack to the kids better watch out! Director Scott Sanders' 2009 blacksploitation parody starring Michael Jai White as the titular explosive hero is a modern-day classic, as it perfectly ripped off the tropes of 70s black movies, complete with production gaffes like boom mics in shots and film crews being caught on camera.
Basically since its release, White has been talking about a potential sequel as he and Sanders actually planned this whole thing out to be a trilogy. The film was a "jaigantic" failure at the box office though, just barely earning back its $2.9 million budget without covering advertising costs, so fans didn't really have much hope of those talks going anywhere. But now seemingly black is back, as revealed by White in a recent tweet.
"Black Is Black"#thisisjaigantic #blackisback pic.twitter.com/MwW6qly3ze

— Michael Jai White (@MichaelJaiWhite) January 23, 2018
When asked to elaborate on whether this is indeed announcing a new Black Dynamite sequel, White simply replied with #staytuned. If this is indeed a sequel, there are a few clues in the video above that lines up with previous talks. Back in 2012, White told both Indiewire and Vulture about plans for a trilogy, revealing that he, Sanders and co-star/co-writer Byron Minns intended a sequel to be western-based, using a mix of the "satirical comedy" of Mel Brooks' slapstick classic Blazing Saddles and "the more dramatic content" of Buck & Preacher, a 1972 western drama starring Sydney Poitier and Harry Belafonte.
What Byron [Minns] and I always intended is we always thought from the beginning of a trilogy, Black Dynamite being one of a trilogy that would occur in that time period that starred essentially the same cast. We have some really funny ideas of other movies that are in that real vibrant time period. We're trying to decide which would be the next step to do in that trilogy.
"Blaxploitation" encompasses other movies that are not … you know, Shaft, was one of the earliest ones, but it was just an urban action film. Then some "Blaxploitation" movies just jumped on the bandwagon of getting black audience dollars in theatres. It's a convenient moniker that gets attached to any black movie of that time. Black Dynamite was a celebration of all of it, the good and the bad.
Personally, I would love to see more Black Dynamite as I'm a huge fan. The short-lived Black Dynamite cartoon series helped a little to sate that craving, but it wasn't quite on the level of the movie. If this does happen, it will apparently be released later this year, if White's tweet above is to be believed. That may seem like it came out of nowhere, but this would be perfectly in character with Black Dynamite. He probably threw that sh-t before he walked into the room!
Last Updated: January 25, 2018