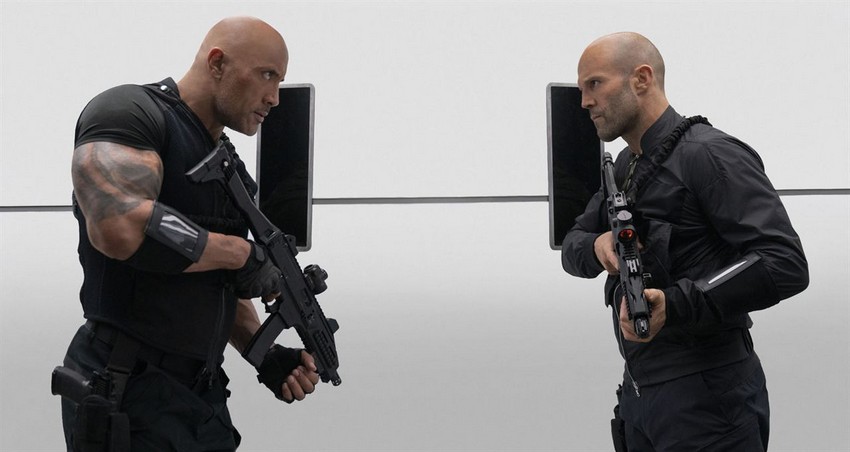 Family – or rather, "FAMILIA!", as Vin Diesel used to shout in gravelly tones – has always been one of the cornerstones of the Fast and Furious franchise. That and an outright Loony Toons disregard for the laws of physics. With the upcoming spinoff Hobbs & Shaw shifting the focus to Dwayne Johnson and Jason Statham's titular odd-couple ass-kickers though, you would be forgiven for thinking that this one was just going to be about the gravity-defying parts. However, Universal has dropped a brand new trailer that shows that family is still very much front and center in this series.
The family, in this case, is comprised of both the Samoan clan of Johnson's Luke Hobbs – including a couple of WWE superstars – and the sister of Statham's Deckard Shaw, played by Vanessa Kirby. As we learn, she's apparently the one that gets this ball rolling on this over-the-top international action adventure by stealing a deadly virus from Idris Elba's genetically modified terrorist Brixton Lore. Yes, that's his real name, and yes he's an absolute badass, declaring at one point in the trailer that he's the "black Superman!". If that and seeing Johnson and Statham lay the smack down on bad guys while talking smack to each other leaves you smiling, then you definitely need to check this out.
Ever since hulking lawman Hobbs (Johnson), a loyal agent of America's Diplomatic Security Service, and lawless outcast Shaw (Statham), a former British military elite operative, first faced off in 2015's Furious 7, the duo have swapped smack talk and body blows as they've tried to take each other down.

But when cyber-genetically enhanced anarchist Brixton (Idris Elba) gains control of an insidious bio-threat that could alter humanity forever — and bests a brilliant and fearless rogue MI6 agent (The Crown's Vanessa Kirby), who just happens to be Shaw's sister — these two sworn enemies will have to partner up to bring down the only guy who might be badder than themselves.
Directed by David Leitch (John Wick, Deadpool 2) and also starring Helen Mirren, Eiza Gonzalez, Eddie Marsan, Roman Reigns, and Cliff Curtis, Fast & Furious presents: Hobbs & Shaw is scheduled for release on 2 August 2019.
Last Updated: April 18, 2019